There's no shortage of predictions over what Apple will discuss at its upcoming September event, but here's one thing that the company probably won't spend any time on, even though perhaps it should: iCloud storage.
On Wednesday, Apple quietly added a new storage tier to its iCloud offerings: 2TB of storage for $20 per month. That has prompted plenty of speculation, some suggesting that a 256GB iPhone might appear to join the 256GB iPad Pro, or that the base storage for iPhones will be bumped up to 32GB. Of course, there are other potential reasons for the storage bump, such as a new feature of macOS Sierra that lets you store your Documents and Desktop folders in iCloud, to be synced between all your Macs.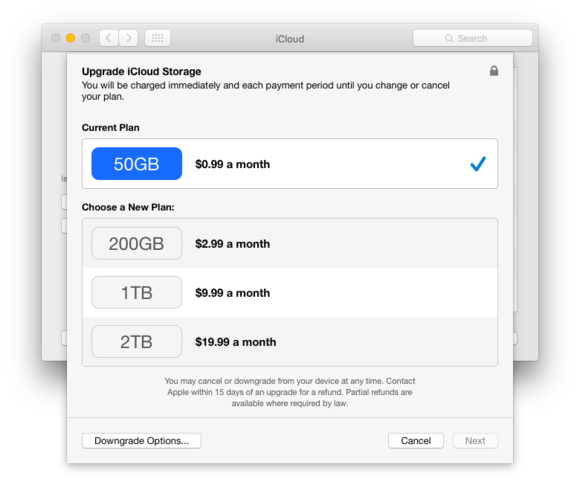 That's all pretty costly in terms of storage space, so adding a 2TB option makes sense. (Personally, as someone who keeps raw podcast files on his desktop, I imagine I won't be indulging in that macOS feature.) But if Apple raises the amount of storage included in iPhones, then one thing's for sure: That the default 5GB storage plan is going to start seeming paltry pretty fast. (Whoops, too late. It already seems pretty paltry.)
Hey, cloud, get off my back
It's not just that the amount of space is a little sparse—especially for people looking to store, say, all the data that fits on their phones—it's that iCloud can be pretty obnoxious about making sure you get the message.
Inevitably, when my friends and family talk to me about tech problems, iCloud is among the most prominent culprit in their tales of woes and frustration. Of late, I've especially heard several friends' tales of being constantly bugged by messages that there's not enough space in iCloud to store their backup, along with a wheeling dialog box encouraging them to upgrade their storage plan.
Some of the antipathy is evoked by the manner of the upsell. As one friend told me, he probably would have paid for more storage if only he wasn't needled so frequently, in the same way that constantly being prompted to rate an app we bought makes many of our eyelids twitch. Instead, some of my friends have gone so far as to start deactivating some of the iCloud features out of spite, which frankly isn't doing anybody any favors.
Then there's the labyrinthine nature of iCloud. Of your data, what's stored in iCloud? What counts against your storage limit? What's covered by iCloud Backup? Where do you see that information? A tech-savvy friend of my acquaintance was bemused when I pointed out that tapping Manage Storage under the iCloud section of Settings > General > Storage & iCloud Usage was the same screen as Settings > iCloud > Storage > Manage Storage.
For something that's supposed to give customers a little peace of mind, iCloud seems to cause an undue amount of stress instead.
Scaling the clouds
Much of this could be ameliorated were Apple to consider upping the base storage plans, either by raising the limit to something like 10GB or, preferably getting ahead of the curve by simply making its existing 50GB tier free.
I know, I know: this sounds like entitled whining. "Make this freeeee!" At $0.99 a month, the 50GB plan seems unlikely to be a bank-breaker for most iPhone owners—but by the same token, it probably isn't a huge revenue generator for Apple, either. ( Around the world, that plan is generally pretty close to the same price point.)
$12 a year, even if paid for by every iPhone owner—which it surely isn't—is only a small percentage of what Apple makes in a year. Apple has huge amounts of storage at its disposal, with data centers in Arizona, Nevada, North Carolina, and Oregon, and you can bet it's not being paid for solely by our iCloud storage plans. Incremental costs on storage are generally low. (It should be noted that Apple is actually competitive with—if not undercutting—many of its competitors for the 50GB plan.)
But this is less about the money than it is about the experience. Apple's philosophy is about making its products seamless and easy to use. Encouraging people to use iCloud backup is, in most cases, smoother and simpler than having to back-up to a computer. (Not least of all because it means not dealing with iTunes.) Besides, the more that people actually trust and use iCloud, the more likely they'll be to jump to the next storage tiers when their current data fills up.
The $0.99 for the 50GB plan feels, frankly, nickel-and-dimey at best (nine dimes, a nickel, and four pennies, to be precise), at worst like "nice iPhone data—shame if something were to happen to it." People shouldn't have to feel like they're fighting or paying just to keep their data safe.
Money ain't everything
Lately, the company's been on a bullish track with its Services division and the revenue generated there. Perhaps eliminating the 99-cent tier would cut into that, but Apple generally says that the App Store, which is also grouped under Services, provides much of the revenue.
There's no use pretending Apple isn't a business and thus has making money as its goal. But, as Apple is so fond of saying, perhaps there's more to be gained from providing an experience that surprises and delights users, instead of irritating them.