Apple will try to ease the pain of killing the headphone jack in the iPhone 7, shipping the new smartphone with Lightning-enabled EarPods and an analog adapter.
"The reason to move on … it really comes down to one word: Courage," Apple Senior Vice President of Worldwide Marketing Phil Schiller said during the company's September news event.
Schiller explained that abandoning the analog headphone jack allows Apple to make room for various other technological improvements, such as brighter displays, faster processors, and the iPhone 7's stereo speakers. The Lightning connection also allows for new headphone features, he said, including adaptive noise cancellation and higher-quality audio without an external power source.
That said, Apple didn't mention any noise-cancelling or other fancy features in the new EarPods. Instead, the company spent more time touting the wireless AirPods that will sell separately.
Actually Bluetooth Buds
While Apple made no explicit mention of Bluetooth when announcing its new AirPods, or any sort of compatibility with non-Apple Bluetooth devices, the company's store page notes that Bluetooth connectivity is supported.
Still, Apple claims that its AirPods, and their new W1 chip in particular, go well beyond the capabilities of "traditional wireless chips." The new chip can wirelessly transmit "high-quality AAC audio" (the fine print mentions testing 256 kbps AAC tracks), and instead of an often-complex Bluetooth pairing process, AirPods will recognize when an iPhone is nearby for one-tap pairing. They'll also simultaneously connect with an Apple Watch, and can pair to an iPad or Mac over iCloud.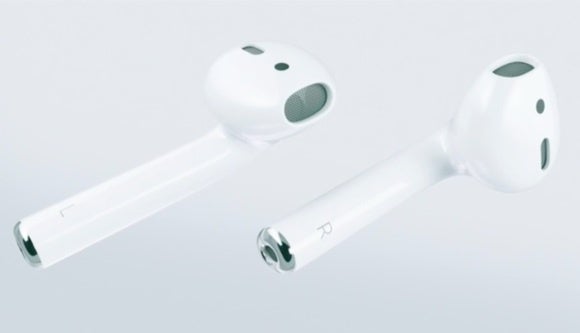 AirPods are packed with some additional sensors as well. Infrared allows them to only start playing when they're in your ear, while an accelerometer recognizes speech and uses dual beam-forming microphones to filter out background noise. Double-tapping on either AirPod calls up Siri for voice commands.
As for battery life, each AirPod will run for five hours on a charge, and they come with a wireless charging case that brings back a few hours of runtime after 15 minutes inside. In total, the case provides up to 24 hours of battery life.
Apple plans to ship the AirPods will in late October for $159.
This story has been updated to note that AirPods use a Bluetooth connection, as listed on Apple's store page.