At the heart of every Apple iPhone is usually an upgraded chip, and this year's iPhone 7 is no different: Apple executives said the new A10 Fusion is the fastest smartphone chip ever. "Apple's chip team has been killing it in performance," said Phil Schiller, Apple's senior vice president of marketing.
Apple has an existing license from ARM, the British smartphone chip designer that was recently acquired by Softbank. Rather than licensing a fixed design, Apple's deal apparently permits tweaking for its own purposes, allowing the company to optimize it for new iPhone releases.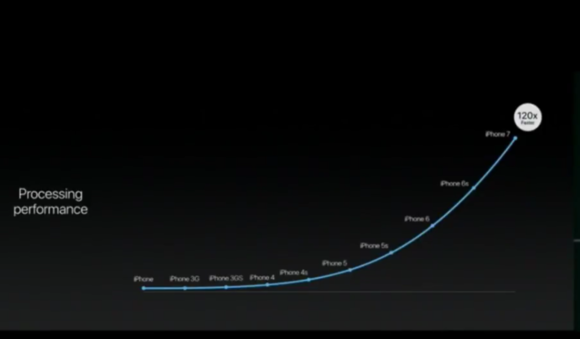 For generation after generation, Apple has had the fastest smartphone available, Schiller said during the Apple iPhone 7 launch Wednesday in San Francisco. "And that's continued to this day," Schiller added. "But what we have in the iPhone 7 and iPhone 7+ blows that all away."
Apple's next-generation chip, the A10 Fusion, is a 64-bit, four-core processor with over 3.3 billion transistors, Schiller said. The cores are split among two high-performance cores and two high-efficiency cores, he said.
The high-performance cores, apparently similar to ARM's big.LITTLE technology, run 40 percent faster than the previous A9 chip in the iPhone 6s and twice as fast as the earlier A8. From a performance perspective, the A10 Fusion chip is 120 times as fast as the chip in the first iPhone, according to Schiller. "The jumps in performance are just staggering," he said.
The high-efficiency cores are optimized for low power, and consume just a fifth of the power of the faster cores. The iPhone 7 will switch to those cores, and power down the more powerful options, when you're performing a task like checking your email. That all translates into longer battery life: 12 to 13 hours for browsing over LTE, or about two hours more than the iPhone 6s, Schiller said.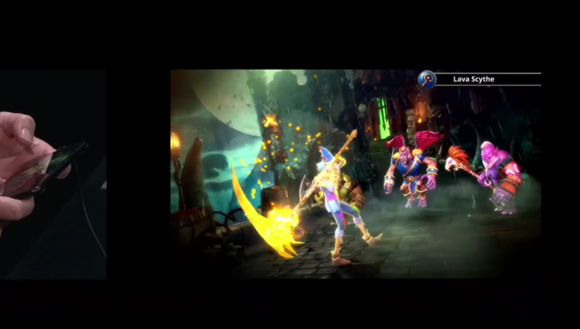 Graphics performance has also increased, Schiller said, with a six-core chip that's 50 percent faster than the A9, and three times faster than the A8. Schiller promised "console-level" performance when running Codemasters' F1 2016 and other games that could tap the chip's GPU. All told, it's 240 times faster than the iPhone's original graphics chip.
"There is absolutely no question: the A10 Fusion is the most powerful chip ever in a smartphone," Schiller said.
Correction: the A10 Fusion chip has 3.3 billion transistors, not 3.3 million.