Almost two years after the Apple Watch was first unveiled in 2014, Apple has finally pulled the curtain back on its second-generation smartwatch.
The Apple Watch Series 2 with dual-core, a brighter display, swim-proof capabilities and built-in GPS was unveiled during Apple's event on Wednesday. This new model has a redesigned speaker to make it water-resistant down to 50 meters. Other than that, this updated smartwatch looks near-identical to the first Apple Watch, now known as Apple Watch Series 1, which was only splash-proof.
Even though the Apple Watch Series 2 boasts a built-in GPS, it lacks cellular connectivity. This means that you will still need an iPhone nearby for your Series 2 to perform data-heavy operations.
The Apple Watch Series 2 comes in conjunction with watchOS 3, which Apple first unveiled this summer at WWDC and will be available on September 13. The latest iteration of watchOS 3 makes apps launch seven times faster, lets you write with your fingertip to create messages, and activity-sharing so you can compete with your friends.
Apple Watch Nike+ for runners
Apple has also partnered with Nike to create a special edition of Apple Watch. The Apple Watch Nike+ is designed specifically for runners with lightweight aluminum and perforated band. With this running-focused Watch you can simply tell Siri to start a run. When you're out on your run, you can get a distraction-free display with just the distance and pace, or enable an "advanced" mode with more details about your workout.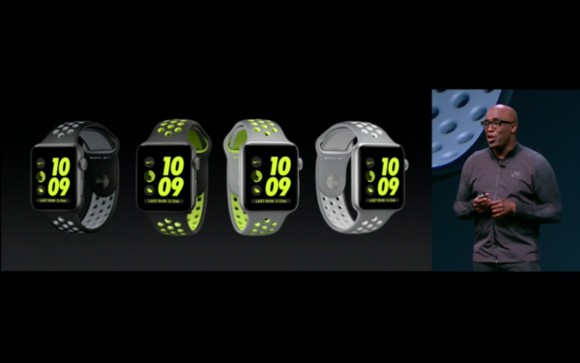 Motivation is a main component of the Apple Watch Nike+. You will get "Are We Running Today?" notifications, like when was the last time you went on a run, if the weather is perfect to go outside, or information from your friends to keep you motivated. In addition, Apple Watch Nike+ has a "Just Do It Sundays" to get users running on the last day of the week. Purchasing an Apple Watch Nike+ will also get you a membership to the Nike+ Run Club, which will personalized coaching sessions, gear recommendations, and access to live runs around the world.
The Apple Watch Nike+ comes in four colors and will be available in late October for $369. As for the Apple Watch Series 2, there is a new ceramic body that's actually harder than stainless steel. Apple has also created two new Hermés bands and new colors.
The Apple Watch Series 2 will also start at $369. The original Apple Watch Series 1 is now $269. Pre-orders start on September 9, with units available in stores on September 16.