I didn't want to like the AirPods, I really didn't. But in the hands-on area after Apple's iPhone 7 event on Wednesday, I found myself dancing along in spite of myself—and the AirPods stayed put, feeling surprisingly secure. With convenient features on both the hardware and software sides, I have to admit that Apple's totally-wireless AirPods kind of rocked my world.
When they're in your ears, the AirPods kind of look like the old wired EarPods that someone snipped the wires off of. The earbud part fills your ear just as before, and a plastic stem hangs down a bit below your earlobe. They're the same general shape as the EarPods and made from the same hard white plastic.
Now, that plastic has been a deal-breaker for me for years—I hate how normal EarPods feel in my ears. They don't seem like they're going to stay put, and they simply fall out if I move my head too much. Even if they do stay in, after about a half hour, my ears just start to ache, although I don't experience the same pain when using earbuds with silicone or foam tips. Since the AirPods look so similar, I expected them to feel the same too—and I'm surprised and happy to report that I was dead wrong.
Not only did I dance, I headbanged. I shook my head side to side, I tossed my hair, I jogged in place, and I looked silly doing all of it. The AirPods stayed put, and they stayed loud. The music (more Sia, naturally) sounded full and lush and I couldn't hear a single word anyone around me was saying, as if I was completely sealed off in a bubble of rock and roll. Pretty impressive.
For Apple devices only
The AirPods' special features are pretty impressive too, even though that specialness means they only work with Apple devices. You don't need a brand-new iPhone or Apple Watch to use them, but they only support Apple devices running the latest operating systems: iOS 10, macOS Sierra, and watchOS 3. The AirPods use Bluetooth, so you would think maybe there'd be a way to pair them to an Android phone or an iOS 8 device since those have Bluetooth too, but there's no button on the AirPods to put them into pairing mode. We'll test to confirm when we get review units, but it seems like the AirPods will only be "seen" by Apple devices. UPDATE: According to Matthew Panzarino of TechCrunch, there is a tiny pairing button on the back of the charging case that will let you pair the AirPods to another device.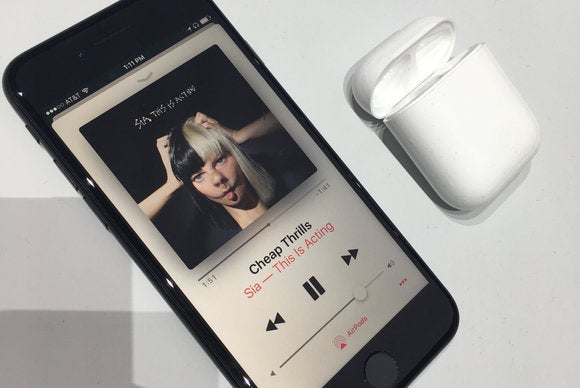 When you first flip open the glossy white carrying box—which looks like the most high-tech pack of TicTacs ever—you'll see a screen on your nearby iPhone offering to pair. (That's just the first time; you won't have to do this every time you want to use the AirPods.) Once you've paired them to your iPhone, you can also use them the Apple Watch that's paired to your iPhone, as well as with any iPad and Mac that's signed in to the same iCloud account. I didn't get to test how seamless it is to switch between devices, but the idea is, you can pause music on your iPhone, start playing songs stored on your Apple Watch, and the AirPods will just switch.
Each AirPod has infrared sensors, so they know when they're in your ears or not, and an accelerometer so you can double-tap either AirPod to invoke Siri. They don't have any traditional buttons, unlike some Bluetooth headphones: No on/off switch, no pairing button, no play/pause or call-answering buttons, and no volume controls. Instead, you can double-tap to get Siri—this pauses your music, but you can at least say "turn up the volume" without fishing out your iPhone to turn it up on that device. It's a lot more awkward than just having volume controls built in.
Removing one AirPod from your ear while music is playing will automatically pause it, perfect for interacting with a cashier, barista, or nosy passerby who has questions about your AirPods. The auto-pausing effect is incredibly cool—I wish all my headphones did this. Just don't remove both AirPods, or the audio playback will automatically switch back to your iPhone's speakers, leaving you scrambling to pause it.
Power to go
The charging case is pretty neat on its own, too. It's got a Lightning port in the back, and you can charge just the case on its own or the AirPods inside the case. That's right—while the AirPods themselves get about 5 hours of playback per charge, according to Apple, the case has a battery, so you can top off on the go. The case has enough juice for about 24 hours of playback, Apple says, which means you could recharge the AirPods nearly five times before you have to plug the case into a power adapter or USB port to recharge. Apple says that popping the AirPods into the charging case for 15 minutes will get you another 3 hours of music—a tiny green LED inside the case lets you know the AirPods are charging. Keeping wireless headphones charged can be a major pain point—running out of battery mid-workout or mid-commute is the worst, so this could be a good solution.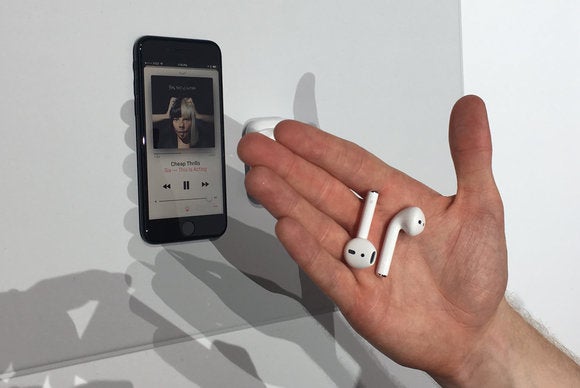 The AirPods have a W1 chip inside to enable all this intelligence, and Apple built the same chip into a new lineup of Beats headphones too. The Beats Solo3 Wireless are over-the-ear headphones that have a more complete set of on-ear controls and 40 hours of battery life, available now for $300. The fitness-focused Powerbeats3 ($200) and everyday BeatsX ($150) launch later this year.
As for the AirPods themselves, sadly, they won't launch with the iPhone 7. They're due later in October, sold separately for $159. That's steep compared to other Apple-branded earbuds—the company's most high-end wired earbuds topped out at $99—but much more reasonable compared to wireless Beats or other high-end wireless models. iPhone 7 early adopters can use any Bluetooth headphones, of course, and Apple is also including two more solutions in the box: a wired pair of EarPods that connect to the iPhone's Lightning port, and a Lightning-to–3.5mm adapter that lets you plug any standard wired headphones into the Lightning port.
We'll have a full review of AirPods as soon as we can, and we'll compare them to Beats and other wireless options in the same price range. Until then, any questions we can answer? Let us know in the comments.