Last Wednesday, we experienced one of Apple's new product events, which saw the unveiling of the new iPhone 7, the new wireless AirPods, and the new Apple Watch Series 2. Apple also gave us the release dates for macOS Sierra and iOS 10.
This twice-yearly (and sometimes more often) ritual follows a familiar pattern. Apple primes the pump by sending out a cryptic invitation to the press, which leads to much kremlinology as journalists try to glean hints from the slogan, graphic, or even font used in the invitation. (Or play it backwards to see if Paul is still dead.) Then, in a lead-up to the event, about six hours prior to Tim Cook's walk-on, the Apple Store goes down.
Apple's website continues to function, but click a Buy button for any product, and you'll be met with a message informing you that changes are afoot. This outage takes place in the morning in the United States, so arguably doesn't affect many people in that country; at least on the west coast. But in the rest of the world, and on the eastern seaboard, people are at work. All of Apple's country stores close at the same time.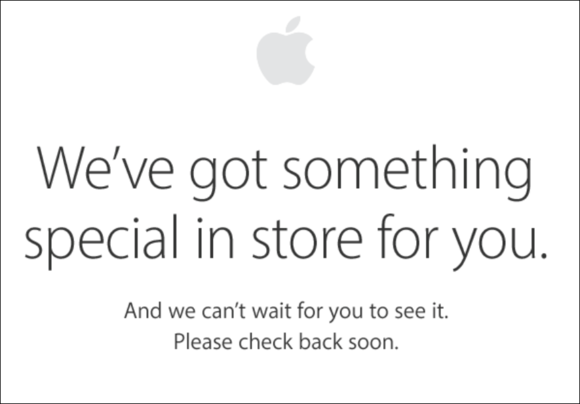 Apple is certainly right to stop selling the iPhone a few hours before a new model is to be announced, and to curtail sales of Macs when they're being upgraded. But shutting the entire store down is overkill.
While many people are likely to want to buy the new iPhone, there may be far more people who need to order a case, a hard drive, a cable, or some other item from Apple. I have never understood why Apple has to shut the entire store for so long.
The Apple Store isn't just shut for orders; you can't browse accessories, buy gift cards, and you can't buy an iPhone case. You can't even access your account during this period to check on an existing order. Not everyone is upgrading to the iPhone 7, and many people may need a Thunderbolt cable or a keyboard. You can't even look at most of these items to prepare a potential purchase. Some products, such as the iPad smart keyboard, for example, have their own pages that are accessible during the closure, but you can't see Apple standard Mac keyboards or third-party keyboards.
Now Apple is a computer company; a very large computer company. They know a bit about databases. They have iCloud, which handles many types of disparate data, ( though not always very well), and they have the iTunes Store and Apple Music, which contain tens of millions of songs and albums. You'd think they'd be able to manage a database of a few thousand products on their retail website, removing from sale those items that are being upgraded.
But there's the rub: Apple doesn't want to tip their hand. If they're releasing a new iPhone, they don't want to continue selling the current models, but they don't want to tell you that the iPhone is being updated. (As if it was a secret.) But the collateral damage hits Macs—whether they are due for upgrades or not—iPods, cables, cases, and keyboards.
If you do need a cable or other accessory on one of these days, you're better off going to Amazon. When the Apple Store comes back on line after the two-hour event, it's generally saturated with eager users looking for information about the new products, and you may not be able to place an order anyway, because it's so slow.
Apple should be able to maintain at least part of its online store during this time, instead of telling customers to go away. Not everyone needs the newest iPhone, iPad, or MacBook; some of us may need more banal products, and Apple simply doesn't want our business.