Apple's second-generation smartwatch is finally here. The Apple Watch Series 2 is not a drastically different device than the original Watch that debuted almost two years ago, with 38mm and 42mm models. But there are still some notable improvements, upgrades, and cool new collaborations. Here's everything you need to know about the new Apple Watch Series 2.
Let's get to it: Is it waterproof?
Yes! At least more-so that then first-generation Apple Watch. Whereas the original Watch was merely splash-proof, the Apple Watch Series 2 is being called "swim-proof." Most ingeniously, Apple has redesigned the speaker, which needs air to make sound, to help keep water from getting inside the device. Technically, the Apple Watch Series 2 meets the water resistance certification for 50 meters.
50 meters? Wow, so can I go diving with it?
No! The 50 meter certification is somewhat of a misnomer. It just means that you can go swimming with your Apple Watch Series 2, either in a pool or the ocean. So don't even think about going scuba diving wearing your Watch.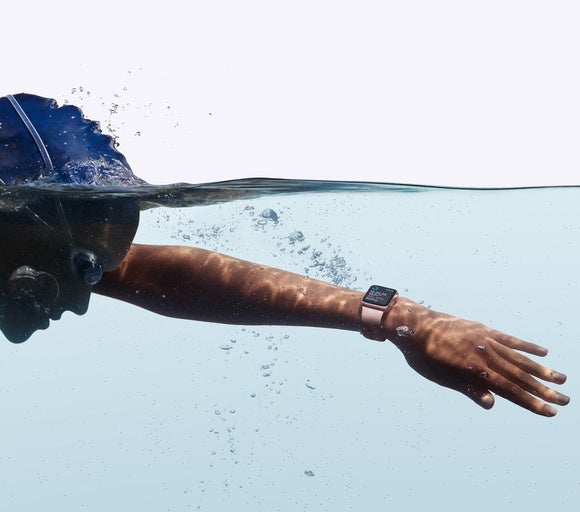 Does it have cellular capabilities?
Original rumors suggested that Apple was hoping to make its second-generation smartwatch fully cellular, but it turns out that's not the case. You will still need to have your iPhone nearby for your Apple Watch Series 2 to perform most data-heavy operations. But that doesn't mean that the new Watch is useless without being tethered to your iPhone. The Apple Watch Series 2 does have a built-in GPS.
Built-in GPS? What can I do with that?
During the September event, Apple showcased the built-in GPS on the Apple Watch Series 2, both by mapping a running route in the Workout app, and with a third-party app too. Using ViewRanger, a hiking app, you can pick from nearby hikes, get notifications about scenic points while en-route, make sure you don't go off the trail, and record your activity tracking, all using the Watch's GPS.
Any other differences in the Series 2?
Yes, during our hands-on after the event, we noticed that the Apple Watch Series 2 was slightly thicker than the original Series 1. The Watch Series 2 has a dual-core processor making it faster, as well, and the display is twice as bright.
In addition to the stainless steel and the aluminum models, Apple has added a glossy white ceramic body that Susie says, "looks like it was carved from solid block of unicorn horn." Apple claims that the ceramic used is four times harder than stainless steel. The ceramic Apple Watch Edition is going to cost you, though, as this model is now the priciest on the lot, starting at $1249 for the 38mm version with a cloud-colored Sport Band.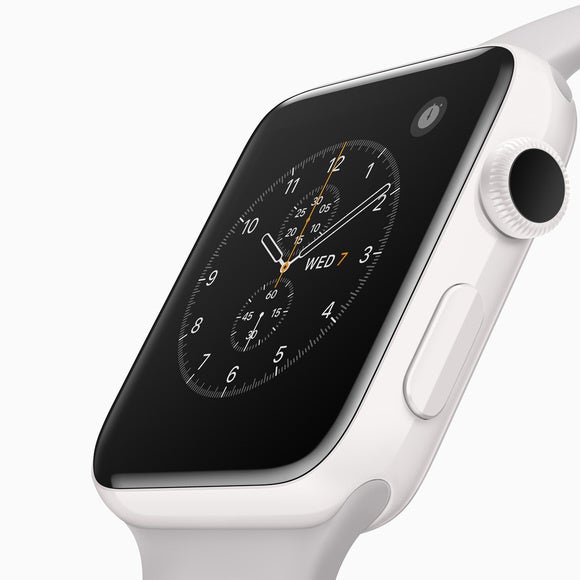 Just $1249? What if I have $17,000 to spare?
If you're looking to purchase an ultra-expensive Apple Watch, the ceramic model will have to do. The ceramic Apple Watch Edition replaces last year's solid-gold Watches with their exorbitant retail prices between $10,000 and $17,000. You can still pony up for the Hermès collection, starting at $1149 for a stainless steel Apple Watch Series 2 with swanky faces and a high-end leather band. There are two new Hermès bands to choose from, available starting now.
Besides Hermès, any other special collaborations?
Another big reveal during the September event was a collaboration with Nike. The Apple Watch Nike+ is designed specifically for runners, with a lightweight aluminum body, a special active watch face, and a perforated Sports band for better ventilation. With this special Watch, you'll be able to ask Siri to start a run. While running, you can get a distraction-free display of the distance and your pace or an advanced mode with more details about your workout.
What else is unique about the Apple Watch Nike+?
The Apple/Nike collaboration has also put motivation on the forefront. The Apple Watch Nike+ will prompt you with a question: "Are We Running Today?" These notifications pull up specific details like when was the last time you went on a run, if the weather is perfect to run outside, or information from your friends to keep you motivated.
In addition, Apple Watch Nike+ has a "Just Do It Sundays" to get users running on the first day of the week. Purchasing an Apple Watch Nike+ will also get you a membership to the Nike+ Run Club, which will personalized coaching sessions, gear recommendations, and access to live runs around the world.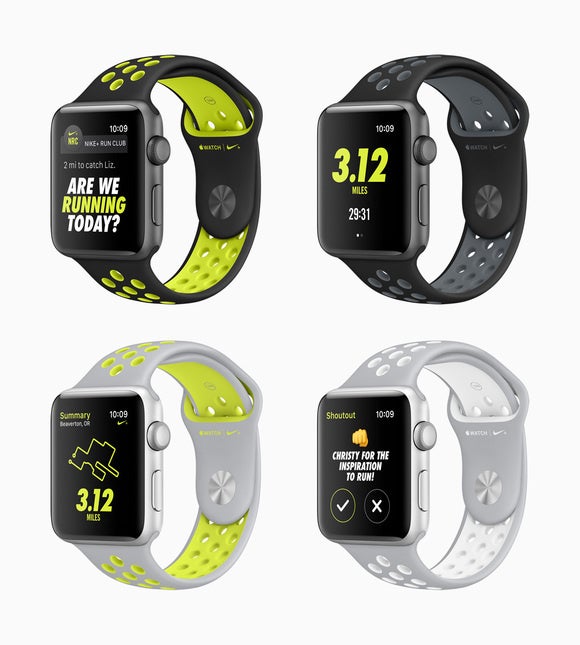 All these Watches will run watchOS 3, right?
Yes, that's right—watchOS 3 was introduced earlier this year during WWDC and will launch on September 13. Here's a quick refresher: watchOS 3 will make it so that Watch apps launch 7 times faster. You will also be able to share your Activity circles with your friends to keep each other motivated, and use a new Breathe app for helping with deep-breathing exercises. The latest watchOS 3 also brings updated features to Messages so you can scribble and send animated stickers.
When will the Apple Watch Series 2 be available?
You can preorder your new Apple Watch Series 2 starting Friday, Sept. 9 at 12:01 a.m. on Apple.com. These preorders are expected to ship starting on Sept. 16, the day these Watches will also be available at the Apple Store.
The Watch Series 2 starts at $369 in gold, rose gold, silver or space gray aluminum, and $549 for silver or space black stainless steel Apple is also selling the original Watch Series 1 (aluminum only), updated with a dual-core processor starting at $269.
The Apple Watch Nike+ comes in four colors and will be available in late October, also starting at $369. The Hermès collection will be available on Sept. 23 starting at $1149.