It seems like just yesterday that Apple announced the iPhone 7 and iPhone 7 Plus with stereo speakers, overhauled cameras, and splash-proof capabilities. Oh, wait, it was yesterday. And now it's time to preorder your shiny (or matte) new iPhone. Preorders start on Friday, September 9 at 12:01 a.m Pacific. Yep, that's right after midnight, so don't go to bed Thursday night without setting your alarm.
Apple.com may seem like the most obvious choice to preorder your iPhone 7 and iPhone 7 Plus. But you can also get it from the Apple Store app for iOS, which tends to work very smoothly in our past experience. Apple even recommends going this route, and it should certainly be your plan B if Apple.com crashes.
Besides Apple, the four major cell carriers are also eager to help their customers upgrade or switch to a brand-new iPhone, especially if it means renewing a two-year contract, extending an installment plan, or signing up as a new customer.
Apple
Preorders for the new iPhones start on Friday, Sept. 9 at 12:01 am Pacific/3:01 a.m. Eastern, and Apple's online shopping portal is already up. You can't check out just yet, obviously, but you can prepare by pre-entering your wireless account and carrier information.
If your carrier is AT&T, Sprint, or Verizon, you can check your upgrade eligibility directly on Apple's website, which also has a detailed breakdown of plans offered by each carrier (chart below). If you're a T-Mobile customer, you'll have to pay in full to place your preorder from Apple, starting at $649. For more options, including how you can get an iPhone 7 for free, see below about preordering from T-Mobile.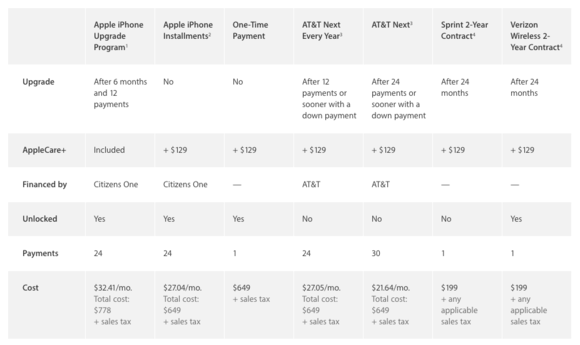 In addition, Apple is continuing its iPhone Upgrade Program for the 7 and 7 Plus, which allows you to upgrade to a new iPhone every year by paying monthly installments directly to Apple. Those plans start at $32.41 a month for the 32GB iPhone 7 and $36.58 a month for the 32GB iPhone 7 Plus, and they include AppleCare+, which is $129 on its own. For more information about Apple's upgrade program, read our complete guide.
AT&T
If you're an AT&T customer (or would like to become one), you can also preorder your new iPhone 7 on ATT.com. Preorders start on Friday, Sept. 9 at 12:01 a.m. Pacific. On ATT.com, you can check your upgrade eligibility and select one of their Next plans.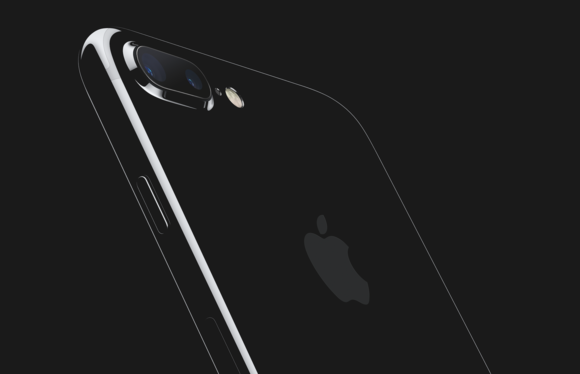 AT&T Next lets you get a new iPhone 7 for $0 down as long as you make monthly payments starting at $21.64 over 30 months 32GB iPhone 7. You can upgrade to a new iPhone after 24 payments or sooner with a down payment. The AT&T Next Every Year plan has larger monthly payments but you can upgrade after a year, hence the name. These 24 monthly payments start at $27.05 for the 32GB iPhone 7, but you just need to make 12 of them to upgrade to a new device.
Verizon
Verizon is also opening up the floodgates to preorder the iPhone 7 and 7 Plus from VerizonWireless.com on Friday, Sept. 9. In addition to offering an unlocked 32GB iPhone 7 for $199 with a two-year contract, Verizon is also giving you the option to pay for the phone in full or through a 24-month installment plan.
Last year, Verizon was known for offering very generous trade-in offers, upwards of $400 for a last generation iPhone and going back as far as the iPhone 4. We'll update this article if similar trade-in offers arise.
T-Mobile
Yet again, T-Mobile is using a new iPhone to keep its customers around. Preorder the iPhone 7 directly from t-mobile.com on Friday and get it for free if you trade in your old iPhone 6, 6 Plus, 6s, or 6 Plus.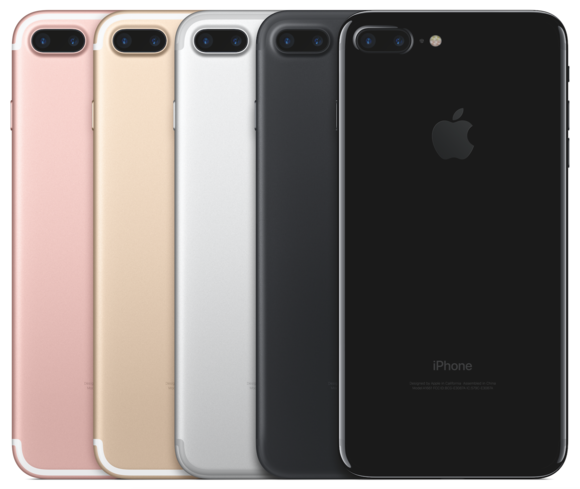 The old iPhone trade-in has to be in working condition and without a shattered screen. In exchange for the trade-in, T-Mobile will give you a monthly credit on your bill for 24 months. After that, "you will have paid nothing and will owe nothing for that free iPhone 7." If you cancel your service before the 24 months, however, you will have to pay the remaining balance of the iPhone's retail price.
T-Mobile is also offering the iPhone 7 models on the no-interest 24 month payment plan and on its Jump On Demand installment plan.
Sprint
Sprint will also start taking preorders on Friday at 12:01 a.m. Pacific on Sprint.com, and the carrier is expected to use the occasion to continue promoting its iPhone Forever program, which will offer the 32GB iPhone 7 for as low as $15 a month if you trade in an old iPhone.
Sprint's iPhone Forever program is technically a 22-month lease. After the 22 months, you can go month-to-month, trade in and upgrade to the next iPhone for free, or pay off the remaining balance of the lease and keep the device.