It's really hard to tell the difference between the new Apple Watch Series 2 models and the originals—the aluminum and steel versions anyway—until you place them side by side. Turns out, the Series 2 models are ever so slightly thicker than their predecessors. Just a hair, not enough to even complain about, really, and it's certainly not a deal-breaker. But from Apple, a company with a track record of sacrificing ports and redesigning keyboards in order to make its products thinner and thinner and thinner, the Apple Watch's extra bulk is a sign that the company is still adding hardware features to find the best mix. In this case, GPS.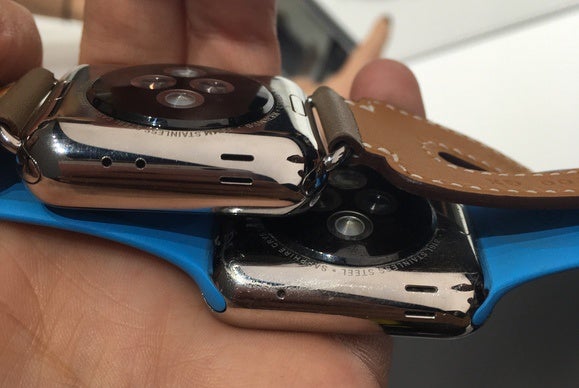 What remains to be seen—and isn't a one-size-fits-all answer anyhow—is whether GPS will be worth the extra cost for the Series 2. After all, GPS and 50m waterproofing are the only differences between the Series 2 watches and the Series 1, which is still on sale. Aluminum Series 1 models, formerly called Apple Watch Sport, are $269 for 38mm and $299 for 42mm, and those Series 1 watches even have the same S2 chips that Apple put in the aluminum Series 2 models, which are $100 more. (Series 2 watches also come in stainless steel starting at $549, but Apple isn't selling steel Series 1.) Since my hands-on time after Apple's September 7 event didn't include a chance to swim laps or go for a run, the Series 2's exclusive features didn't have the opportunity to impress me—yet.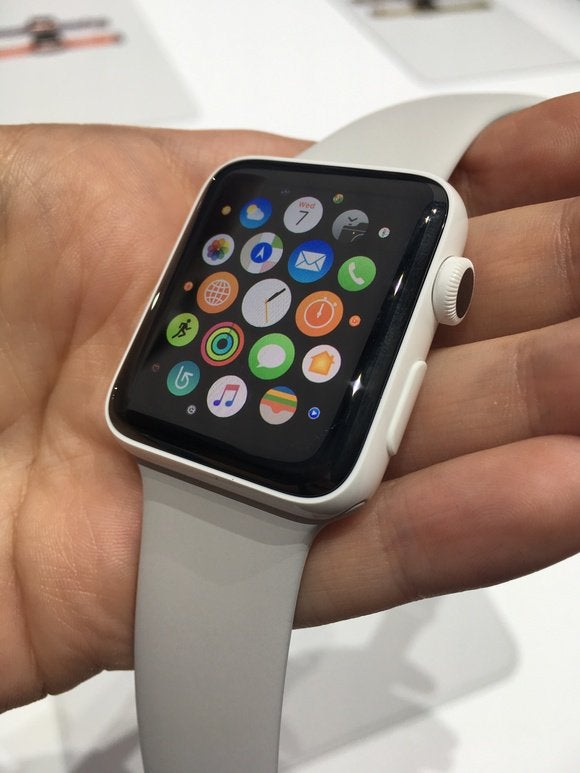 Still, one Series 2 watch called out to me from the crowded table of demo units: the ceramic model. Shiny and pristinely white, it looks like it was carved from solid block of unicorn horn. I'm a little surprised it only comes in white (colors next time, maybe?), but it's a pleasant throwback to when Apple offered a whole range of glossy white products, from iPods to MacBooks.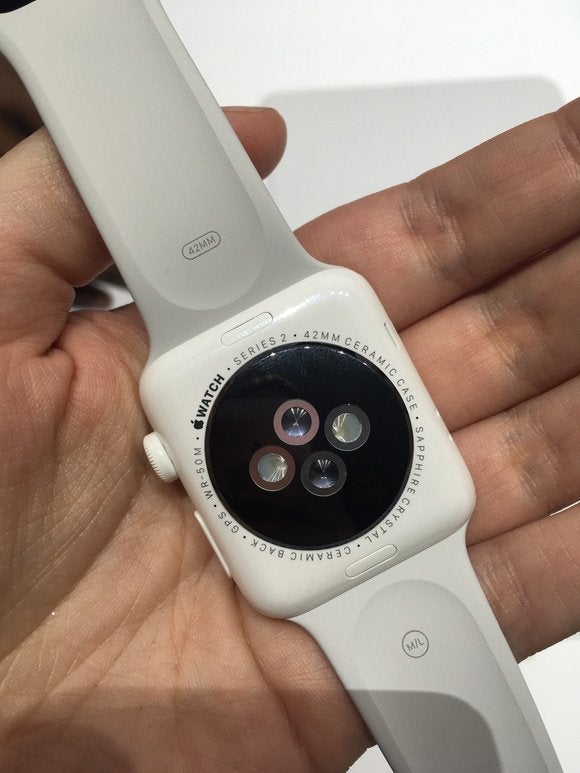 The ceramic Apple Watch Edition, which Apple says is four times harder than stainless steel, was the biggest surprise in Apple's keynote, both for what it is and what it isn't: gold. While it starts at a jaw-dropping $1249 for the 38mm version, the ceramic Apple Watch Edition replaces the solid-gold Apple Watch Edition models that cost $10,000 to $17,000 when they launched in the spring of 2015. Funnily enough, that gorgeous ceramic watch is only sold with an off-white (sorry, "Cloud") Sport Band, a $49 strap that matches the look perfectly but didn't seem luxe enough to me considering the four-figure package price.
The Apple Watch Hermès models, on the other hand, have the opposite problem. For $1149 and up, you get a stainless steel Apple Watch Series 2 with exclusive Hermès watch faces and a high-end leather band. I tried on the 38mm size with an Etoupe Swift Leather Double Buckle Cuff, which felt like butter even if it did take twice as long to put on as a watch with, well, a single buckle. But it retails for $1499, and that math doesn't come close to adding up: A stainless steel Series 2 watch with a Sport Band is $549, which means that stepping up to the Hermès is paying $950 more to get the fancier cuff and the Hermès watch faces. Well, looky here, the exact same cuff can be had on its own for $689. That just leaves the faces, based on classic Hermès watches called Clipper, Cape Cod, and Espace—but honestly, I don't think they're good-looking. I wouldn't pay $5 for one in the App Store even if I could.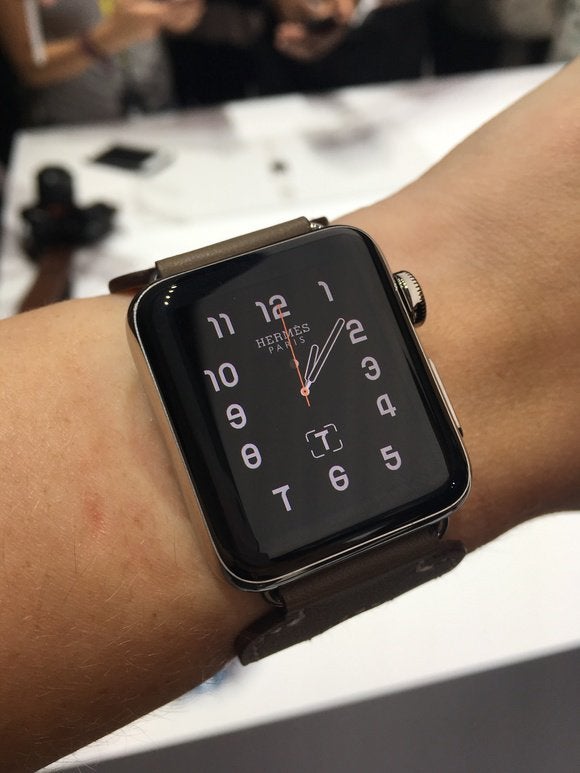 Finally, the Apple Watch Nike Plus is a aluminum Apple Watch Series 2 in space gray or silver, with a special Nike Sport Band and exclusive Nike watch face. The bands are vented all the way around and stand out thanks to Nike's eye-catching neon-yellow "Volt" color. (Plainer black/gray and silver/white colorways are available too, but if you're gonna go Nike, go neon, I say.)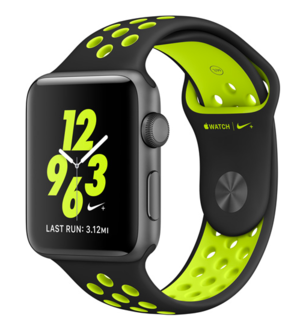 Aimed at runners, the Nike watch face will even nudge you to pound the pavement more often, by reminding you how long it's been since you last ran, how nice the weather is, or how hard your friends are smoking you on the leaderboards. Keeping in mind that any Apple Watch running watchOS 3 will let you share Activity rings for a little friendly competition, but Nike's implementation seems like a lot of fun. And the prices are the same as the rest of the aluminum Series 2 models, so whether you go Nike or not is simply a personal preference.
Bottom line
I'm eager to test the GPS and lap-counting Swim workouts in the new Apple Watch Series 2, once they ship, and see how long the battery lasts compared to my trusty first-gen Apple Watch. Until then, I think the ceramic watch is the best looking if you're willing to shell out for it, the Hermès Edition isn't worth the money (but the à la carte bands might be), and the aluminum Series 2 watches continue to be a pretty good deal.
If you already have an Apple Watch, there's no need to upgrade, but if you've been waiting to jump onboard, now's a great time, and if you don't mind forgoing GPS, the Series 1 option saves you money without sacrificing speed. Apple will take preorders starting September 9, and ship the watches starting September 16. (Hermès models ship September 23, and Nike models in late October.) New bands are in the store starting now.