At a Glance
Expert's Rating
Pros
Provides excellent protection
Above average typing experience
Strong magnetic hinge allows for multiple viewing angles
Tablet can be removed and used independently of keyboard.
Cons
Case makes the iPad as heavy as some laptops
Uses Bluetooth instead of the iPad Pro's Smart Connector
Case is too thick to allow Apple Pencil to dock in Lightning Port
Our Verdict
Bluetooth-based keyboard case is sure to protect your 9.7-inch iPad Pro.
Apple's Smart Keyboard for 9.7-inch iPad Pro ($149 at the Apple Store) is all about minimalism. It provides a pleasant enough typing experience—for a keyboard case—but that's it.
A lot's missing: despite being designed specifically for use with an iPad, it offers no iPad-specific shortcut keys. Wafer thin as it is, the Smart Keyboard, when used as a cover, will keep your iPad Pro's display from getting scuffed up by your car keys as they bounce around in your bag, but it lacks the sort of protection a tablet needs to in order to help it survive bumps or falls.
Happily, for those that want them, there are alternatives. While it won't be to everyone's liking, for a certain kind of user, Zagg's Rugged Book for the 9.7-inch iPad Pro ($149.99 MSRP; $115 on Amazon) could be a very desirable tablet case.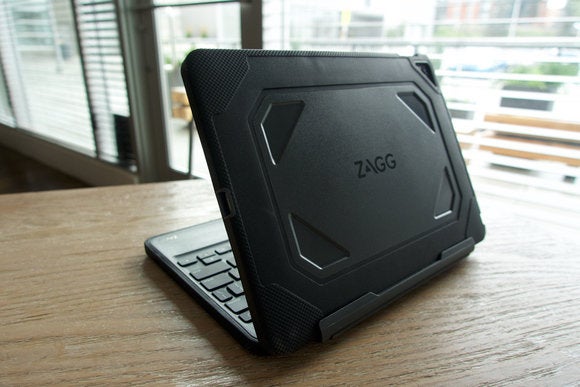 Sturdy, not slim
I say almost because it's not without its flaws. First, at 2.6 pounds and just shy of an inch thick, the Rugged Book laughs in the face of the iPad's minimalist design. Those who love the 9.7-inch iPad Pro for its slim lines and light carry weight, may as well stop reading now. This isn't the case for you.
The Rugged Book looks like it's built like a tank, because it is. The case surrounds the iPad Pro and the case's keyboard with steel plates and polycarbonate, sandwiched between layers of soft, shock-absorbing silicon. This combination of materials not only provides a ridiculous amount of protection for your expensive tablet but also provides the weight required to keep the iPad Pro in place when you're using the keyboard, in almost any position. Type in your lap and the silicon will grip at your legs. Tap away on a table and the heft will keep your iPad Pro planted firmly in place.
And you'll want to type on it.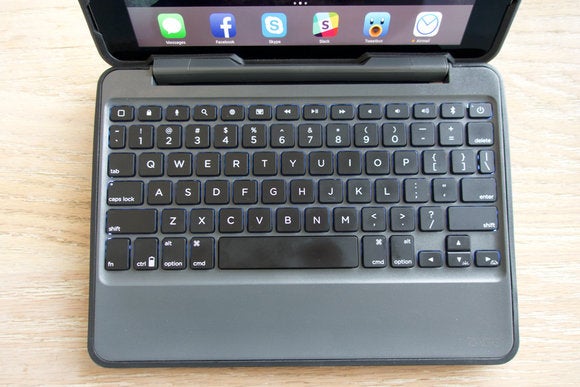 Typing
While there's no getting around the fact that any keyboard designed to match the dimensions of a 9.7-inch tablet is going to suck to a certain extent, the Rugged Book's keys offer a greater amount of travel and a superior tactile feel than the Apple Smart Keyboard Cover does.
It's a cramped but familiar typing experience that feels more like typing on a MacBook keyboard than slapping your fingers on raised vinyl bumps. What's more, the keys are backlit, offering multiple lighting levels and colour options. It also comes with a full row of iPad-specific shortcut keys and, unlike the Apple Smart Keyboard, the Rugged Book's strong magnetic hinge offers a wide range of viewing angles.
When you're done typing, you can pull your iPad Pro off of the magnetic hinge and use it as, you know, a tablet. Alternatively, it's also possible to use the keyboard as a base for watching videos on, or hide the keyboard away behind the iPad.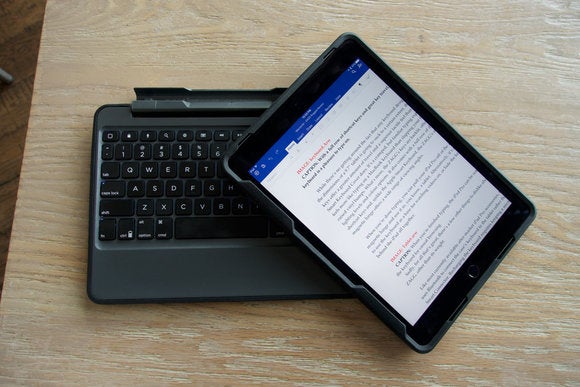 Shortcomings
Sadly, for all that's great, there are a few other things to dislike about the Rugged Book, other than its weight.
Like most currently available after-market iPad Pro accessories, the Rugged Book uses Bluetooth to connect the case's keyboard to the tablet rather than Apple's Smart Connector.
Recharging the keyboard requires keeping a micro USB cable handy. I've found that with hours of typing a day, I'm able to go two or three weeks between charges. Your mileage may vary.
It's also a sad fact that the Rugged Book makes it impossible to plug an Apple Pencil into the iPad Pro's Lightning Port—the case is simply too thick to allow it to mount, and therefore, pair.
Finally, despite being designed for rough and tumble use, the Rugged Book provides no dust or water resistance for the iPad Pro. A disappointing omission.
Bottom line
Despite its weight and a few disappointing shortcomings, the Zagg Rugged Book is a better-than-average backlit keyboard. Its robust build quality and surprising versatility make it a great option for anyone interested in turning the iPad Pro into a serious on-the-go word processing machine.