We're all used to technology getting better every year: faster processors, better cameras, improved graphics, and so on. But with this year's updates, Apple's continuing a trend that it's increasingly embraced over the past few years, taking advantage of technology getting smaller and more powerful to take more of a holistic approach. Why use one widget when two will do?
Nowhere is this approach of parallelism more apparent than in the new iPhone Apple showed off on Wednesday. Realizing that you can't always have one piece of technology that does it all, they've instead decided to combine multiple elements to yield something that's greater than the sum of its parts.
Two cameras are better than one
Though the iPhone camera has consistently improved year over year, to the point where the images it can take are breathtaking, it's still lacked one feature that seemed to consign it to the DSLR-wannabe category: a telephoto lens.
The thing is, it's tricky to build a telephoto lens into the existing iPhone camera, for reasons of physics. In a traditional camera that has telephoto capability, you can extend the barrel to increase the focal length—that's a lot harder when you're building it into a smartphone.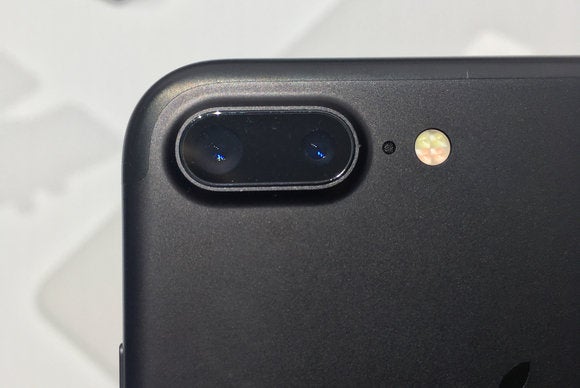 Fortunately, smartphone cameras have gotten pretty small as they've gained power. So Apple took the in-hindsight-obvious choice of simply adding a second, dedicated telephoto camera to the iPhone 7 Plus, and then unifying the zoom capabilities in software. On top of that, the second camera opens up some fascinating possibilities, since it allows the 7 Plus to capture much more information about a scene. For example, Apple showed off the bokeh-like abilities, coming to 7 Plus users in a software update later this year, that allow it to provide a blurry background with a sharp, in-focus subject for portraits.
Obviously, the 2x zoom that the lens in the 7 Plus provides isn't going to compete with a professional-level camera. But Apple's shown time and time again that the bigger virtue is having a camera that's with you all the times—this just makes the pictures you're already taking even better. And with two cameras as its disposal, those pictures may well be twice as nice.
More cores, less power
Cameras aren't the only place where upping the number comes in handy. Multicore processors have been a fixture of Apple's products since the Intel transition a decade ago. In that time, the philosophy has remained more or less the same: many cores make light work, so let's have a bunch of powerful cores within the processor to share the load.
But with the iPhone 7 family, Apple took a slightly different approach, because the concern in smartphones isn't just about performance—ramp up the performance too much and you start burning through power. Even more so than with a laptop, a smartphone's battery life is, in the end, all that matters. You can have the most powerful phone in the world, but if it can only pump out those amazing graphics for five minutes before it dies, well, that's a nonstarter.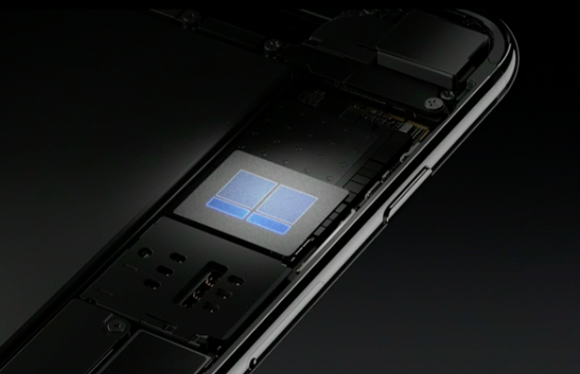 So once again, Apple thinks around the problem by going the parallel route. Instead of four equal-power cores, the iPhone 7 line's A10 Fusion chip includes two high-performance cores for the most intensive tasks and two high-efficiency cores for everyday tasks like checking email, along with a system that can figure out which cores are best suited to the task at hand.
Apple likes showing off performance-gain graphs during its keynotes, and how much the processors have improved since the original iPhone. But the truth is, for many tasks, the iPhone has performance to spare—the processor isn't the bottleneck. In those cases, a higher-efficiency core can accomplish the same task in probably about the same amount of time, with a lower drain on battery. It's simply a better tool for the job.
Living a double life
If something about this approach sounds familiar, it's because Apple's been using it for a while now in the MacBook Pro. Since 2010, many models of Apple's workhorse laptop have shipped both with integrated graphics and a discrete GPU, which the OS can switch between depending on what the currently running applications need. As with the iPhone, the MacBook Pro doesn't need its high-power GPU for most mundane tasks, and the integrated graphics chip has much better power efficiency, extending the amount of work you can get done on a single charge.
On the face of it, this approach lies in stark contrast with many of the products' outward-facing features, where Apple has tried to vastly reduce the number of things, from buttons to ports. But that makes sense, because Apple's always been about providing the most technology, but shielding users from the nitty gritty details of what that technology is doing.
So, dual graphics, multicore processors, two cameras—what's next? Two displays, built on different technologies, that let you switch to something like an electronic ink screen that's easier to read in sunlight? Maybe dual SIM cards to make it easier to switch networks? At least there's one thing we can all agree on: it probably won't be two headphone jacks.