Welcome to another edition of Have Gear, Will Travel—this time, coming to you from beautiful British Columbia, Canada. While my partner's finishing her degree for the next eight months in Vancouver, you and I will be roaming the countryside and mountains testing hardware and apps all over this rugged, gorgeous province—sound good? Good—let's do this!
This week, we were supposed to talk about hardware-friendly carry-on bags and backpacks, but we're not going to do that. The why of it is that the folks at Tom Bihn got in touch with me to say that they have a new travel bag in the works that they're on the cusp of releasing. Given how much use I've gotten out of their products over the years, I feel that I wouldn't be doing you a service if I didn't hold up for long enough to take it for a spin and tell you what I think. Give me a few more weeks to sort it all out—I promise to have some backpack and carry-on suggestions ready to go in time for the holiday travel season.
For now, let's spend some time pouring over The Suunto Traverse. It's a GPS-enabled smartwatch which, while lacking the extensive customization options and color display of Garmin's Tactix Bravo, still provides a wide enough array of the travel-related features and crazy-long battery life that adventurers need to make leaving their Apple Watch at home a tempting proposition.
One of the most important things that sets the Traverse apart from the Tactix Bravo is its price: Through online outlets like Amazon, it can be found for as little as $290. That's still a lot of money, but it's a price point in the same neighborhood as an Apple Watch Series 1 and hundreds of dollars less than you'd have to fork over to get your hands on a Garmin Tactix Bravo.
As I've belly-ached over in the past, the Apple Watch is a great peripheral, provided you have the ability to charge it every day. Wander away from a power source with one for more than 24 hours and you're hosed. Not so with the Traverse. When being used simply as a time piece, the watch's internal battery can go for up to 100 hours between charges. Of course, this number will drop drastically with the use of the Traverse's baked in GPS/GLOSNASS hardware, but in the six months that I've been using the watch on and off, it's never failed to give me at least a couple of full days of use, even while relying heavily on it as a navigation aid. Given its cost versus my preferred Garmin arm candy or an Apple Watch, I feel that this is pretty reasonable.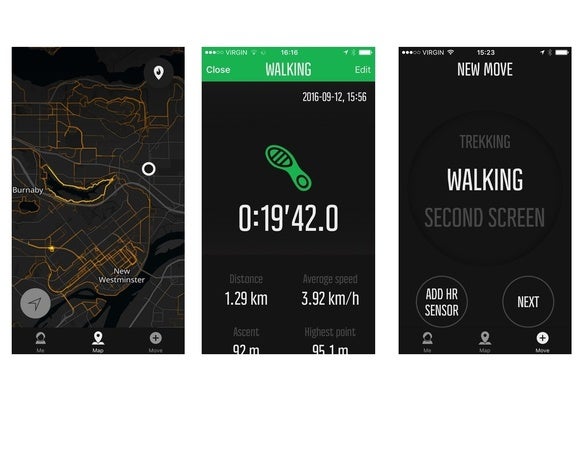 On its own, the Traverse can provide a wide variety of valuable information to its user, including the time (duh,) lap counting for runners, compass bearings, GPS coordinates, and route tracking, as well as the ability to place navigational waypoints and readings from its built-in altimeter and barometer when your elevation increases or the barometer drops drastically, signaling that a storm may be on the way.
But, as with any smartwatch, the real value of the Traverse is found in its connectivity. By downloading the free Suunto Movescount app to your iPhone, you'll gain access to the ability to plot your route in app, see where you've exercised or trekked, and even see what areas around you are popular with other Suunto users. It also displays your step count and can track your movement during other activities, such as walking, trail running, mountain biking, and alpine skiing. And when you're not busy sweating for a better body or a new outdoor experience, the Traverse can provide you with phone and messaging notifications. If that's not enough for you, the Traverse can also be paired with a Bluetooth heart rate monitor. Fancy!
The Traverse isn't what I'd call a light device—one look at how big it is sitting on someone's wrist will tell you that it's got some heft. But at 80 grams (approximately 0.18 pounds), it's not devastatingly heavy either. Most of its weight can be attributed to its stainless steel case, heavy steel bezel, and thick mineral crystal lens. The materials provide it with a rugged-feeling build quality and ensure that the Traverse will remain waterproof down to 100 meters.
That's all of the good stuff—now let's talk about the bad.
While the Traverse is designed to be daylight-viewable and comes with a backlight for use at night, I've found that its always-on display's viewing angles are severely limited. Unless you're looking directly at the watch, you may not be able to read it, no matter what the lighting conditions are. While this is an issue that Apple Watch owners will be familiar with, it's not something that the Tactix Bravo suffers from.
I also found that, compared to the Apple watch or the Tactix Bravo, the Traverse's button control scheme and on screen user interface are frustrating to use. Using the five buttons on the traverse to get around its UI is far from intuitive. Even after wearing it on and off for months, I still find myself flummoxed by it. Given that I'm a nerd paid to play with hardware on a full-time basis, I can only imagine this issue would be compounded for regular folks looking to use the watch.
Finally, The Traverse simply isn't as adaptable as either the Tactix Bravo or the Apple Watch are. There's no adding apps, new watch faces or color customization with it. What you see is what you get. That said, what you get with the Traverse works quite well. Just know that if like being able to tweak your gear, this may not be the outdoors watch for you. But, for the price, you'll be hard pressed to find a better watch to help you find your way and record your adventures in the great outdoors.
Next Time: We'll look at some of my favorite VPN providers and apps for keeping in touch with the services you love and use back home, even while you're out of the country.