The earliest reviews of the Apple Watch Series 2 went live on Wednesday. Series 2 is currently in the preorder phase, and launches in the first round of countries on Friday, September 16. Every reviewer agrees the Apple Watch experience has improved, largely due to watchOS 3. Apple is emphasizing the Apple Watch as a fitness device, where it gets competition from simpler trackers like the Fitbit line, as well as high-end sports watches like Garmin's.
Stuart Miles of Pocket Lint finds that Apple Watch Series 2 falls somewhere in between. "However, for those who take their sport very seriously, we still can't see the Watch 2 replacing a dedicated sportswatch just yet."
USA Today's Ed Baig also likes the watch but points out that watchOS 3, its best feature, works with Series 1 ("a viable option") and original Apple Watch models too. "Still, the latest watch is especially appealing to runners or cyclists who want to leave their iPhones behind, while still relying on GPS to map their routes."
GPS
Waterproofing and GPS are the big selling points of the new Apple Watch Series 2, especially since anyone who doesn't care about those features can save $100 by picking up a Series 1 watch, which has the same faster S2 processor as the new models. So all the reviews mention the GPS prominently and praise its performance.
Writes Lauren Goode of The Verge, "It was easy to knock the first Apple Watch as a fitness device; I know because I often knocked it for this. A $349 sport watch without GPS was like an expensive sports car without turbo. Do you absolutely need it? No. But does it make the thing more legitimate? Yes."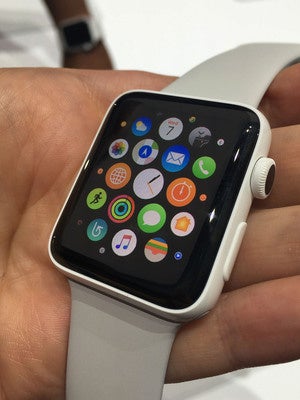 John Gruber loved how the Series 2 and iPhone intelligenty passed off route-tracking duties. "Apple Watch just seems to know when it's out of communication distance from its paired iPhone, and it gets a GPS signal without you telling it to. And if I do have my phone with me, the Workout app will let the iPhone do the GPS because it's the bigger-batteried device."
Stuart Miles of Pocket Lint and Nicole Nguyen of Buzzfeed were both impressed by how quickly the Apple Watch's GPS can start up. "The GPS, which also includes GLONAS support, is fast to pinpoint you the moment you disconnect from the iPhone," writes Miles. "It's able to do that because, and like many other dedicated sportswatches that connect to your phone, the Watch is actually using a number of data sets to track you before you even set off—be it Wi-Fi, a GPS signal, or your iPhone."
Nguyen agreed. "Unlike GPS watches like Fitbit's Surge, I didn't have to wait for satellites to find my position before starting a workout. The watch uses local data, plus GPS and Wi-Fi, to detect where I am. I was able to initiate my runs and morning commutes fairly easily."
Goode found the GPS accurate after taking it for walks, runs, and bike rides on normal routes she's tracked before. "The recorded distances were almost exactly what my smartphone and other GPS watches have recorded in the past."
But Lance Olanoff of Mashable had some quibbles with the GPS in his watch. Initially, he couldn't get it to work at all, and then when it did, "The graphic, which did not precisely track the walk around the perimeter of the park, was color-coded according to indicate my pace at various points throughout the walk."
Splish splash
Baig took his for a swim, and tried the lap counting feature. "In the pool swim workout, you first tell the watch the length of the pool. It can then measure laps, your average pace, active calories and other parameters," he writes. GPS is off during a pool swim, but on during an open-water swim workout. "The caveat: since GPS doesn't work when the watch is underwater, you'll get a more accurate reading of distance and route mapping if you're using a freestyle stroke."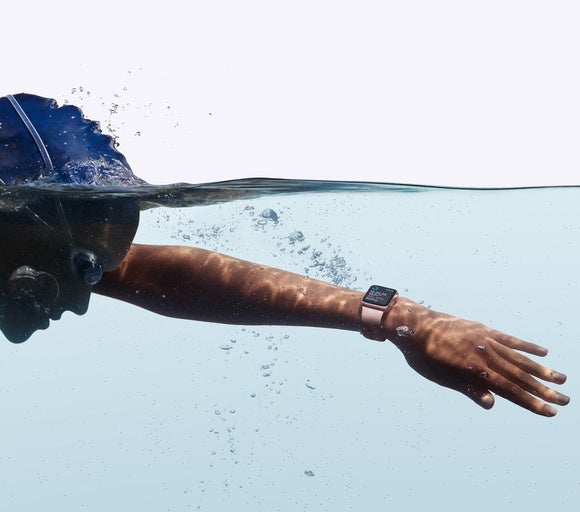 Miles tested the swim features pretty extensively, and came away impressed. "The accelerometer is also used to automatically determine your stroke and then determine the calories you've burned based on the type of strokes you use. It sounds bonkers, but it works. The Watch has been able to determine if we've swam mixed, freestyle, butterfly, breast stroke, and back stroke without us telling it."
Nguyen did a great job of testing the pool workout feature, too. "I alternated between flip turns and touch-and-go's—and the watch counted laps correctly for both transitions." She concludes, "The display, tracking, and GPS provide a LOT of added value for swimmers—and even surfers, who can check tides and the time when they're idling on their boards."
Better screen
Opinions on the brighter screen were mixed. Remember, Apple says the Series 2's 1000-nit OLED screen is the brightest display they've ever used, but in real world conditions, it made a bigger difference to some testers than it did to others. John Gruber raved, "The difference is dramatic. This is my single favorite hardware improvement to Series 2."
Jim Dalrymple agreed: "When I go outside, I can now see the display perfect, even in sunlight."
Nguyen writes in Buzzfeed, "The screen is brighter, so you can actually SEE the time when you're outside."
But Goode writes for The Verge, "And, even though the screen is now brighter and easily visible in normal daylight settings, it's still tough to see in direct sunlight."
Little improvements
Sometimes it's the little things that matter most, and the reviewers had some good observations about the Series 2's incremental improvements.
"Making or receiving calls (via the iPhone in your pocket) on the first watch was not a great experience. But now the speakerphone is louder, permitting a more palatable conversation," writes Baig.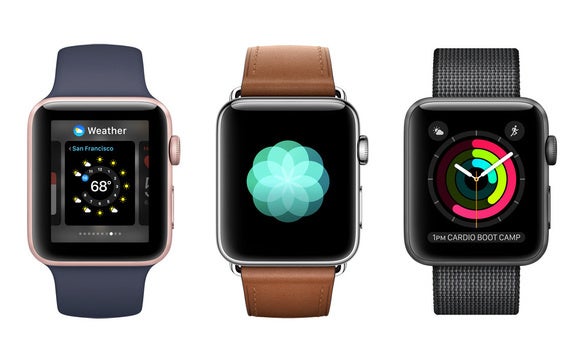 Gruber appreciated the "crisp taps" on his wrist from the new watch's taptic engine. "The Series 2 steel watch on my wrist has much better taptic feedback than the steel original Apple Watch on my desk," he writes.
Delays are shortened all over the interface. Says Miles: "Load times are nowhere near as long as they were on the first Apple Watch, and the days of the screen going blank before the app had even loaded are now a thing of the past."
Little shortcomings
Some Android Wear watches have always-on displays, but the Apple Watch still requires you to raise your arm or tap the screen to wake the display. Writes Gruber, "The off-by-default display will need at least one more leap in battery life and/or display technology."
Miles says the brighter screen can actually be too bright in dark environments like a movie theater or restauarant. "The Activity Analogue Watch face towards the end of the day for example, glows bright like a heavily decorated Christmas tree. Some greater control based on ambient light surroundings, beyond three options buried in the Settings menu would be useful."
And Goode found out that even the best Apple products can fall down when you need iTunes to do something with them: "For whatever reason, I've had trouble syncing my iTunes to the Watch, which can support up to 2GB of music. I can't say I'm remotely surprised that I encountered something problematic with iTunes. A spokesperson for Apple said the company is aware that this may affect some people and is actively working to solve it."
Battery life
The consensus among reviewers is that battery life isn't something to complain about—and might even be better this generation—but you'll still be charging your Apple Watch every night. Baig sums it up: "The battery on Series 2 lasts about a day and a half, same as before. While I've gotten into the habit of charging the watch on a daily basis, I wish Apple had managed a longer lasting battery."
Miles looked at battery life from the perspective of a heavy exerciser. Apple, he writes, claims you could track a 5.5-hour run (a slow marathon) on one charge. "In our experience so far, a 1,500m pool swim and a 1km open water swim uses roughly 15 percent of the battery. Or we've found the battery is good enough to cope with a 10km run and a full day of notifications. That wasn't possible with the first-gen Apple Watch."
We're excited to pick up an Apple Watch Series 2 on launch day, and will follow up with the official Macworld review shortly. Let us know in the comments if there's any questions we can answer.