Fifteen months ago, Apple launched Apple Music, and more than 17 million subscribers are now using the service. But it hasn't been without problems. The interface Apple offered in iTunes and in the iOS Music app was confusing, and it turned music listening into a chore.
Apple paid attention to users' complaints, and has now released version 2 of Apple Music, to coincide with the release of iOS 10 and its updated Music app, and iTunes 12.5, which offers a number of tweaks and changes.
I've been using the new Apple Music for several weeks now, since it was made available to beta testers of Apple's operating systems. It's a solid upgrade, with lots of improvements to make the service easier to use, and it's more enjoyable. Here's how it works in iTunes, and we have a guide for the iOS app too.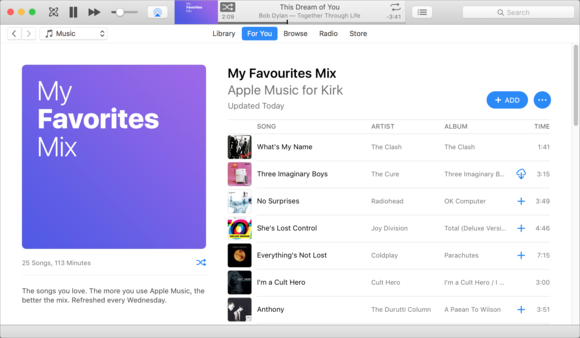 What's in a name?
To start with, Apple simplified the navigation bar that displays above the content of your iTunes library and when you're viewing Apple Music. Instead of My Music, For You, New, Radio, Connect, and iTunes Store, the new navigation bar is simpler. Library is your music library, while For You contains recommendations, as before, but also the relocated Connect feature. Browse makes a lot more sense than New, because that's where you need to go to search for music, new or old.
Size matters
Gone are the skimpy fonts of yore; Apple Music now displays very large fonts so you can't miss what you're looking for. Whether it's the huge For You, the large "tabs" in the For You or Browse sections, or the big genre names when you view Genres in Browse, the fonts make it very clear what you're looking at.
Discovery
For You is the heart of Apple Music for many people: it contains recommendations based on your play history, ratings, and iTunes Store purchases. Apple has cleaned this up significantly:
The top section contains My New Music Mix, a playlist of new songs you might like. Next is My Favorites Mix, a playlist of 25 songs gleaned from your favorite music. Each of these playlists are updated weekly. I find My Favorites Mix to be a great way to listen to music I know I like, and I wish it would update more often, or contain more music.

Scroll down to see Recently Played, which shows the playlists and albums you've listened to recently. This is a good way to go back and check out something you only heard with one ear, and perhaps add it to your iCloud Music Library.

There's a section with the day's playlists. This is similar to the playlists that For You offered before, but presented in a different way. I can't say that these playlists are any better; the six playlists I see as I'm writing this article don't interest me much.

Next comes a selection of albums, again linked to the current day. There are four blocks of four albums, each one related to music I like. Right now, there's one "Because you like electronic," another "Because you listen to Bob Dylan," and another "Since you're into jazz." These are a bit simplistic, but I have found some music I like there, from artists I know and others I've discovered.

Next are Artist Spotlight Playlists, six of them, focusing on music by a specific artist, or their influences.

Finally comes New Releases, with a row of a dozen albums Apple Music thinks I might like. This isn't a very good selection, and contains a number of albums I've told Apple Music that I dislike.
All in all, there are a dozen playlists and a few dozen albums on the For You screen, more than enough to find something to listen to when I'm short on inspiration.
The Browse section also benefits from the cleaner display, with a number of sections for new releases, "Music You Need to Hear," "Hot Tracks," and more. There are quick links at the top of the page to Curated Playlists, Videos, Top Charts, and Genres. And hop into any genre, and you'll find more focused new music.
View an album and you're greeted with more bigness. In fact, this is a key feature of iTunes 12.5: bigger fonts and much bigger artwork. It's a bit jarring at first to see the size of album artwork in iTunes 12.5, but both in your library and in Apple Music, it makes the music stand out a bit more. Gone are the thumbnails that made you squint; this artwork is in your face.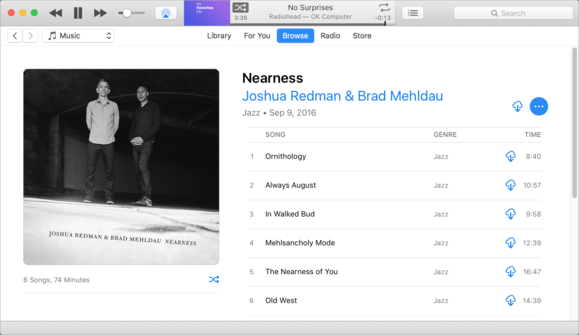 Apple Music Radio hasn't changed much. The content and features are the same, but it, too, benefits from the simpler interface and larger fonts.
I wasn't a big fan of the first iteration of Apple Music. The design lacked the simplicity that is often present in Apple products (with the exception of iTunes). Apple has stopped trying to cram so much content into the Apple Music display, and has allowed everything to breathe more. Looking at the Apple Music interface in iTunes, I feel less pressured to pick something, and more inclined to browse and actually check out some of its suggestions.