When Apple executives were naming off all the great, life-changing things that the new iPhone 7 Plus camera could do they threw out a term that may have had your fingers racing towards a Google search: bokeh.
If you're unfamiliar this (as was I), bokeh is an increasingly popular photography trick that softens and blurs the background and focuses sharply on the subject. The effect is sometimes accompanied by a dancing array of colors and bubbles that may appear as if the image was dropped in a lava lamp.
Along with bokeh, Apple's presenters also promised superior depth of field shots, which allow for some dramatic images with profiles or outdoor scenes. As our hands-on found, the iPhone 7 Plus camera in particular should be pretty great, thanks in part to the dual lenses on the back.
Apple says the bokeh trick is coming later this year with a software update for iPhone 7 Plus owners, so it'll be a while before we're able to try it out. But what if you want it now? And what if you don't have an iPhone 7 or 7 Plus?
No worries! Just head to the App Store, where you'll find camera and photo editing apps that can bring bokeh, depth-of-field tricks, and other advanced features to the iPhone that's in your hand right now.
Get a new camera
An excellent first step is to tap into the great variety of alternative camera apps out there as they offer additional things to tweak when you go to take a photo. Start with Camera+, which offers several controls for more directly focusing in on various pieces of the viewfinder. It also has a robust set of editing features, including some depth of field capabilities and ways to get the bokeh effect.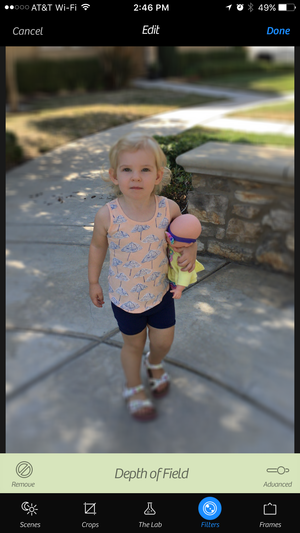 I've also become rather fond of Microsoft Pix, which we recently reviewed. It does a marvelous job at recognizing faces in an image and sharpening the focus so they really stand out. It's an easy way to get a depth of field approach by making the camera do all the work.
Granted, the final result is likely to be superior when the 7 and 7 Plus launch. But I'm pretty happy with this result, which wasn't touched by an additional editing.
Pix also is selective about when to capture Live Photos based on if motion is detected in the scene, which may have the added benefit of saving you some space on your iPhone. There are plenty of third-party cameras in the App Store that may be more to your liking than Apple's option, so use your newfound discovery of camera quality to spur you to explore.
The only aspect of this approach that's slightly annoying comes with some of the limitations of iOS. There's no way to make another camera app your default shooter, so swiping left from the lock screen is always going to take you right into the stock Camera app. One way around this, thanks to iOS 10, is through widgets. You can place the Camera+ widget, for example, in your list and then you'll be able to swipe right from your lock screen, then tap the widget, so when you do unlock the phone, you'll go straight into that app.
Post processing to the rescue
If you don't want to change camera apps, there's plenty you can do on the back end to get the look that you want. If it's a quick and easy bokeh effect you're after, I've had success with Fotocam Bokeh and Bokeh Photo.
You'll get a ton of bokeh-inspired filters to overlay on your existing images. You'll want to spend time playing around to get the desired effect, but with some patience you can come up with images you'll be eager to share.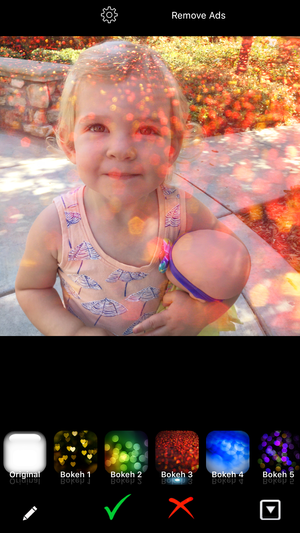 This approach also works with some of the camera apps themselves. Camera+ in particular has many depth-of-field tools and other filters (some will cost you). I'm also a fan of Afterlight and Snapseed if you want a filtered approach.
Some of the capabilities may also depend on which iPhone you have. For example, some advanced features in Lightroom, like working with DGR image files, require a 12-megapixel camera, found in the iPhone 6s, 6s Plus, and SE.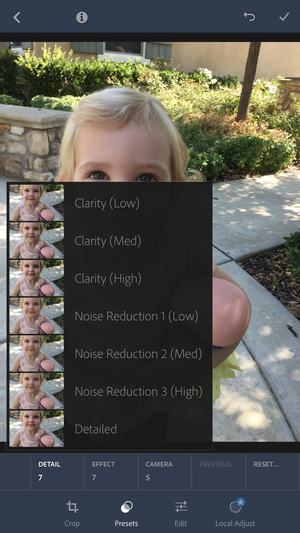 We won't know exactly how these methods compare until Apple pushes out the software update to enable Portrait mode in the iPhone 7 Plus. But looking at what's available—and what developers will be able to do with the new APIs in iOS 10—there's no reason you can't achieve awesome effects with the iPhone you already have.