Apple released iOS 10 this week, and with it a new Music app, as well as an update to Apple Music. I've been getting a lot of questions in recent weeks about the iOS 10 Music app from people who have been using it as part of Apple's public beta program. And immediately on public release, I started getting emails about some of the quirks in this new app. So this week's column looks at several issues in the iOS 10 Music app: ratings, Up Next, Genius, and more.
Thank my lucky stars
Q: I rate much of my music with star ratings, but I can't see any way to do this in the iOS 10 Music app. Have star ratings been removed from the app?
This is by far the most common question I've received, and for cause. Many people manage their iTunes libraries with smart playlists populated with their favorite music from certain artists and genres and with specific star ratings. I have a number of playlists for my 4- and 5-star music, and these are essential to me. They allow me to sync music that I really like to my iPhone, without having to trawl through my vast music library and choose specific albums or songs. I also sync new music to my iPhone, and rate it to decide what to keep, or what to listen to again.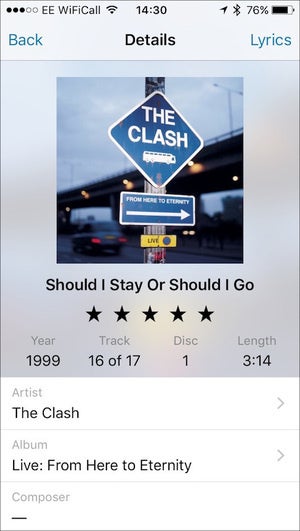 Apple has indeed removed star ratings from the iOS Music app in favor of Love and Dislike ratings; mostly. There are still a couple of ways to rate your music. The first is to use Siri. While a song is playing, invoke Siri and say "Rate this song five stars," for example. Siri will do this, but you won't see it on your iOS device; you'll only see it when you sync your device to iTunes. The downside to this is that invoking Siri pauses the music playback.
There are also a couple of apps you can use to rate songs. Cesium is a $1 music player which lets you rate music, and which works with iOS 10. Tap the i button while a track is playing to bring up a display where you can set a rating.
Music Rating Widget is a $1 app that adds a rating widget to your Today view. Swipe to display widgets, and you can rate the current track. It hasn't been updated for iOS 10 yet, so the display isn't prefect, but it's a great way to rate tracks quickly.
What's next?
Q: I like to use Up Next on my iPhone, and sometimes I want to clear its contents to add new music to it. I don't see any way to do this in iOS 10. Is it possible to clear the Up Next queue?
Alas, no. I don't know why Apple removed something as simple as that. And even deleting tracks isn't easy. You swipe from right to left, as you do in many other apps, but for some reason, any vertical movement during the swipe moves a track up or down, and doesn't display the red Remove button. But you wouldn't want to swipe and delete every track. The only thing you can do is just put up with it, in the hopes that Apple will restore this function.
Related to this, there is no longer a play history that you can see from the Up Next menu, as you could in the past. This is also a shame, since sometimes you're listening to something and you forgot what it was, and you want to go back and check. Or you want to go back and play some of your favorite songs again. Let's hope that Apple restores that feature too.
Not so smart
Q: I love Genius. I use it often on my iPhone to create ad-hoc playlists from my favorite songs. But I can't see how to do this in iOS 10.
This is a weird one. If you go to Settings > Music > Library, you see a toggle for Genius. But if you look in the Music app, Genius is nowhere to be found. You used to be able to create a Genius playlist by tapping the … button, then tapping Create Genius Playlist. But there is no such option in iOS 10.
Could Apple have simply forgotten this? The fact that there's a Genius setting makes me think so. We'll see in the next iOS update.
Shuffle me this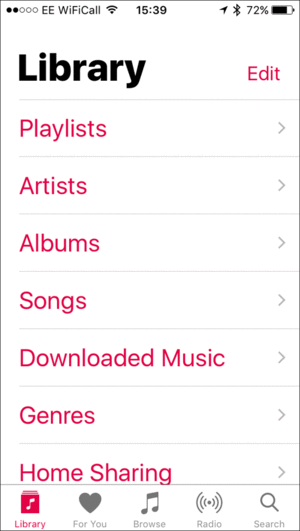 Q: I went to my music library in the iOS Music app, tapped Songs, then tapped Shuffle All. It started playing all kinds of music that's not on my iPhone, including purchased music and Apple Music tracks. I often want to shuffle just what's on my iPhone, so I don't pay for data. How can I do this?
The new Music app is tricky. When you go to Library, you see a number of big words: Playlists, Artists, Albums, Songs, etc. If you tap Songs > Shuffle All, then it plays all your music; as you say, it includes tracks in the cloud.
You need to go to Downloaded Music > Songs, then tap Shuffle All to shuffle only local music. Downloaded Music is a bit of a misnomer, because it also contains synced music, for those of us who still sync their iOS devices with iTunes.
Have questions of your own for the iTunes Guy? Send them along for his consideration.