iOS 10 finally turns the iPhone into a real camera. Before you get the pitchforks and torches out, let me explain: it's the first release that gives iPhone owners access to the same rich, deep information that standalone cameras have offered for years via unprocessed RAW images and, in some cases, wide-gamut color. Many photographers prefer to shoot in RAW and use editing programs like Lightroom to "develop" a photo with the white balance and exposure balance they prefer. And, seemingly uniquely in iOS, Apple only allows effective access to its image sensor data through third-party camera apps—it's like throwing RAW meat (sorry) to app developers.
Broadly speaking, capturing RAW data and retaining and displaying wide-color gamut image data for in-phone editing expands an iPhone (and the 9.7-inch iPad Pro) from a high-quality snapshot camera that can be pushed to the limit with often remarkable results, to a fully professional image-capture and editing system that, when paired with a laptop, starts to rival a standalone cameras with fixed-focus lenses. The iPhone 7 and 7 Plus push quality even further with a sharper six-element lens system and a larger-aperture wide-angle lens, while the 7 Plus opens up opportunities with the addition of a second telephoto lens.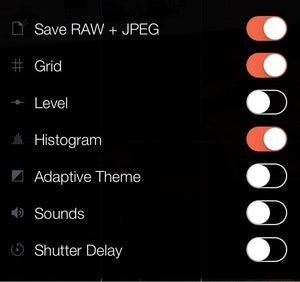 Graphics giant Adobe released Lightroom Mobile 2.5 earlier this week to support RAW and wide-color processing. The Manual shooting app, which allows easy access to iOS's camera settings, was updated Tuesday with RAW support. ProCamera just pushed out a major overhaul in its current release on September 10 (version 9.5), but expects its 10.0 release with RAW and wide color support to head to Apple on Friday. (The App Store is currently backlogged.) The developers of Camera+ opted to wait until they had new iPhones in hand to tweak their work before shipping, but expect a release not long after. VSCO is less specific, but says it's "coming soon."
Starting in iOS 10, the six 12-megapixel camera models of iPhone and iPad can allow apps to enable a DNG (Digital Negative) format camera mode, in which the effectively unfiltered image sensor data is captured directly, resulting in about a 12MB file, rather than process that data through Apple's algorithms and compress it into a roughly 1MB to 5MB JPEG. The models are the iPhone 6s, 6s Plus, SE, 7, and 7 Plus, and the 9.7-inch iPad Pro. No earlier iPads or iPhones can have RAW enabled. (RAW is a generic term for mostly unprocessed image data, not an initialism; DNG is an Adobe-initiated open file format standard.)
The iPhone 7 Plus will let a developer choose to grab a RAW image from either its wide-angle or telephoto lens, opening up huge post-processing possibilities for app developers. (Only iOS can access both cameras at once so far, but developers may be able to snap two shots, one from each camera, in rapid succession; they're still testing.)
The iPhone 7 and 7 Plus and the 9.7-inch iPad Pro will also gain the ability in iOS to handle Apple's wide-color gamut, introduced with models of the iMac. Known as P3, and used in the film industry for cinematic color, the wide-color gamut includes about 25 percent more hues than the sRGB colorspace that's effectively become a consumer and professional standard for all devices outside of film and video.
P3 better represents intense aspects of red and green that are missing, and thus compressed to fewer hues in sRGB; orange is especially underrepresented. iOS 10 revised all its image-processing pipelines to support P3, which requires more bits per color channel to express than sRGB as well.
RAW-ring to go
The makers of many camera apps spent the summer contemplating what an imagined but unknown two-lens iPhone might mean, but focused their practical work on having updates ready or nearly ready to go that worked with RAW and wide color.
John Casasanta, the founder of tap tap tap, which makes Camera+, says its approach will add a special RAW "lab" inside the app, instead of pushing RAW images into the current workflow. The app will preserve the original RAW file and allow exporting in multiple formats, including a 16-bit-per-color-channel TIFF to preserve wide-color gamut data. "We're putting some fairly extensive support inside there to do a lot of editing on RAW photos, to make them look as good as possible," he says.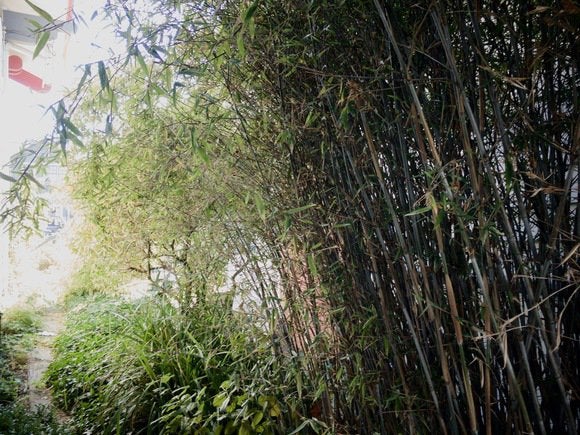 Casasanta believes most of the app's users will either capture only and edit elsewhere or capture and edit together. He doesn't think people will both edit in Camera+ and then take the high-color-depth TIFF or original RAW and re-edit or start from scratch again.
He notes an interesting issue with RAW versus JPEG capture: One mode allows both to be captured simultaneously, but the two images might not be identical. He says Apple applies a variety of algorithms that can lead to the camera taking multiple pictures (as with a high-dynamic range or HDR image and potentially when monitoring image stabilization) to create a JPEG, but will only retain one RAW image. "The RAW photo in those instances when they do something is the photo taken at one point in time," he says.
Manual app developer William Wilkinson says one RAW limit he found in updating his app is that iOS's built-in filter to render RAW is "a little soft—it's not decoded as well as the equivalent JPEG." He hopes to add lookup tables (LUTs) in the future that would improve on that, but it may be impossible within the current iOS framework.
Nicolai Bönig, the communications director at Cocologics, maker of ProCamera, says the company's wanted to get a version that supports RAW and wide-color update out as soon as possible, but they plan to investigate the format much further in future releases. The initial ProCamera 10 release, which will work only in iOS 10, excludes RAW from a few of its custom shooting modes, like HDR and low light. But Bönig says developers are eager to dig into the intricacies of Apple's DNG.
App developers vary in how RAW files will wind up in the iOS Camera Roll. Manual offers an option for RAW or RAW and Apple's normal JPEG, and writes both automatically and immediately to the Camera Roll. ProCamera's upcoming version offers RAW only, but saves to the Camera Roll. Lightroom has a DNG button that enables RAW shooting, but retains the DNG only internally; all sharing and exports are as a JPEG, although it can sync the DNG via a Creative Cloud account. Other apps' choices are still evolving.
Two great shots in one
By default, the iPhone 7 Plus will fire off both cameras for every shot and deliver a single JPEG image. At the keynote, Phil Schiller, Apple's senior vice president of worldwide marketing, discussed the synthetic zoom range between what Apple is calling 1x (wide angle) and 2x (telephoto). Intermediate zooms are calculated from both captures to produce a crisp result.
Apple didn't mention then, however, what it describes in its programming documents: many images may involve some kind of computational photography, akin to HDR but using two or more simultaneously captured, different focal-distance pictures. Apple notes the iPhone 7 Plus supports "automatic switching between cameras to obtain a higher quality image for the current combination of zoom factor, light level, and focus position."
Camera apps that shoot RAW can bypass this automatic mode and produce their own derived images by alternating shots between cameras, and the new A10 Fusion processor and the 7 Plus's 3GB of internal memory should provide the cycles necessary to preview and render relatively complex possibilities.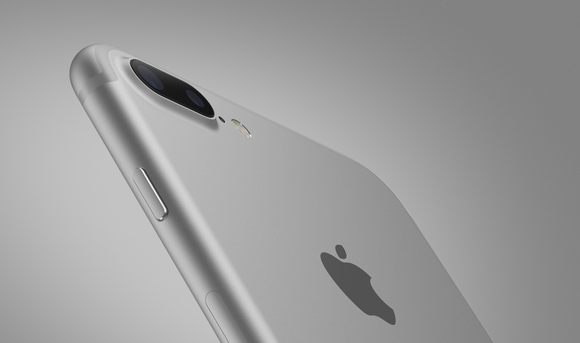 App developers haven't had time yet to absorb the implication, and none I spoke with had advance access to an iPhone 7 Plus. They're all eager to get their hands on one and start understanding the full impact.
Wilkinson noted that he shoots with a RED digital video camera, and it offers the ability to shoot effectively two separate video tracks at once by capturing two frames within very short intervals at different exposures. This allows either using one or the other track later, or combining for HDR video. Wilkinson so far is just thinking about how the Plus's performance and multiple cameras might offer anything analogous.
Other app makers so far are thinking just about enabling or disabling zoom: The Manual app shoots at 1x or 2x, but doesn't offer the in-between range. Bönig says ProCamera will take advantage of the taptic engine in a variety of ways—when people swap lenses, for example—but won't offer that intermediate zoom.
Camera+ will offer a switch. Casasanta notes, "If someone is using digital zoom on a smartphone, they don't get it, and they don't really care so much about having the utmost depth of quality at that point." Camera+ has a wide range of users, and doesn't want to lock the mode out.
A future that doesn't fit in a frame
The excitement among developers is palpable. The updated cameras, RAW shooting, and wide-gamut color bring more possibilities than any hardware and iOS update in years. "It's a step in the next dimension of photography," says Bönig. Once they and others get their hands on the hardware, we should see a remarkable flourishing of experimentation in camera and photo-editing apps.
Correction: An earlier version of this article stated developers could access RAW images simultaneously from both cameras. So far, that's limited to Apple.