iOS 10 is here, and with it, stickergeddon.
If you have friends, soon they will be sending you iMessage stickers. And fake heartbeats. And finger-written messages that look like they came from a pen. And there will be messages lent via balloon and via laser. You will be helpless under the barrage of confetti, Mario Run stickers, and tap-back icon replies.
If you're a curmudgeon, you will hate it. As my friend Greg put it the other day, "I live in silent, terrible dread of iOS 10 Messages. Unicode is bad enough–we made a mistake moving beyond 7-bit ASCII."
I replied to Greg's message with a sticker with a picture of Skeletor on it.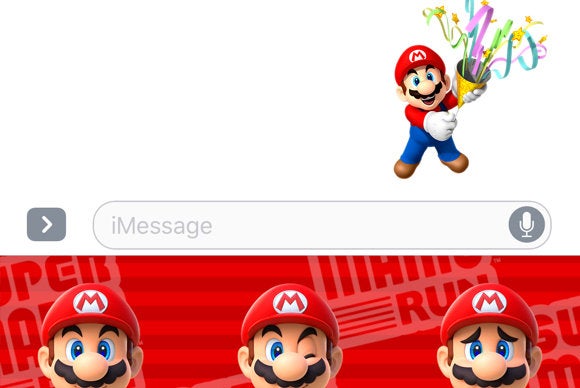 If you're not a curmudgeon, you will probably love it. One of the strange, amazing side effects of billions of regular people buying smartphones is that instant messaging has turned out to be the killer app. From WhatsApp to WeChat to Snapchat to Line to Facebook Messenger and beyond, social apps that let people send text and photos and videos are some of the biggest successes of the app era.
This is why Messages has gotten such a huge upgrade in iOS 10. The user desire for these sorts of features is readily apparent, but more than that, there's also a huge number of users who are less likely to search out an app and join a new social network and get their friends to join. Those people are far more likely to use a built-in app like Messages, and if Apple can improve its game with some of the fun features that are popular on these other services, it will make Messages more popular and better used. Who knows–it might even stem some of the tide of users moving to those other services.
I have no illusions here: It's unlikely that my daughter is going to be coaxed away from Snapchat by anything Apple does. But even she might actually be entertained by the stickers and stuff that iOS 10 brings to Messages–and use them more when she's communicating with boring people like her parents.
Embrace the stickerful
If you haven't had a chance to visit the new Messages App Store in iOS 10, you should. (To do so, open Messages, tap the blue arrow pointing to the right, then tap the icon in the bottom left corner of the screen, then tap the App icon, then tap the plus button that opens the Messages App Store. Whew! That could be easier.)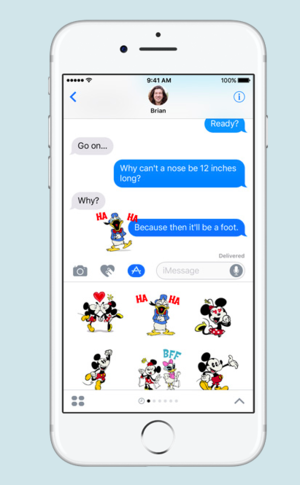 You needed to write computer code to be in the App Store, but you don't need quite as much skill to make a sticker pack for messages. I'm currently beta testing one myself, for my podcast The Incomparable. Xcode is still kind of a nightmare and the iTunes Connect upload process is pretty opaque, but with a few pointers from friends I'm on my way!
Who better to lead the way to this new future of cool downloadable art packs on iOS than The Iconfactory, a company that's been releasing software on the App Store since day one, and is also the purveyor of some pretty amazing computer art. Iconfactory's day-one entrants into the Messages App Store include Mystic 9-Ball, Tabletop RPG (including rolling dice!), Microbes, Floriography, Archon (for some cool throwback 8-bit gaming art), and even a collection of animated poop emojis called Stickypoo. Other developers are piling on, including the 86 adorable animated emoji of Anitate and a bunch of branded stickers from Nintendo, Star Wars, Snoopy, Disney, and more. Prices range for free to a couple of dollars.
It's a cool opportunity for talented artists to sell their art for a little bit of money, and then you get to spread the joy by sending that art to your friends. It's whimsical and fun and I've already infuriated my friend Greg by sending him many, many stickers. Greg is no longer texting with me.
Embrace the useful
But the Messages App Store isn't just about the ridiculous, of course. There are also real apps that work directly inside Messages now. You can play Words With Friends and other games–even a version of Two Truths and a Lie called Truth Truth Lie–inside a Messages window. You can send an Apple Music track, or send money with Venmo. GIF plug-ins make it easy to find animations, Carrot Weather lets you send the current weather to a friend, and ESPN will let you share a sports score.
Yes, some of those will end up being more useful than others. But I like Apple's idea, that Messages should be a place not just filled with the delight of interesting emoji and stickers and the like, but a place where we can inject information from the apps on our devices.
So yeah, if you're a curmudgeon, you may need to crawl into a bunker and hope that the stickerpocalypse blows over in a few months when we all realize that there are only so many different times you can send a Super Mario sticker before it feels tired. Meanwhile, all the rest of us will be littering our screens with the frivolous and fun. It turns out that people like that stuff. And with iOS 10, Apple's giving it to them.