At a Glance
Expert's Rating
Pros
Takes advantage of Apple hardware ecosystem
New features makes macOS a cleaner expereince
Universal Clipboard and iCloud Desktop and Documents lead to better productivity
No stability issues during testing
Cons
Some feature will not work on older Macs
No third-party app support for Siri
Sierra Messages doesn't implement (read only) the features found in iOS 10
Our Verdict
The improvements and new features make macOS Sierra easier to use and take full advantage of integration with your iOS devices.
Best Prices Today: macOS Sierra
With macOS Sierra, Apple, as with previous versions, integrates even more features that were introduced in iOS, the operating system for the company's mobile devices. But Sierra doesn't just add features found in iOS, it also does more to make your Mac and your iOS devices work together. Considering that nowadays, most people's primary computers are iOS devices, it's fitting that macOS Sierra does more to cater to those users' needs.
Before we dive into Sierra, let's address the main question: Should you upgrade? First, you need to determine how compatible your Mac is. The older the Mac, the more likely a feature won't work. You can check a list Macs compatible with macOS Sierra. (Apple also has information on what features are available based on region and language.) Checking this first may answer the upgrade question for you.
You also need to see if your software will still work with Sierra. If your software worked with El Capitan, Yosemite, or Mavericks, there's a good chance it will work with Sierra. Check with the developer of your most vital apps before your upgrade.
I've been using the public beta and the golden master version since it became available, and on the five Macs I've been using, I haven't a single stability problem. That's one less thing to consider.
Once you've determined that your Mac is compatible to a point you're satisfied with and your software is good to go, then it gets a little more complicated. One way to look at it is to gauge how much you use iOS. If you use your iPad and iPhone a lot, then you'll appreciate Sierra features like Siri, Universal Clipboard, and Apple Pay. Let's take a look at the main new features of Sierra, and see how they fit into your workflow.
(And if you do decide to upgrade to Sierra, be sure to back up your Mac before you run the Sierra installer. Always back up before installing any operating system upgrades.)
Siri comes to the Mac
Siri, Apple's voice assistant, is the marquee feature of macOS Sierra. It's also the most obvious feature that signifies the iOS-ification of macOS.
When Siri is active, it works exactly as it does on iOS. However, there is no default setting to allow Siri to activate by saying, "Hey Siri" like you can on iOS. (You can get voice activation to work if you create a Dictation Command to trigger the Siri keyboard shortcut.) The default keyboard shortcut for Siri is to hold down Command-Spacebar, or you can click the Siri icons in the menu bar and in the Dock.
Siri works best for me when I perform web searches for everyday life-type stuff. When I asked Siri for places near me, or for specific news like sports scores, it almost always results in what I'm looking for.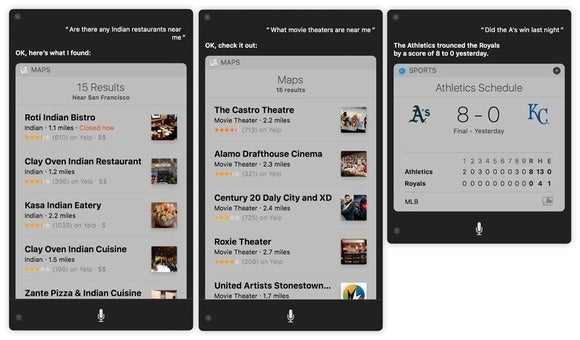 As a writer and editor, I perform a lot of web research, and I'm always gathering files together to create content. Siri can be used to search the web for images, and conveniently, the images in the results can be dragged and dropped to the Mac from the Siri window. Siri can be also used to find files on the Mac.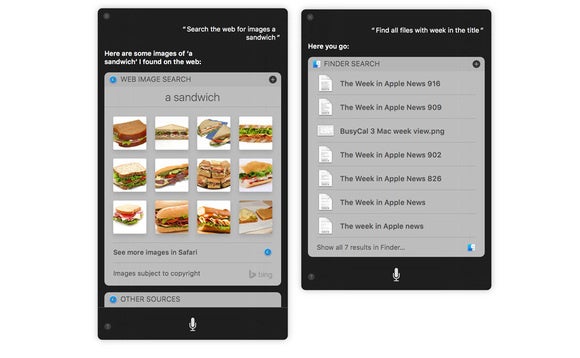 Siri can be used to configure a limited set of system preferences. You can tell Siri to:
"Increase my screen brightness"
"Put my computer to sleep"
"Start my screen saver"
"Turn on Do Not Disturb"
"Turn on/off Dictation"
"Turn the system volume up"
"Turn Wi-Fi off"
For anything else, you have to figure out the correct phrase to get you to the system preference you need. For example, I like to have a plain white desktop on my Mac; it's easier to deal with when I take screenshots. But when I told Siri to "Change the desktop," I got web search results (the first result was a Windows XP how-to). I had to tell Siri to "Open the Desktop System Preferences" to get what I wanted. (Lesson learned.)
One major caveat about Siri: It currently works only with Apple apps. I use Microsoft Outlook for my work email, and when I asked Siri to read my latest email, it read an very old email that was in Apple Mail. Apple confirmed with me that the Siri third-party API is currently only for iOS.
After using Siri for a while, I couldn't help asking myself how useful Siri is on the Mac. Siri's usefulness on iOS is emphasized by the iPhone's relatively small screen size, the single-screen nature of the operating system, and the need for hands-free usage.
My initial response was that on the Mac, Siri feels more like a luxury than a must-have. Usually, Mac users have their hands on the keyboard and mouse. Even if you haven't committed several keyboard shortcuts to memory, you can probably do something like launch a browser and type in a search for sandwich pictures faster than telling Siri to do the same task.
Then I came to a realization I didn't expect. When using any computer interface, there's a certain amount of tedium involved. In Unix, it's typing out commands. On iOS, it's tap, tap, tap with your finger. On the Mac, it's double click, Shift click-click-click, right-click, highlight, and click to select a command, for example.
The little tasks you have to do to make your computer do what you want get tedious, and you're not really aware of it until you start to use Siri. Asking Siri to perform a web search of sandwich pictures may not be as fast as launching a browser, typing in "sandwich," hitting Return, and then clicking the Images tab in Google, but it's not as tedious.
That tedium wears on you, subconsciously, but Siri helps alleviate it. I've always thought that having more ways to do things on your computer is good, and Siri on Sierra allows for that. That's a good thing.
Universal Clipboard
On the surface, Universal Clipboard seems like such a simple feature: It's copy and paste that works across your Mac, iPad, and iPhone. While it's such a simple feature, I find it to be very useful.
Universal Clipboard is part of Apple Continuity feature set that works between Macs and iOS devices. In order for Universal Clipboard to work, you must have devices that meet the Continuity system requirements. For example, MacBook Pro models made in 2011 or earlier aren't compatible with Continuity, and thus, don't support Sierra's Universal Clipboard.
Other requirements include logging into an iCloud account on each device, turning on Wi-Fi and Bluetooth, and keeping the devices within proximity of each other.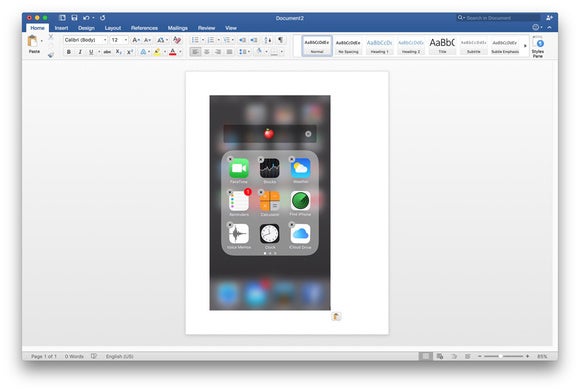 To use Universal Clipboard, you copy from your Mac or iOS device just as you normally would. Then go to your recipient device, and perform a paste. If you're pasting on a Mac, you may see a progress bar indicator. On iOS, you see a message window stating the device your paste is coming from.
I did find one hiccup involving Microsoft Word. When copying text from a Word document, it pasted in iOS 10 Notes as Chinese text. Apple said it is investigating this issue, and I'll provide an update to this review when it is fixed. Otherwise, I didn't have any problems copying and pasting from within different apps. If you use a third-party clipboard manager, Universal Clipboard may not work with it.
As someone who works in content creation, Universal Clipboard is a long-awaited function. No more emails or text messages I send to myself, or using AirDrop to transfer an image file that I want to place in a document. Universal Clipboard saves me several steps and helps me be more efficient.
iCloud Desktop and Documents
Though I don't have hard data to back it up, I suspect many Macworld readers use an online file storage service like Dropbox. I do, because I often use different Macs, and Dropbox makes it easy to get to my files. Even if the Dropbox software isn't installed, all I need is an internet connection and a browser.
And though Apple didn't tell me so, I suspect that part of the reason iCloud Desktop and Documents exists is because Apple, like Dropbox, is in the online storage business. Why should all that business go to Dropbox, et al?
In my opinion, an online storage component should be part of any modern operating system. Data lives on the internet and on the cloud, and we're using multiple computers (Macs, iPhones, iPads, even PCs) on a daily basis.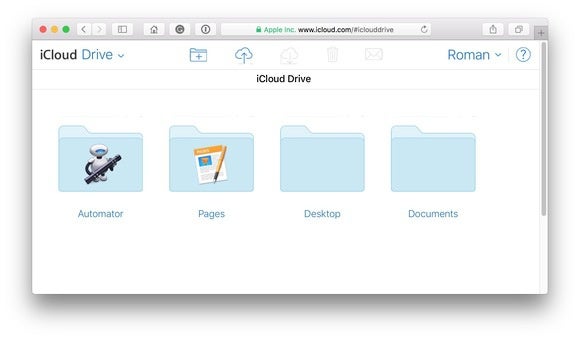 iCloud Desktop and Documents is compelling because it's pretty much seamless. After you set it up, anything you save to your Desktop or Documents folder gets saved to like-named folders in your iCloud account, and that data is synced to your other computers. For example, if I save a file to the Desktop on my work computer, I can go home and find the same file on the home Mac. Or I can use the iCloud app on my iPad to access the file. If I have to use my son's PC, I can use the iCloud for Windows app.
The catch is that you need to make sure you have enough iCloud Drive space to accommodate your files since the files in Desktop and Documents count against your iCloud allocation. Apple provides 5GB for free. After that, it's $1 per month for 50GB, $3 per month for 200GB, $10 per month for 1TB, and $20 per month for 2TB.
For me, iCloud Desktop and Documents worked fine. On my test Macs, when I saved a file to the desktop, it shortly appeared on the desktops of the other Macs. I didn't encounter any issues, but I should make clear that I probably don't use my desktop like a lot of other people. I use my desktop as a temporary file location, and I save files to it but I will move them to their more permanent location after a short while. I think a lot of people use the desktop in a more complicated way, and so iCloud Desktop and Documents may or may not work. Macworld senior contributor and Six Colors blogger Jason Snell has serious issues with iCloud Desktop and Documents, and you should give his review of Sierra a read and get a different perspective.
Optimized Storage
A few years ago, Apple decided to sacrifice the spacious capacity of hard drives for the speed for flash storage in its laptops. The speed gains were impressive, but people are making more videos and photos, and those files eat up storage space. Users need to pay more attention to managing their local storage.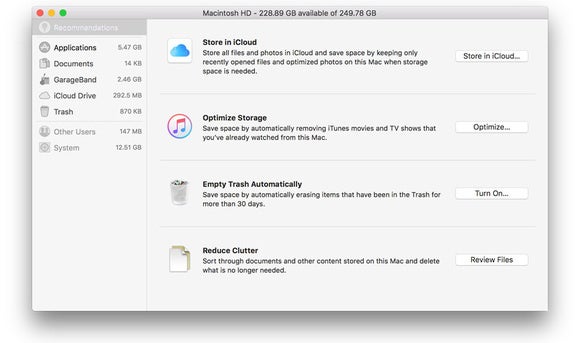 Optimized Storage provides more tools to manage your local storage. I go into deeper detail about the Optimized Storage tools in a separate article, so I won't repeat myself here. But there are a few points worth reiterating.
The Store in iCloud option requires a subscription to iCloud Drive. A free 5GB tier is available, but you will probably want to sign up for more storage. ($1 per month for 50GB; $3 per month for 200GB; $10 per month for 1TB; and $20 per month for 2TB.)

The Optimize Storage option works with emails in Apple Mail specifically, and only with iTunes movies and TV shows. Essentially, it deletes those files from your local storage and downloads emails from your email server and videos from the iTunes Store if you want to use them, which means you need an internet connection.

You can uninstall applications through this interface. Any app bought through the App Store will be completely removed. As for third-party apps bought outside the App Store, Apple said to me that it has been making an effort to encourage developers to follow its standard procedures for proper app installation, so if a developer has done this, you should be able to uninstall any app bought outside of the App Store along with all of its components.
Storage management is one on those chores everyone hates doing but is necessary—there's always a sense of panic when you're working on a project and you run out of space. Optimized Storage performs a lot of these tasks behind the scenes, which is convenient. Hopefully, flash storage will become more affordable and capacities will increase to a point that users will be using Optimize Storage less and less.
Picture in Picture
If you're watching a video in either Safari or iTunes, you can click on the new Picture in Picture icon, which will open the video in a floating window that snaps to one of the four corners of your display. ( Get more details on how to use Picture in Picture.)
What's great about the Picture in Picture window is that it always stays on top, so if you open an application and a file within that app, the video window doesn't get buried underneath the windows you've opened.
Picture in Picture isn't a vital feature to Sierra. In other words, I don't think it's a feature that will drive people to upgrade. But it is one of my favorite features. I was part of Macworld's "home base" crew during our coverage of Apple's iPhone 7 event and Picture in Picture certainly came in handy. I had the video stream of the event playing in a Picture in Picture window in the upper right corner of my display, and while I switched between our chatroom, our web content management system, TextWrangler, Photoshop, and whatever other apps I used, the video window was always there, always visible. It made a tremendous difference.
I imagine most people will use Picture in Picture more for entertainment, but it can also be good for, say, playing a how-to video while you follow along on your Mac. It's one of those features that falls under the radar but should be appreciated by all users.
Tabs
I probably spend the vast majority of my time on my Mac using Safari, and I've grown accustomed to opening webpages in new Tabs under one window. It's easier to find the window I need, and it helps cut down the on-screen clutter.
Bringing Tabs to general Mac user interface makes sense. I no longer have to try to figure out where a window is when I want to move files; you can just click and drag a file over to the tab to move it.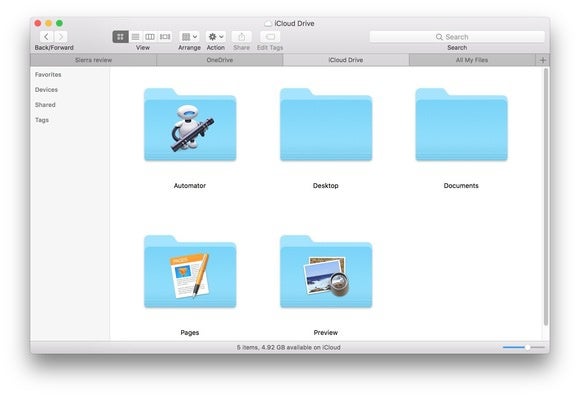 Tabs also works in many Apple apps, like Maps, Numbers, and Mail. Apple says that Tabs automatically works with many document-based third-party apps, with no developer adoption required. But as of this writing, Microsoft Office apps still open documents in separate windows. Take a closer look at work Tabs works.
Apple Pay
With Apple Pay, you don't have to worry about filling out online forms with billing and shipping information. It's all in Apple Pay, and it's secure. According to Apple, over 300,000 websites will support Apple Pay when Sierra ships.
However, Apple Pay relies on your iPhone or Apple Watch, even when you're shopping in Safari on your Mac. When you are processing an Apple Pay payment on your Mac, the Mac looks for your iPhone or Apple Watch, and you must confirm your purchase on one of those devices.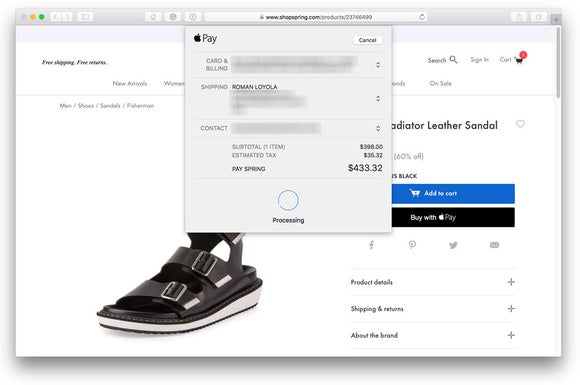 When I'm at home, I sometimes shop online while sitting on the couch, with my Apple Watch and iPhone docked in my office on the other side of my house. So Sierra Apple Pay's reliance on an external device can be an inconvenience. But it's a security measure; having Apple Pay process payment without some sort of external confirmation could lead to the unwanted use of your Apple Pay account by anyone other than you using your Mac. It's a small compromise to make for the sake of security.
Photos and iTunes
While Photos and iTunes have new versions with Sierra, they are separate apps that require a separate discussion. Macworld senior contributor Kirk McElhearn did an overview of what's new with Apple Music. As for Photos, Macworld senior contributor Glenn Fleishman did a hands-on with the new Photos.
More stuff
There's more to macOS Sierra than what's been touted in Apple presentations and on the company's website. Here are a few of my favorite new features that play a smaller role in the Sierra showcase.
Related: 7 hidden features in macOS Sierra you may have missed
Double space for a period. You know how in iOS, when you tap the spacebar twice, it creates a period? Now you can do that in macOS Sierra. Sure, it's not that big of a deal, since the period key is near the spacebar, whereas on iOS, you have to navigate to another section of the on-screen keyboard. But if you frequently write on iOS and your muscle memory kicks in when you're on your Mac, it's a good feature to have—when it works. I have found that some third-party apps, like Microsoft Word 15.11.2, TextWrangler 5.5.1, and Firefox 48.0.2 don't allow this, so you can't completely depend on it.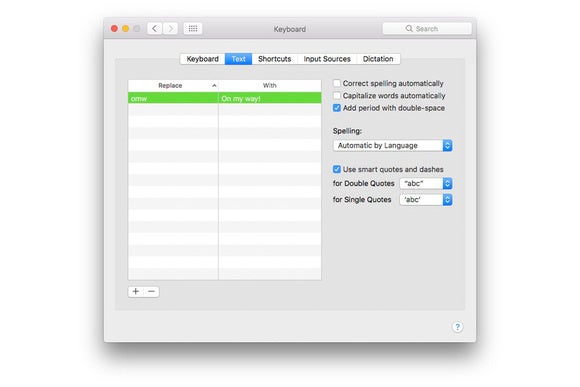 Auto Unlock. OK, actually, Apple made this a promoted feature. But really, you only care about this feature if you have an Apple Watch, and a lot of you don't have one.
Instead of typing in your password on your locked Mac, your Mac instead senses the presence of your Apple Watch and then unlocks itself. Your watch has to be on your wrist and authenticated (meaning you unlocked it with the passcode at some point), otherwise it won't work.
Features like this one, where Apple can take advantage of its ecosystem, are nice to have.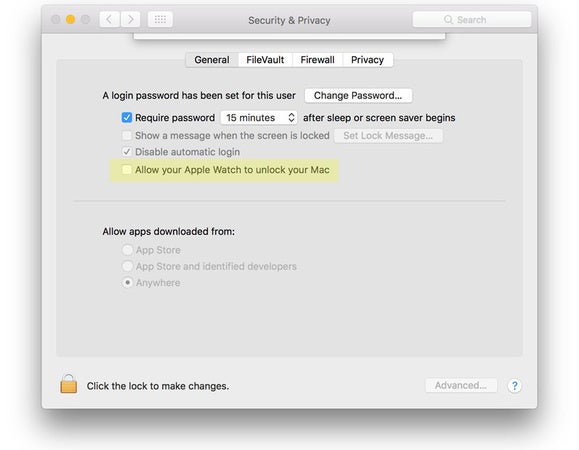 Shared Notes. In the Notes app, you can now share a note with other users, and they can modify the note. It's nice collaboration tool for work, or an easy way to make sure you'll all on the same page about the grocery list at home. Collaboration works on iOS 10, too.
Messages. If you are using Messages in iOS 10, then you might be disappointed in the lack of improvements in Sierra Messages. You can see the Digital Touch messages, handwritten messages, invisible ink messages, and stickers sent from an iOS 10 device, but you can't create those same kind of messages in Sierra. Many Tricks' Rob Griffiths had a tweet that perfectly summed up my feelings about Sierra Messages: "[It] feels like the child that missed the bus. Standing there by the curb, watching the others head off into the future."
The new Sierra Messages does allow for website previews, bigger emojis, and Tapbacks, which are iconic responses to text bubbles.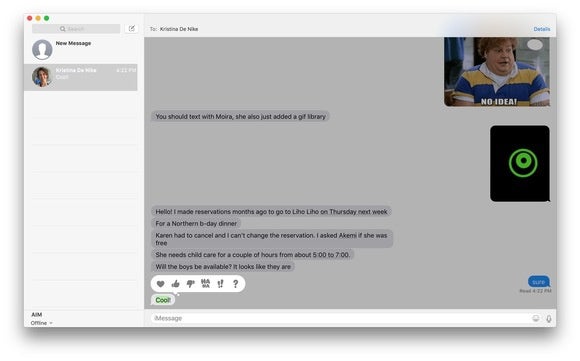 Bottom line
Overall, macOS Sierra isn't a major overall of the Mac operating system, but I have a greater appreciation for the new features than I have for past revisions of OS X. They are ones I've wanted or needed, which means I find macOS Sierra a very satisfying upgrade.
Apple Pay, Universal Clipboard, and Auto Unlock have more demanding requirements than the other features, so you may not feel the urgency to upgrade if you have an older Mac. For example, if you have an older Mac, you can't use Universal Clipboard—be sure to check the compatibility requirements.
If you own a Mac and have been keeping up with the upgrade cycle, you should install macOS Sierra. I usually say to not upgrade immediately, and wait for Apple to release its first 10.12.1 update. That's just to play it safe; companies like Apple do their best to address bugs and make fixes during the beta cycle, but there's always a chance something major can show up when the software becomes widely available
But macOS has been pretty stable for a while. I still think it's a good idea to wait, but I won't blame you if you upgraded sooner than later. You shouldn't have to wait for features that will benefit you and make your Mac easier to use. Plus, the upgrade is free.
Best Prices Today: macOS Sierra