Among the many updates being made to Apple's device lineup this week, one is getting particularly short shrift: tvOS. The latest software update to Apple's set-top box—which is now tvOS 10, since I guess the Apple TV will also turn 10 next year?—brought a few minor updates that were teased during Apple's Worldwide Developers Conference keynote back in June.
But one of the most interesting didn't make the cut, at least for the initial tvOS release. Single sign-in was probably the most anticipated feature of tvOS 10—sorry, dark mode—since it helps solve not only an immediate problem shared by users of Apple TV, but also seemed to be paving the way towards a more unified streaming strategy on Apple's part. When tvOS 10 arrived, however, single sign-in was notably absent, the only indication of its fate a small "Coming Soon" label that Apple quietly added to the tvOS page. While it's uncertain why exactly that feature was delayed, one might guess that Apple encountered the immovable object that is the cable industry.
Only a couple days later, the Wall Street Journal announced that Apple had hired away one of Timer Warner's chief strategists to work under Eddy Cue.
While the old journalist's adage says that two events are often merely coincidence, to me, it sure seems like Apple's getting ready to take yet another crack at this television thing.
The app strategy
"Apps are the future of television" is the line that Apple's been trying to sell us since the most recent revamp of the Apple TV. From a certain vantage point, that makes a lot of sense, since Apple's been pretty successful with an app-centric approach on its other platforms. Combined with the preponderance of people consuming at least some video via apps, whether it be short clips on YouTube, or longer form content on Netflix, Hulu, Amazon Video, and the many other purveyors of streaming video. The comfort level of many consumers with apps is, needless to say, high.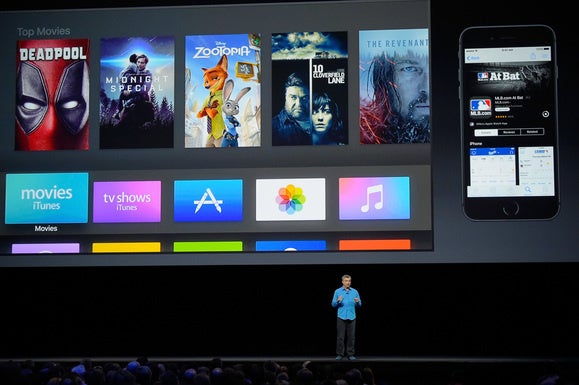 But as good as apps are at actually delivering that content, they fall short in other ways. For one thing, in Apple's model, apps are silos, each their own little fiefdom. Apple's made some strides with that by implementing universal search on the Apple TV, though it's still up to the content providers to play ball with that particular solution.
And while that might fix one problem, it doesn't particularly help with others, such as discovery or keeping track of what you're watching. It's also far from a great experience when you have to enter a username and password for each new app—hence that single sign-in feature.
This is one place that, historically speaking, cable companies' roles as middlemen proved useful. They provided a sort of abstraction layer, because they generally didn't care which channel you were watching, as long as you were already a subscriber. But now that everybody has an app, it's in each content providers' best interest to keep you locked into its own little box.
So maybe what we need is a new middleman.
Monkey in the middle
You know who else isn't too happy with the current state of television? The government. The Federal Communications Commission has been on the cable companies to open up their platforms for a while now. Most recently, FCC head Tom Wheeler formally put out a proposal for how cable companies should comport themselves in this new digital age—specifically that they should provide apps to let customers consume content through the platform of their choice, rather than having to lease a cable box.
Understandably, the cable companies aren't thrilled about this approach, which they probably see as yet another erosion of their long-held power. (Short-sighted, that—better to be a player in the next game than to get eliminated in the first round.)
But it's also clear that among the folks who stand to gain from this approach are the tech companies like Apple, Google, and Amazon—the ones who are making those platforms that glue together traditional TV offerings and newer streaming options. Content providers have, to date, been understandably wary of Apple and its competitors, mindful of their rise to power in other media industries, such as digital music.
However, with the government pushing from one side, Apple might just turn out to be a more promising bedfellow for content providers and cable companies. Yes, this might mark the umpteenth time that Apple has tried to wedge itself into the television market, but that's okay. When it comes to this fight, the company has on its side one thing even more valuable than its vast bank account, healthy installed base, and technological savvy: the patience to keep trying until it finally gets it right.