Apple's latest round of iPhones have received some criticism as being merely an incremental upgrade, but that hasn't stopped the iPhone 7 Plus from completely selling out before it hit store shelves. If you weren't able to grab the iPhone 7 Plus this weekend, you can still experience the device vicariously through the latest teardown from iFixit.
The masters of gadget deconstruction tore down a Japanese model of the iPhone 7 Plus to see what secrets this gadget held. Overall, they gave the iPhone 7 Plus the same repairability score as its predecessor, at 7 out of 10.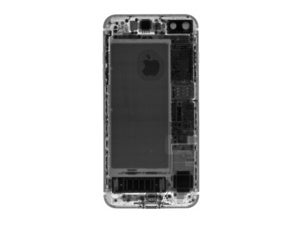 That's despite the use of tri-point screws surrounding the battery cover and two display cables, which iFixit argues are being used "to simply hinder the two most common user repairs: battery and screen replacements."
The teardown gurus report that the iPhone 7 Plus' controversial missing headphone jack has been replaced with a mystery component "that seems to channel sound from outside the phone into the microphone… or from the Taptic Engine out." The Taptic engine's footprint also grew to fill the space.
On the plus side (sorry), the new solid state home button is completely removable. It too has tri-point screws that will have to be removed before accessing it, but iFixit is glad to see there's no longer a "delicate" gasket that needs replacing as with the physical home buttons.
Apple made improvements to the physical button in the iPhone 6 and 6S, iFixit says. Nevertheless, the DIY repair site says there were still nearly 100,000 people who used the iFixit's iPhone 6 home button repair instructions. That is, of course, not a large number when you consider how many millions of iPhone 6 devices there are in the world. Still, it appears the solid state home button may be easier to replace—though the expense of that repair is likely another matter.
While Apple may have removed the gasket associated with the home button, it added several others—and made the display's removal more difficult—in its quest to make the iPhone waterproof. To see the location of those gaskets and many, many more interesting details, be sure to read the full iFixit iPhone 7 Plus teardown.
The story behind the story: One issue that iFixit's Japan-based teardown doesn't address is the question of the new iPhones using Intel components. Specifically, the cellular modem. The version of the iPhone 7 Plus that iFixit saw used a Qualcomm modem, which is thought to be in the bulk of iPhones worldwide. However, Chipworks recently carried out a teardown of the non-Plus iPhone 7—model number A1778. Inside that phone, Chipworks found an Intel baseband processor PMB9943, which the company suspects is the Intel XMM7360 modem. Chipworks also saw two Intel RF transceivers, and a power management integrated circuit.