At a Glance
Expert's Rating
Pros
Four new responsive themes
Superb, souped-up publishing engine
Health Check feature helps improve SEO performance
Cons
Still no WYSIWYG design tools
Themes render inconsistently on Mac/iOS
More powerful features only available at extra cost
Our Verdict
RapidWeaver 7 is a solid, well-crafted web design program whose excellent additions don't shore up its shaky core.
Best Prices Today: RapidWeaver 7
RapidWeaver 7 ($100, $60 upgrade) offers several smart upgrades to its website-building toolkit. Unfortunately, it also inherits the central limitations of its predecessor. Between the increased price and the features that either aren't present or cost extra, RapidWeaver 7 still lags the competition.
What's new works well
I truly liked the new features in RapidWeaver 7, particularly the SEO Health Check, which scans your site, then guides you through a checklist of steps that will help your site get noticed by search engines more effectively. (One of those steps involves another new feature: the ability to automatically shrink your site's CSS and JavaScript files for faster loading.) Each step is clearly explained, and bringing my sample site up to snuff only took a few minutes.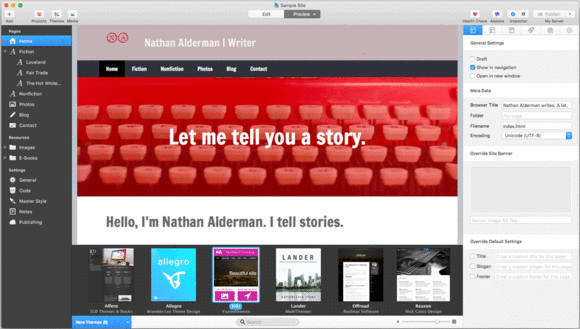 RapidWeaver's publishing engine was slightly shaky in version 6 but shines here. It's now easy to enter information for multiple FTP servers—including encrypted ones with public key authentication—then swiftly upload to each. I had no trouble firing off files to my FTP server, even when I told RapidWeaver to employ a faster but potentially less stable connection. For each server whose details you enter, the publishing engine can automatically back up your site files to a separate location on a regular basis, or every time you publish the site.
Version 7 builds in easier ways to add Google Analytics, meta tags, and other sophisticated features to your site's code. It also adds live site previews in Safari or the browser of your choice. It'll even automatically find and list all the browsers on your hard drive for you, rather than making you hunt for them. Live preview worked well in my tests, both in Safari and other browsers, bringing RapidWeaver 7 up to parity with many of its higher-end rivals in this respect.
RapidWeaver 7 packages all this, plus four brand new themes with support for responsive design, which automatically adjusts to different devices' screen sizes, in a slick, professional UI. And version 6's best features haven't gone anywhere, including its excellent and easy tools for making and editing blog entries, photo galleries, and contact forms. Realmac still offers an excellent online knowledge base, and a selection of how-to videos (many free, though even more of them cost money to access).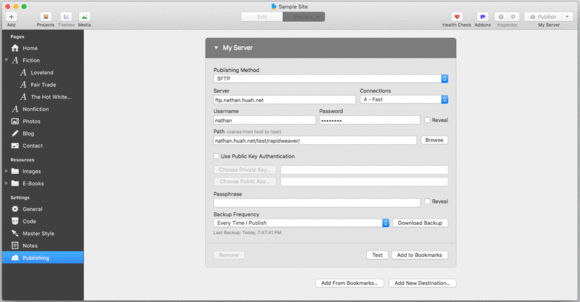 However, a lot of the biggest stumbling blocks from the previous version are still around, too. And some of those new themes aren't all they're cracked up to be.
What's older needs work
I'm still not a fan of RapidWeaver's bifurcated approach to building webpages. You add text and images to a blank canvas in the Edit pane, then switch to Preview to see how they look in your finished template. This makes it easier to switch templates and try different designs. But you can never view and edit your prospective site simultaneously.
Though some of the new themes look especially great, there's still only so much you can do to customize them, mostly involving swapping colors or a limited selection of different fonts. If you want a sidebar on any page of your site, it'll have to be on every page; I couldn't find a way to toggle that feature on a page-by-page basis.
Most troublingly, even my two favorite new themes had crucial flaws. For no reason I could find, Kiki's navigation wouldn't display a submenu under one section of my site, rendering those pages effectively invisible. And Voyager looked sharp and appealing on my Mac but rendered poorly on my narrow iPhone screen.
Finally, RapidWeaver's biggest strength remains its greatest hindrance. Realmac's cultivated a thriving marketplace of third-party add-ons for the program, including some that add powerful layout features and other valuable abilities. But you'll have to pay up for them; some of the most popular ones cost $50 or more.
Several of RapidWeaver's competitors already incorporate similar features. They may not be as sophisticated, but they don't cost you extra. I can understand why Realmac wouldn't want to alienate its developers by duplicating their work in the main program's feature set. But for users who don't want to keep opening their wallets (or can't afford to) the current approach leaves RapidWeaver feeling hobbled in comparison to many of its rivals.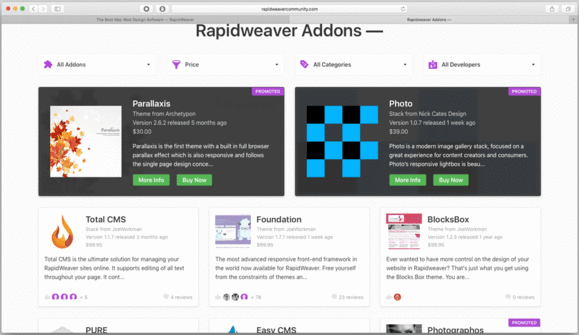 Bottom line
What RapidWeaver 7 does well, it does really well. And if you're willing to spend two or even three times its initial cost for add-ons, you could probably build a magnificent website-building behemoth upon its not-entirely-bare bones. But I can't give the program an unqualified recommendation when so many of its rivals do more and cost less without requiring additional purchases.
Best Prices Today: RapidWeaver 7