Recently I was hiking in the Adirondacks with my iPhone in my pocket when I got caught in a torrential rain storm. I'm not a crazy case guy, so, as is always the, uh…, case, my iPhone was naked. I didn't think was a problem. I had on a killer Patagonia rain jacket that was supposed to be completely water proof, including the zippered front pockets, which is where I put my phone when the rains arrived. As it happens, they weren't waterproof enough (Yeah, Patagonia, I'm looking at you…) and my phone took on more than a couple drops of rain.
I won't go into the details of the damage, but I wasn't worried because I have AppleCare + and this was the first time in all my years of unprotected iPhone use that I had to take advantage of it. I also had a full iCloud backup, which put me in good stead once I had a new phone in my hands. But, since an iCloud restore also meant I'd have to be near Wi-Fi and plugged in to get my phone back us to speed. So, I created an iTunes backup before I replaced it at the Apple Store. Yes, I could see my phone in iTunes but the display was dead.
So, I plugged in, backed up and got my phone replaced, and restored my backup from iTunes.
To my great surprise that restore didn't include all of my apps. Some were there and up to date, but most weren't, although if I downloaded an app I knew I had before, it would show up exactly where it had been on my old phone with all the data intact.
I kicked off a quick tweet to Apple Support and got the following response: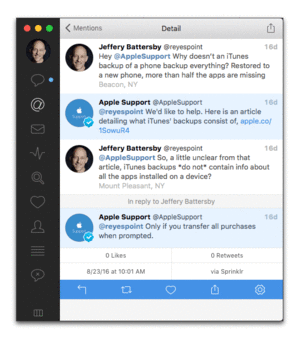 Which was a link to this support article on Apple's web site., but it wasn't clear from the article what the "content" that wasn't being backup was, so I tweeted Apple Support again asking about apps and was told that I had to "transfer all purchases when prompted."
Which was curious…because I didn't recall being prompted.
I ended up restoring from my iCloud backup, but decided to play with the iTunes backup to see whether I'd missed something. And, sure enough, I had not. There was no prompt to transfer purchases.
Digging further into the backup article I hit a link for transferring purchases in iTunes, which has changed from previous versions of iTunes.
In short, if you're not using iCloud to back up your iOS device and you want smooth sailing when you restore a new iOS device from a backup, make sure to perform the following steps. To restore properly, all the apps on your iOS device also need to be in your iTunes app library.
Note: You app data is always backed up. Even if you restore an app a few days later, that data will reappear.
Every time you back up your iOS device and you know you've downloaded new content from the iTunes Store:
Plug your device in to your Mac
Click the File menu
Select the Devices menu
This will result in a complete backup of your iOS device when using iTunes to back your device up.
Note: iCloud always backs up all of your apps and data. If you have the option to use iCloud, do it, and use an iTunes backup as a failover.
In the event that you haven't done this prior to your restore, all is not lost. There are two ways to get your apps back:
Remember and re-download every app fresh from the iTunes Store on your iOS device
Or
Open iTunes
Select Apps

Click the App Store tab

Click the Purchased link in the iTunes account section of iTunes

Click the Not in My Library tab
Locate and download all the apps you remember being on your iOS device Or
Click the Download All button at the bottom of the page
Once you download the apps you can restore your backup to your new device and all your apps and their associated data will reappear on your iOS device.
One last important note: Choosing the Encrypt option when backing up your iOS device will save passwords for all your email accounts, saving you the time and effort of having to re-enter all that information.