At a Glance
Expert's Rating
Pros
A10 Fusion chip is crazy fast, approaching laptop speeds
Great camera performance
Cons
No headphone port, so you can't charge and listen to wired headphones at the same time
Our Verdict
The iPhone 7 has more speed, a better camera, double the storage, and a more vibrant screen. But some people might be turned off by little annoyances that previous iPhones didn't have.
Best Prices Today: iPhone 7 128GB
Every year, Apple releases the best iPhone ever, but the iPhone 7 feels different somehow. All of its major details leaked ahead of time, not to mention a good handful of rumors about next fall's iPhone, which could be a major redesign with an OLED screen and no Home button. For now, the iPhone 7 makes minor changes to the phone's form and bigger improvements to its function. But it adds a couple new annoyances at the same time, which makes the iPhone 7 feel a bit like a beta version of what's to come.
A10 Fusion
The biggest advancement is under the hood. At the September event, Apple explained that the A10 Fusion chip powering the iPhone 7 has four cores: two high-performance cores for the most intense tasks, and two low-energy cores to handle easier jobs while saving power. All I noticed when testing the iPhone 7—we bought a 128GB rose gold model on launch day—was speed.
Apps launch quickly, updates install quickly, and the camera is ready to shoot seemingly the very instant I swipe to it from the lock screen. I didn't notice any different in performance in a resource-hungry app like Pixelmator as in a lighter app like Mail. Everything is just faster. Geekbench scores are 3440 for the single-core CPU test, and 5273 for the multi-core. That's nuts—my iPhone 6s scored 1437 and 2411, respectively, on the same tests, while my 2013 MacBook Air (1.7GHz Intel Core i7, 8GB of RAM) scored 2935 and 6200.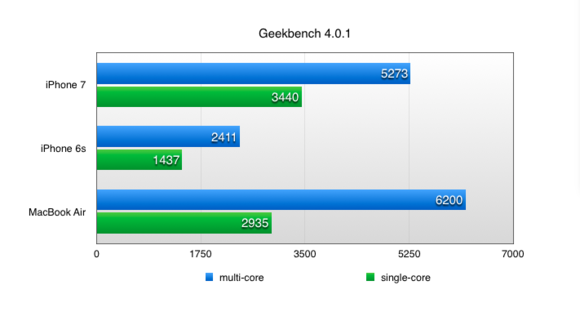 However, despite the A10's power management features, I didn't notice dramatic battery life savings. My iPhone 7 still gives me warnings in the early evening (usually between 5 and 8pm) that I'm down to 20 percent power, and even if I go into Low Power Mode at that point, I usually need to top off a little bit to make it to bedtime. I'm a pretty heavy user, so your mileage may vary, but I doubt your charging habits will change much.
Better screen, storage, and speakers
The screen is also improved. It's brighter, which makes it easier to read in bright sunlight. Where my iPhone SE is almost unreadable while standing in line at a food truck in the harsh midday glare, the iPhone 7 is legible enough that I can read an article in Instapaper or play another level of Two Dots. The screen also supports a wider color gamut, which makes photos and videos really pop with vibrant, saturated color—Dr. Raymond Soneira of DisplayMate recently proclaimed it " virtually indistinguishable from perfect." It's one of those things you kind of need to see in person to appreciate, though, with an older iPhone on hand to compare side-by-side.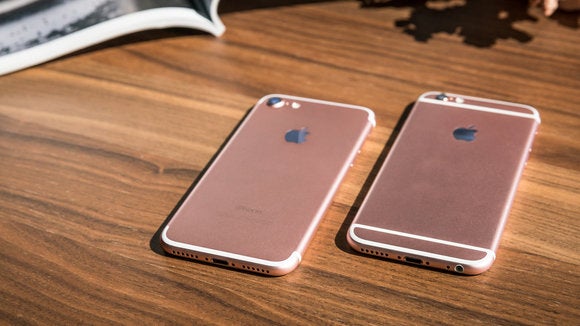 While Apple did remove the analog headphone port (and trust me, I'll get way into that a little later), it did add a second speaker for stereo sound when you hold the phone in landscape mode. The extra speaker is up near the FaceTime camera, and I could hear a bit of stereo separation when streaming The Force Awakens in the Videos app. Watching the same passage on an iPhone 6s, it was more obvious the sound was only coming from one speaker, and the iPhone 7 was louder too.
Another nice addition is the doubling of storage sizes. The entry-level iPhone 7 is now 32GB instead of 16GB. The middle tier is 128GB, and the high-end 256GB. That's a pretty big deal if you're always having to manage your available storage by deleting photos and videos. The iPhone SE tops out at 64GB, and the iPhone 6s at 128GB, so if you need a huge amount of storage, the iPhone 7 is the way to go.
Camera
This review only covers the iPhone 7—we'll follow up with a separate review of the iPhone 7 Plus, which has two cameras. The iPhone 7 has one 12-megapixel iSight camera, but its performance is much improved over the iPhone 6s. It's got a wider aperture lens, f1.8, which lets in more light for better photos in low-light conditions than the iPhone 6s's f2.2 lens. The iPhone 7 also has optical image stabilization, which used to be confined to the larger Plus models. The TrueTone flash is also 50 percent brighter thanks to four LEDs, and Apple says it can even compensate for the subtle flickering of indoor lighting.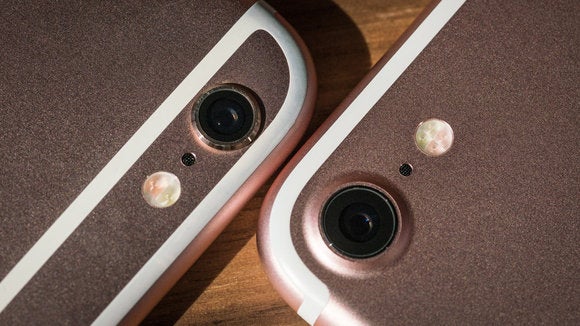 None of that changes how you actually use the Camera app—it's just easier to get a good photo without any extra effort. Colors look amazing on the screen, and the iPhone 7 captures the wider P3 color gamut. (iOS 10 even lets third-party apps capture RAW data from the camera, but the stock Camera app still saves images as JPEGs.) My low-light photos show more detail, and daytime photos look better thanks to the vibrant color and the optical image stabilization.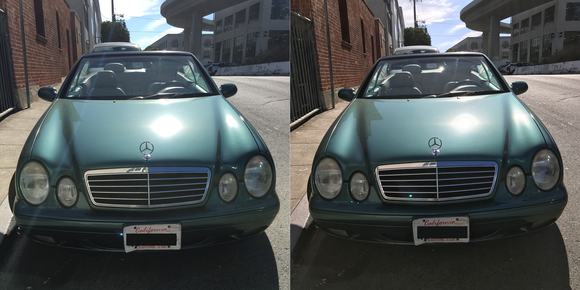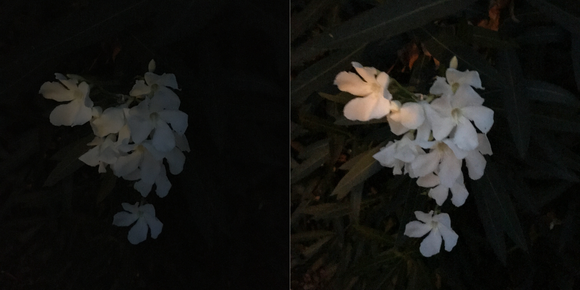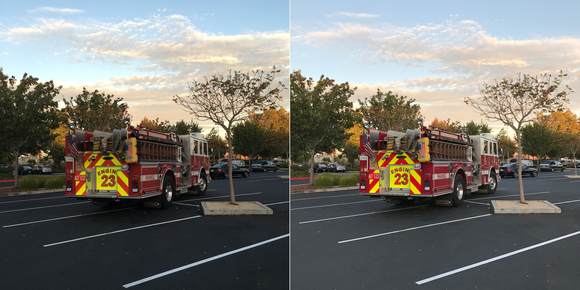 I also loved how quickly the camera can refocus itself when you're composing a photo or shooting a video. I loved getting close-up on, say, a flower, and watching how the background of the image got soft as the camera focused on the subject. Then I'd pull back until the focus snapped to the entire plant. A video I took while walking my son home from school really benefitted from the optical image stabilization, greatly reducing the bounce in my step as I tried to keep up with him.
On the front, the FaceTime camera went from 5 megapixels in the iPhone 6s to 7 megapixels here, although it keeps the same f2.2 aperture. It can now record video in 1080p, and its low-light performance is improved too. All in all, it just works more like the rear camera, so your selfies always look their best.
Water resistance
I've dropped two iPhones into toilets—I'm not proud, but it happens. Luckily, both of them came back to life, but that required a whole day of keeping the phone powered down and sitting in a Ziploc bag of uncooked rice, then a vigorous cleaning with antibacterial wipes that Apple advises against using anyhow. (But come on, I just had to!)
So the iPhone 7's IP67 rating will save a lot of people a lot time and heartbreak, even if the convenience store near my office sells fewer bags of rice to panicked iPhone owners. Apple recommends you don't get the iPhone wet on purpose, and if you do, disconnect all cables and be sure dry it out completely (they even suggest aiming a fan at the Lightning port) before you try to charge it again.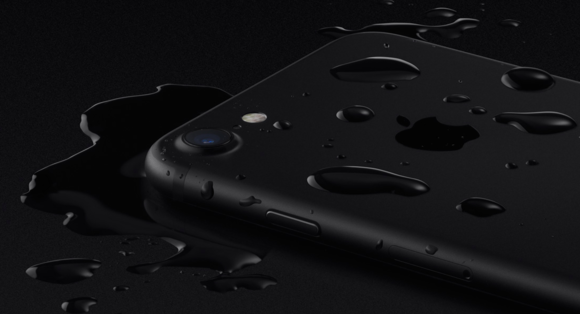 These warnings got me just paranoid enough to not want to test the water resistance of my brand-new phone, but I do appreciate how achieving this rating didn't necessitate any awkward design choices. I reviewed a water-resistant Sony Xperia Z a couple years back, for example, that had little rubber plugs shoved into the charging and headphone ports, which worked but wasn't the best experience. Today, Apple and Samsung are able to make their phones water resistant by protecting components inside the case, so there's no inconvenience to the end user. Water resistance probably isn't reason enough on its own to upgrade, but it's a great bonus.
The new Home button
Unfortunately, not everything about the iPhone 7 is better. The new Home button is easier for me to get behind, assuming it helped Apple waterproof the phone. Still, so far I'm not really a fan.
In past iPhones, the Home button was a real separate button that provided a physical click when pressed. Of course, that meant it was subject to physical failure, although I never had an issue with any of mine. The iPhone 7's new Home button is completely fused with the rest of the iPhone's chin, although you can still find it easily with your thumb thanks to the button's slight indentation, surrounded by the Touch ID's slightly raised metal ring.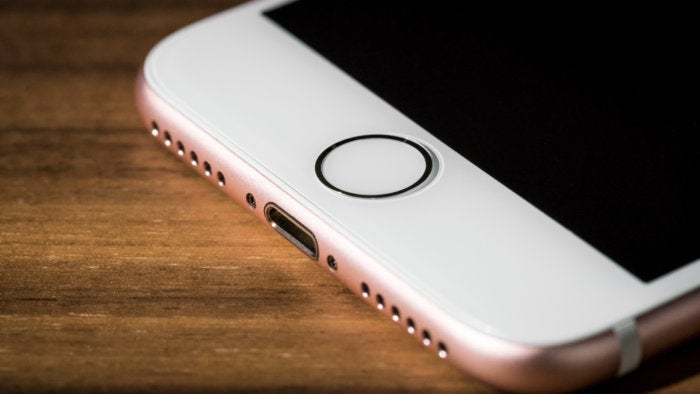 So while the new Home button doesn't physically click, it does kind of buzz when you press it, thanks to a taptic engine that Apple added to provide haptic feedback. The effect is similar to the MacBook's Force Touch trackpad and the Magic Trackpad, which also don't physically click but provide a subtle vibration when you press down to simulate the feeling of a click.
Developers can already use those vibrations in their Mac apps, so for example, if you're editing a photo, you could "feel" on the Force Touch trackpad when a selection box snaps to the exact center. Now on the iPhone 7, Apple and third-party iOS developers can use the taptic engine to provide feedback in their apps too. To test it out, open the Clock app, and spin the dials in the Timer app to feel a little buzz with every click of the dial. If you hate the effect, you can turn it off in Settings > Sounds & Haptics > System Haptics.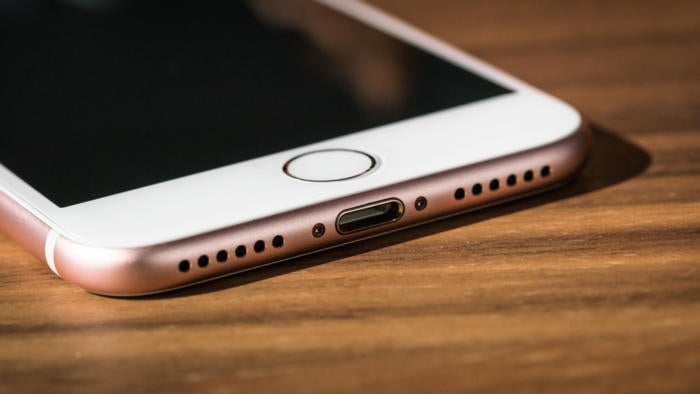 While the system haptics don't bother me, the new Home button just feels odd. You get three "click feels" to choose from in Settings > General > Home Button, so you can customize the amount of feedback somewhat. And I'm sure I'll get fully used to it at some point. But after five days, it still feels weird. If the iPhone is ever powered off (I know, it's rare, but stick with me), the Home button doesn't provide any feedback, so you feel like you're pressing a solid wall expecting to find a hidden button. Open sesame?
And the Home button is now capacitive, meaning you can't press it through cloth or though sports armbands that physically cover the button. Based on reports, some touchscreen-friendly gloves work on the Home button, while others work on the iPhone 7's touchscreen but not the Home button. (A workaround to exit an app in that case is to 3D Touch the very left edge of the phone's screen to bring up the app switcher, then swipe left-to-right to get back to the home screen. Or just buy new gloves.)
I didn't have touchscreen gloves on hand to test—hey, it's California—but we'll follow up with a separate article later. If you live somewhere cold and rely on touchscreen gloves in the winter, you might want to bring your favorite pair to the Apple Store, if possible, to test them out on the iPhone 7 in person.
No more headphone jack
The lack of a headphone jack is more annoying than anything else. But it sucks when you just spent $649-plus on a piece of technology and then have to deal with new annoyances that previous editions didn't have. Quality Bluetooth headphones are still expensive, all Bluetooth headphones need to be charged, and they require a trip to the Settings app to pair them—and sometimes to re-pair them when they drop the connection with no warning.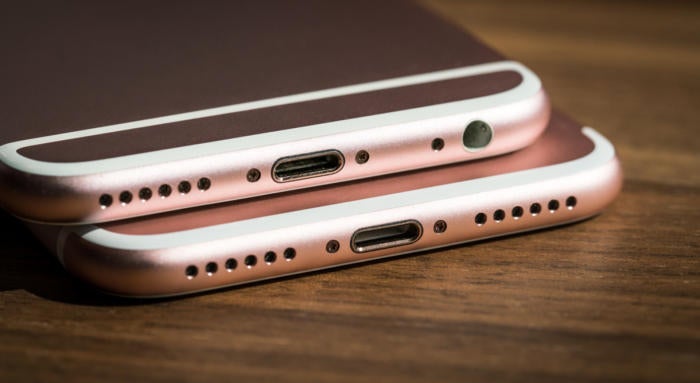 Apple claims it's solved these problems with the AirPods, but those aren't available yet. Thanks to a W1 chip, Apple's AirPods, and Beats' Solo3, Powerbeats3, and BeatsX should pair more seamlessly and use less power, but only the Solo3 were available at launch. (AirPods are expected in late October, and the Beats just in "fall.") If you already have Bluetooth headphones you like, this isn't a problem. But if you don't, you'll find yourself in limbo with me, having to choose between what's out now from Jaybird or Bose, settling for last year's Beats, or waiting for Apple's AirPods or the new Beats to show up in stores.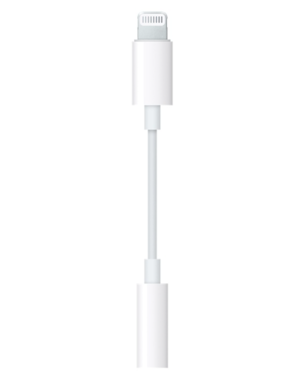 Until then, Apple does provide two wired solutions in the box. I've been mostly using the Lightning EarPods, which fit and sound exactly like the old EarPods, but have a Lightning plug on the end instead of a 3.5mm plug. As Jason Snell pointed out, if most people use whatever headphones came in the box, having these in the box just might be good enough. I don't love the EarPods, but it turns out I don't hate them as much as I remembered.
As a bonus, you also get a Lightning-to–3.5mm adapter, to plug in whatever analog headphones you already have. (Spare adapters are $9 at the Apple Store.) The adapter is fine, although it's a little awkward if your headphones have a 90-degree plug instead of a straight one. We'll perform some tests a little later to see if there's much difference in sound quality between using the adapter (which must have a DAC built in) with the iPhone 7, versus plugging the same headphones directly into an iPhone 6s.
My hands-on time with the AirPods at their unveiling was promising enough that I'd like to hold out for those, and so I don't currently have a set of Bluetooth headphones that I like. So my biggest problem with the iPhone 7 is that I can't listen to wired headphones and charge the phone at the same time, since both of those require the Lightning port. Depending on your daily routine, you might not find yourself ever needing to do that. But I find myself needing to charge while wanting to listen fairly often, typically a few times a week.

Just yesterday I found myself on a commuter bus stuck in traffic, watching my iPhone 7, which was already in Low Power Mode, slip down below 10 percent. If I wanted to connect it to one of the USB battery packs I keep in my bag, I'd have to stop listening to podcats while it charged. Instead, I popped it into Airplane Mode to squeeze as much battery life as I could. I got home with 2 percent charge left, but I missed a text message from my husband in the process—pretty annoying. I also tend to workout in the evenings, so sometimes I'll top up my iPhone with a USB battery pack while I'm also using it to stream music over Spotify while I ride my exercise bike—wearing headphones. With the iPhone 7, I have to choose: charge the phone while blasting music over the speakers, or wait to exercise with my headphones until the phone has a chance to top off? (Or get yet another adapter, like this big ol' Lightning splitter from Belkin.)
The moral of this story is that I really need some Bluetooth headphones, I realize. But I can't help feeling a little resentful when a piece of technology, in this case the iPhone 7, introduces a new problem that requires me to buy more technology to solve it.
Bottom line
The things that are great about the iPhone 7—primarily its speed and the camera—are likely to be even better in the next generation. On the other hand, the things that aggravate me about this iPhone—namely, the weird Home button and the aggravation of switching to wireless headphones—are likely to be improved.
If you're excited enough about the camera to upgrade, or your current iPhone is old enough that you want to upgrade, this is the best iPhone for you. But if the drawbacks make you want to sit out a year, I think that's really smart.
Best Prices Today: iPhone 7 128GB