When people ask me for the single best reason to upgrade to macOS Sierra, the answer I give them doesn't involve Siri or Auto Unlock or iCloud Drive. It's version 2.0 of Photos, the biggest update to Apple's photo-management utility app since it debuted in the spring of 2015.
I've been using Photos 2.0 extensively all summer as a part of my testing of macOS Sierra. My six favorite features make Photos almost singlehandedly worth the upgrade to Sierra.
It can find a Zebra in a haystack
Apple spent a lot of time at its Worldwide Developer Conference this summer promoting the machine-learning algorithm that sits at the heart of Photos for Mac and iOS 10. But you know what? It's awesome. Apple's not the first to go down this path—Google Photos does the same thing—but Apple's doing it on its own devices and not sending any of your stuff to be processed in the cloud.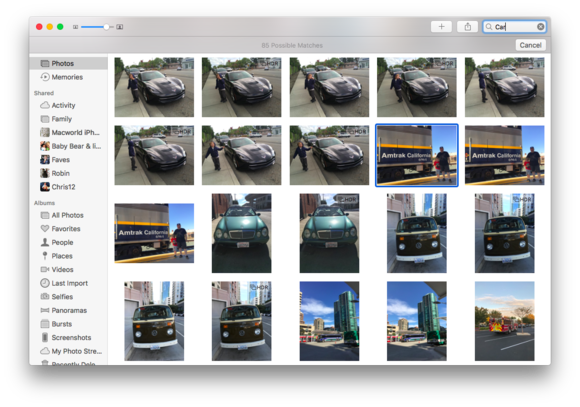 There's no interface for this feature. When you upgrade to Sierra, Photos begins indexing your photo library, scanning every picture and detecting any information it thinks it recognizes, whether that's faces, places, objects, you name it. This isn't anything approaching omnipotence—the algorithm is apparently tuned to recognize about 4,000 different items. And it's far from perfect. When I searched for dogs, I got pictures with dogs—and with cats, and no animals at all. But I also got lots of pictures of dogs.
Let me give you another cool example. On a whim, I typed Zebra into the search box in Photos. Up popped four photos that I took of a pair of zebras at the San Diego Wild Animal Park a decade ago. Out of more than 10,000 pictures, Photos found the four pictures I took with zebras in them. It's a pretty neat trick. And while it's not perfect, it's a great tool to use to track down an elusive photo in a large library.
It dusts off old photos and makes them live again
When Apple introduced iPhoto many years ago, it was the dawn of the age of digital photography, and the metaphor it used to describe photo management was that of a digital shoebox. In 2016 it's a couple of dozen shoeboxes with memories spanning decades. That's a lot of photos—and most of them you'll never, ever look at again.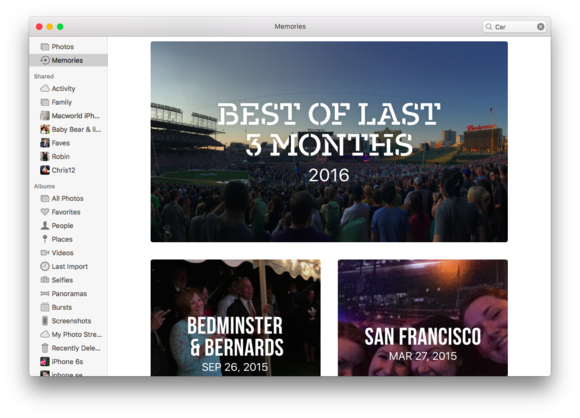 Memories is a feature that aims to change that. Using all sorts of different techniques, Memories gathers up collections of photos and presents them to you as a ready-built trip down memory lane.
Memories mines your recent past. If you take a road trip to Oregon, you are almost certain to see that trip appear as a Memory a few days later. It'll show you the best of the past week or month. But it'll also dive deep, showing you photos that you took on this date in the past.
It will also use some of the data gleaned from the machine-learning algorithm to come up with fascinating collections. One I saw was called "In Nature," and featured a bunch of pictures of my kids with various wilderness backgrounds. It pulled out a selection of photos from my son's first birthday.
Memories does the job. It surfaces, well, memories—photos that I know are in my library, but that I'm rarely (if ever) motivated to view. I admit to getting a little emotional more than once at the images that Memories chose to show to me. In a good way.
It shows you your photos on a map
iPhoto had the ability to display all your photos on a map, based on their geolocation data. When Photos was released, this feature was strangely stripped back, so you could only view a map of photos taken at a very specific time.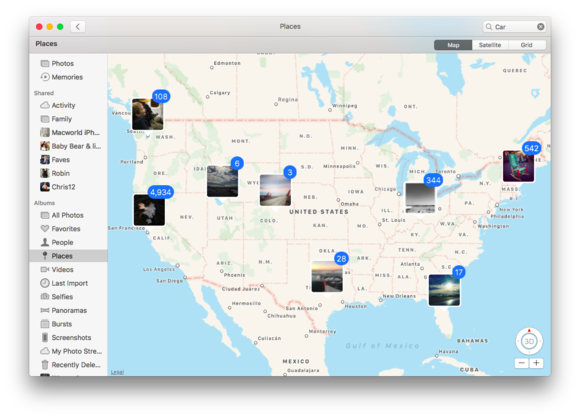 But now the map is back, and not only can you look at your entire library on a map, but you can also drill down into specific events, albums, and more. In fact, Memories display a map at the bottom, to show you where the photos were taken.
I love this feature because it lets me relive trips, whether they're large (all the pictures I took in Bermuda) or small (a map of all the different spots where I took pictures during a mile-long beach walk).
It uses all its powers to connect memories
Memories is a great feature, but I'm impressed with the fact that Photos uses all the metadata at its command to generate a list of related memories at the bottom of every memory. A memory featuring my kids at a ballpark in San Diego will generate related memories involving my kids, San Diego, and even other ballparks. A memory from a Christmas visit to my mom's house in Arizona generates links to other Christmases, other visits to Arizona, and other trips we've taken with my mom.
This is a subtle side effect of the fact that a machine-learning algorithm is scanning all your photos: Photos can see what you're looking at, identify what the photos have in common, and generate whole other collections that relate in some way.
It lets you draw on your photos
It's silly, but in Sierra, Photos lets you use the Markup extension to edit your photos by drawing on top of them. Silly, yes, absolutely, but sometimes it can be useful! Every now and then I find myself wishing I could draw an arrow to point to something or circle something and send it to a friend. And now, with Markup, I can.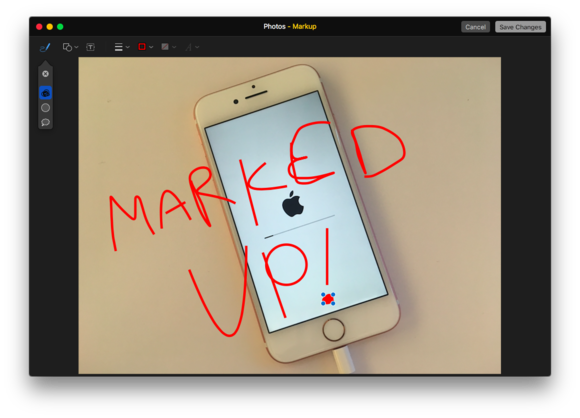 It gets along with the Apple TV
This isn't a Mac feature per se, but with the release of tvOS 10, the fourth-generation Apple TV now has proper access to your iCloud Photo Library. It can display albums, memories, the works. Apple TV access to your photo library before was pretty sad. But now you can sit down on the sofa, pick up the remote control, and look at your photos on that big living-room TV.