iOS added print support years ago, and Printopia and then other software rose to meet a challenge: supporting printers that didn't use Apple's AirPrint. But they also added a nifty workaround to the missing ability to create PDFs from email and other software that supported print via a Share button, but didn't have a workflow that led to a PDF.
Printopia had to be hosted on a Mac, and it let you share any printer a Mac could access, as well as add printer and file-storage devices as printers. You could print to PDF on the attached computer or print to Dropbox. iOS 10 finally adds a subtle way to get the same effect without needing additional software. ( Printopia ($20) is still pretty cool for a lot of other purposes, by the way.)
A colleague of Gabe Weatherhead, the proprietor of Macdrifter, wrote to him with the method, which I share and expand upon here with Gabe's permission.
In Mail, view a message.
Tap the Share button.
Select Print.
In the Printer Options screen, you'll see a preview. You can either pinch and expand it or poke it (the harder 3D Touch). A PDF preview window opens.
Tap the Share button at the bottom of that window.
You can choose any Share option, including Copy to switch to an app that supports PDFs into which you can paste, share it Dropbox, add it to iCloud Drive, and the like.
Once it's shared, tap the back arrow (upper left), and then tap Cancel.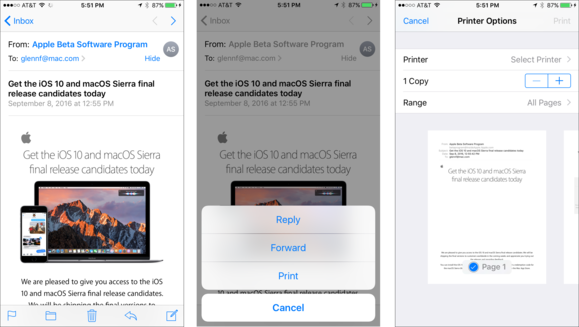 In my testing, images on a page don't always load. With two images from Apple, one from TestFlight and one from its beta program, the TestFlight images previewed and the beta message didn't. The beta message had a whole lot of CSS (Cascading Style Sheet) formatting, and it's possible that affected how images were loaded. (The same email previewed fine in OS X.)
Ask Mac 911
We've compiled a list of the most commonly asked questions we get, and the answers to them: read our super FAQ to see if you're covered. If not, we're always looking for new problems to solve! Email yours to mac911@macworld.com including screen captures as appropriate. Mac 911 cannot reply to email with troubleshooting advice nor can we publish answers to every question.