I usually receive about a dozen iTunes Guy questions a week, but following the release of iOS 10, my mailbox has been overflowing. More than 100 people wrote in with questions about the new Music app in iOS 10. I covered a number of issues with this app in last week's column, but we're running a special follow-up about iOS 10's Music app this week because of, as they say, popular demand. Do have a look at last week's questions and answers as well, as they may resolve some of your problems with this new app.
Sorting is wrong
Q: Help me! When I tap Songs, my music is sorted by artist, not by song as it was before. I have to search now to find a song to listen to. Is there any way to fix this?
This is by far the most common question this week. Apple changed the way music is sorted by default in the Music app, and this has thrown a lot of people for a loop. Fortunately, you can change this. Go to Settings > Music, and, in the Library section, tap Sort Songs & Albums. There are two choices, By artist and By Title.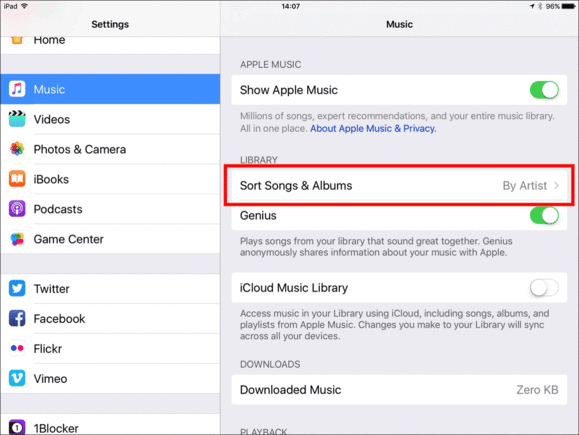 Tap By Title and your music will be sorted by song and album names.
What's that star?
Q: I know that the star ratings have been removed from the iOS 10 Music app, but I still see the occasional star to the left of the track numbers on certain albums. What does that star indicate?
These stars aren't new, but they're larger than before, and a bit darker. In the absence of star ratings, lots of people have asked about this. They indicate the most popular tracks on an album. Here's how they look on iOS: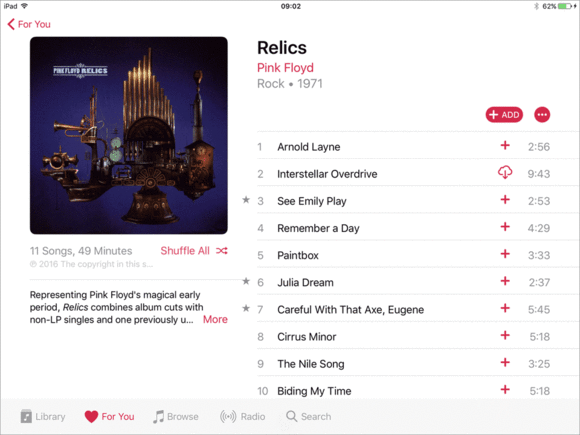 If you look at the same album in the iTunes Store, you can see the Popularity column shows these tracks as being the highest: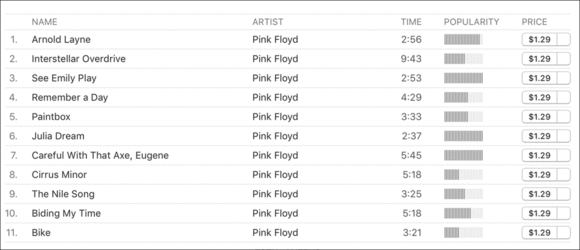 You can see that tracks 3, 6, and 7 are the most popular (though I'd have expected Arnold Layne to be at the top as well), and those are the tracks starred on iOS.
Shuffle and repeat
Q: I don't see how to turn the shuffle or repeat functions on or off. Has Apple removed these features?
Yeah, that's what you might think. The iOS 10 Music app is a basket of deplorable interface choices. The Shuffle and Repeat buttons are well hidden. Here's how to find them.
When you're playing music, if you don't see the full music control screen, there's a small bar at the bottom of the screen, just above the tab bar. Tap that to expand it. Next, swipe up anywhere on the screen to display the Up Next queue. (So that's where it's hiding!) You'll see the Shuffle and Repeat buttons at the top of the queue.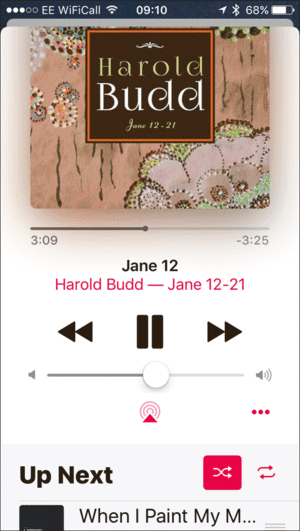 In the screenshot above, the Shuffle button is engaged.
Now playing forever
Q: Is there any way to clear the Now Playing bar on iOS 10? I am a bit OCD and want to have a clear queue when I am deciding what to play, but the last song I played remains visible and I can't get rid of it.
I hate it, too. The only way to clear that Now Playing bar is to force quit the Music app. Double-press the home button, then swipe up on the Music app's screen. When you launch it again, the Now Playing bar will be gone.
Can't read track names
Q: There's so little room for track names that I can't read many of them on my iPhone. Is there a way to see a full track name that's cut off?
This has been a problem for some time. You used to be able to tap and hold a track to see its full track name. If the names of some of your tracks are long, you'll only see part of them. Even on the iPad, where there's more room, the album artwork is so big that anything more than a couple of words is truncated. This isn't an issue with most pop music, but for classical music, it kind of sucks.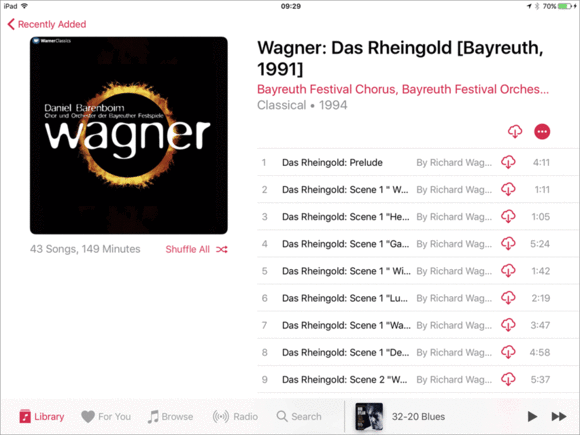 Alas, there's no way to see any more. Apple, are you listening?
Can't skip, won't skip
Q: I have a lot of tracks in my music library where I've set the Skip when Shuffling option in iTunes. But the iOS 10 Music app still plays these tracks when I shuffle all my songs. Is there a setting to make this work?
Of all the problems in the iOS Music app, this may be the one that annoys me most. I have a large spoken word library, and I don't want to listen to any of my classical music in shuffle mode. Yet when I shuffle songs, the Music app plays them.
This isn't new. It started in the iOS 9 Music app. I filed a bug report with Apple about this problem about a year ago, and they still haven't fixed it in iOS 10. My bug is still "open," which means that haven't resolved it. Come on, Apple, a lot of us need this feature.
For more about the changes to the iOS 10 Music app, see my Round-Up of New, Missing, and Confusing Features in the iOS 10 Music App.
Have questions of your own for the iTunes Guy? Send them along for his consideration.