At a Glance
Expert's Rating
Pros
Free translation app with universal, Apple Watch support
Offline mode for eight language pairs (Pro only)
Excellent voice conversation mode (Pro only)
Cons
Best features now require paid subscription
Voice conversation can't be used in conjunction with offline mode
Offline mode not always contextually accurate
Safari translation extension slower than in-app browser
Our Verdict
Supporting more than 90 languages, the universal iTranslate 10 app offers native Apple Watch support, Today widget and iOS keyboard extension for free, plus an optional Pro subscription that provide offline mode, voice conversation, and more.
Best Prices Today: iTranslate 10.3
Overseas travel used to mean burying your head in books to memorize basic words and phrases in other languages, or listening to translations repeatedly from cassettes or CDs. Smartphones have mostly eliminated both methods, replacing them with apps capable of instantly translating text or even spoken words—but only when an internet connection is available.
iOffline
iTranslate 10 (free on the iTunes Store) addresses the problem of spotty internet access while abroad with a new offline mode. When enabled, text-based translations in eight common languages (English, Spanish, French, German, Italian, Russian, Portuguese, and Chinese) can be made without an active data connection.
Offline mode works by first downloading language packs to your device, which average around 100MB in size (English-Russian is the largest at 365MB). In tests with my Russian-speaking wife, offline translations displayed instantly but weren't always 100 percent contextually accurate; however, they still made sense most of the time.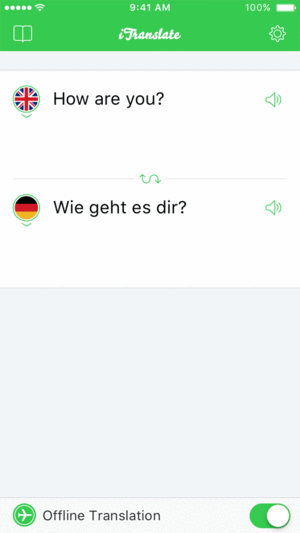 Of course, eight dialects isn't much compared to iTranslate's online capabilities, which work in more than 90 languages. (More offline pairs are in the works.) Translations can be displayed full-screen for easier reading, copied to the clipboard, shared with other apps, or marked as favorites for faster access; iTranslate also maintains a history of all activity.
The universal app includes Apple Watch support, one of my favorite shortcuts for using iTranslate. Dictate a short phrase, and a few seconds later the audio translation plays back on your wrist. It's not as fast as using the full iPhone app, but assuming you have internet connectivity, tends to be more convenient for occasional use.
Making conversation
The best new iTranslate 10 feature is voice conversation: Tap the flag for your native language, speak into the device, then tap again when finished. Within seconds, the translation appears on-screen in a casual chat layout, with each phrase also played aloud for both parties to hear; the person you're talking with then does the same in their own language, going back-and-forth until the discussion is over.
Voice conversation works in over 40 languages, but can't be used in conjunction with offline mode, since it requires an active internet connection to do its magic. Combining both methods would be the ideal winning combination, but for now this dream team remains elusive.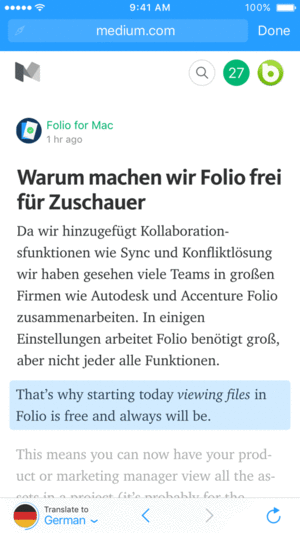 In the meantime, there are other conveniences, such as translating Mobile Safari websites into 38 languages from a sharing extension or by pasting a URL into the in-app translation browser; I found the first method to be slow with complicated sites, however. You can also now look up verb conjugations in different tenses, a great feature for those learning a new language.
While iTranslate was previously a paid app, version 10 arrives with a new business model. The app is now free, but only for basic (translation: older) features; Offline Mode, voice conversation, and website translation require a Pro subscription starting at $3 per month. I'm not a fan of this approach, but since it's easy enough to cancel and review an iTunes subscription for infrequent overseas travel, this is an acceptable compromise.
Bottom line
With new offline, voice conversation, and website translation, iTranslate 10 remains the leading iOS translation app, despite the free version being decidedly no-frills.
Best Prices Today: iTranslate 10.3