Thanks to iOS 10, your Messages app is way more than a texting app. Way, way more. Now that the official release of iOS 10 is out, here's your guide to using all the new features in Messages, from sending fullscreen effects to installing your third-party iMessage apps from your favorite services like Venmo, ESPN, and OpenTable.
The first thing you should know is that the recipient of your messages will need an iPhone, iPod, or iPad running iOS 10, an Apple Watch running watchOS 3, or a Mac running macOS Sierra in order to view them in their full visual glory. Furthermore, these features are exclusively linked to iMessage, so Android users will have a hard time deciphering the animations as well. For users on Android or running a previous version of iOS, these messages will show up as regular text with a description of what the visual should have been, like "(sent with fireworks)." Not nearly as capitvating.
Install third-party apps
Perhaps the most profound change iOS 10 brings to Messages is the integration of third-party services, turning iMessage into a platform. Access your iMessage app drawer by tapping on the gray arrow to the left of the input field and then on the App Store icon. This is your hub for both iMessage apps (which only live inside Messages) and extensions (which are a part of a broader iOS app). You can press down on any of these iMessage apps and extensions in the app drawer to make them wiggle so you can rearrange or delete them.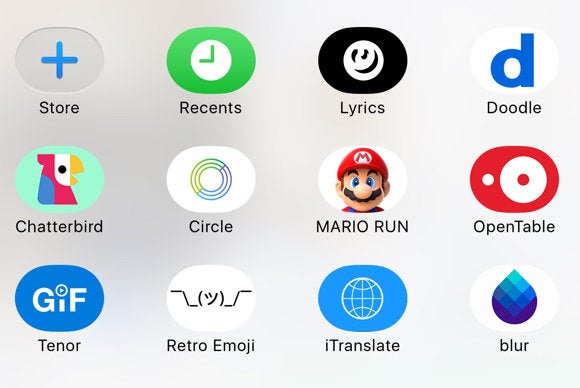 In your app drawer, you'll see your Recents, Music, Images, and Store. Recents displays your recently sent messages, whether it's a Digital Touch creation or a handwritten message. Music lets you share your most recently played song from Apple Music, which will play in-line (more on that in the visual link section). Images lets you search the web for photos, videos, and GIFs. The image search results are powered by Bing, and the results are comparable to the GIF results in Google's Gboard iOS keyboard.
In the Store, you can browse the Featured and Categories tabs to get more third-party iMessage apps and extensions, including stickers, games, and services. Here's our list of 15 free iMessage apps to get you started. The Manage tab offers a quick way to see if any of your installed iOS apps have released a new iMessage extension, and here you also have the option to automatically add these extensions to your app drawer.
Tap-and-replace with emoji
One of the biggest crowd-pleasers at WWDC this year was the announcement that emoji would show up three times bigger in iOS 10. This applies if you are sending a message with only emoji, however. Text messages with an accompanying emoji retain the same size.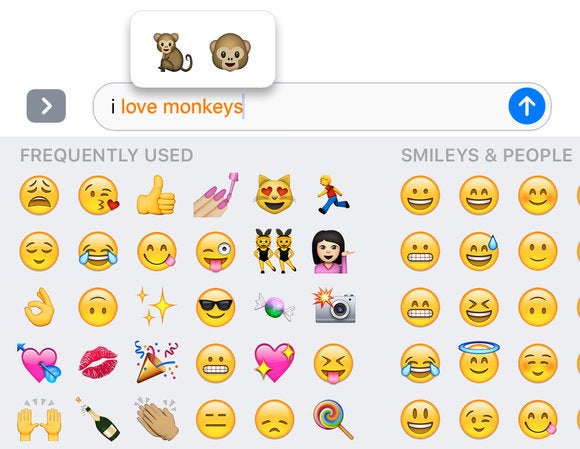 Messages also has a new tool for replacing keywords into corresponding emojis. For example, the text "I love monkeys" turns into "I ❤️ ?" – all you have to do is finish your text message and then tap on the emoji button. This automatically highlights all the words that have a corresponding emoji, giving you several tap-and-replace options if applicable. For example, you get to choose between ? or ? for replacing the word "monkey."
Send bubble and fullscreen effects
After typing your message, press and hold down on the blue up-arrow to the right of the input field. That takes you a "send with effect" page where you can slide up to select your text to appear as "Gentle" like a whisper, "Loud" as if you're yelling, or "Slam" down on the screen. Here, you can also choose "Invisible Ink" to send a hidden message or photo that the recipient can reveal by swiping away pretend particles.
At the top of the screen you can tap to go from these bubble effects to fullscreen effects. Swipe to see all your options, like sending your message with balloons, confetti, lasers, fireworks, or shooting stars. The effects appear for a few seconds when the recipient opens the message. Lasers, fireworks, and shooting star also come with sounds, because how can anyone take a fireworks show seriously without the bursting sounds? After you've selected an effect, you can press the blue up-arrow again to send it or the x to cancel. You can also also "Tap Back" on any message, either sent or received, by pressing down on it and placing a heart, a thumbs-up, or a "ha ha."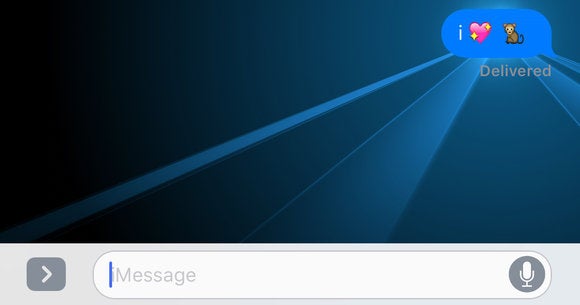 If you're having issues seeing bubble, fullscreen, or Tap Back effects, it's most likely that you've enabled "Reduce Motion" to keep from getting motion sickness from iOS visualizations. To disable this option and try these effects, go to Settings –> Accessibility.
Create a card with Digital Touch
Apple Watch wearers may be familiar with Digital Touch, the feature that's now available in iOS 10. To access it in Messages, tap the icon with the heart and the two fingers to the right of the input field in between the camera and the App icons. Here, you can doodle and insert animations on either a black canvas or on a photo or video. To the left of the canvas, you'll see a camera icon and the option to choose from seven different colors. On the right, you'll see directions for creating the following:
Free sketch using one finger
Beating heart by holding down two fingers
Vanishing circle by tapping gently
Kiss smack by tapping two fingers
Broken heart by dragging down two fingers
Glowing burst by pressing down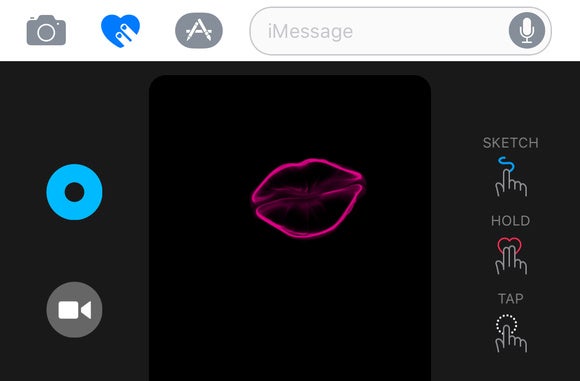 Just be aware that as soon as you raise your fingers from the black canvas, the animation will be sent to the recipient. So make sure you have a clear vision of what you want to create before putting pen to paper, or finger to screen in this case. They show up as still attachments on iOS 9 or prior.
Handwrite your message
Rotate your iPhone horizontally to landscape mode to use handwriting. Here, you can select from seven pre-populated handwritten messages like "happy birthday" and "thinking of you." Or you can just keep the font and create your own message by tapping "Clear" towards the top. If you've installed another language keyboard, you'll see pre-populated handwritten messages in that language, as well. For example, I've also installed the Spanish keyboard and saw that I could send "hola" and "pensando en ti."
To disable activating handwriting every time you rotate your phone, simply tap on the keyboard icon on the lower right of the handwriting screen. You can activate it again by tapping on the swirl that appears on the lower right when the keyboard is in landscape mode.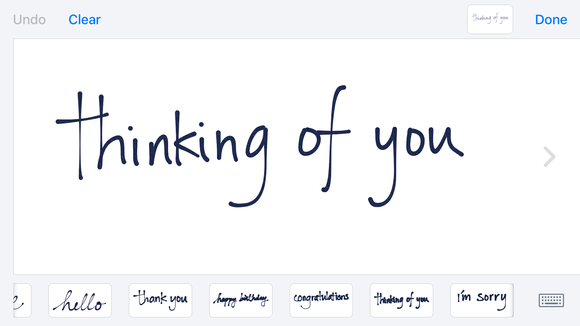 If the recipient has installed iOS 10, these messages are displayed stroke by stroke, as if they had been handwritten in real-time. The ink also has a drying effect for an authentic pen-on-paper feel. If the recipient has iOS 9 or prior, these handwritten messages show up as still attachments.
Send media and visual links
Lastly, Messages in iOS 10 has redesigned the way you attach media, whether it's a photo in your camera roll or a video you've recorded in-app on the spot. Tap on the camera icon left of the input field and the keyboard becomes a media hub with a viewfinder for taking photos or video right there and then. You can continue browsing your camera roll by swiping left, or launch the Camera app or Photo Library by swiping right.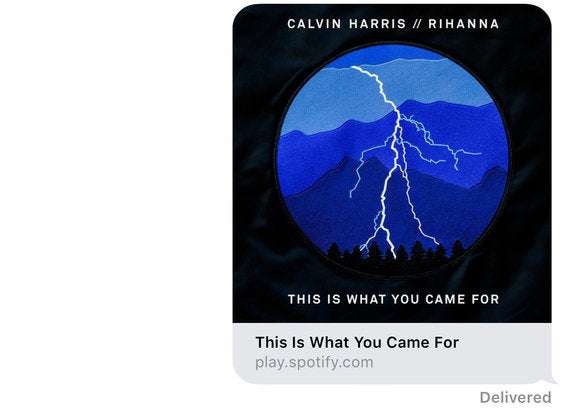 Also, when you send a URL to an article on the Web, Messages automatically turns it into a preview with a headline and image pulled from the link. Similarly, you can send a link to YouTube or Vimeo and have the recipients watch the video in-line. You can also play tracks from Apple Music without leaving Messages—there's even an iMessage app for sharing songs from Apple Music. In fact, every URL we sent showed up as a visual link, from Twitter links to Spotify tracks.