At a Glance
Expert's Rating
Pros
Technical corrections automatically applied for close to 30,000 body-and-lens combinations
Spot-weighted Smart Lighting makes sophisticated adjustments to lighting easy
Outstanding Prime 2016 noise reduction and haze-reducing Clear View
Full range of image editing tools
Cons
Limited library management features
Our Verdict
Best Prices Today: DxO OpticsPro 11 Elite
DxO recently upgraded OpticsPro, its image processing and editing app for the Mac to version 11. Though it's a modest upgrade, DxO continues to provide innovative and technically superior solutions to basic photographic problems.
What's new in OpticsPro 11
OpticsPro 11's Smart Lighting feature now has a spot-weighted option that's more powerful and more versatile than using spot metering in your camera. For example, take a shot of an informal portrait of someone standing in front of a window at midday, using your camera's matrix metering system for the best overall exposure. OpticsPro will find the face, recognize the strong backlight, and then automatically try to brighten the face and balance the backlight. If you used fill light while taking the photo, OpticsPro is smart enough to know that it doesn't need to do anything. Even if there's no face in the photo, you can draw one or more spot-weighted rectangles in the image yourself and OpticsPro will adjust the light and dark areas of the photo accordingly.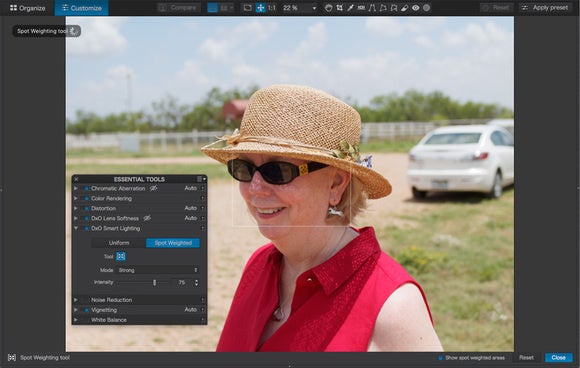 OpticsPro 11's full-screen viewing, with the delightful before-and-after slider and with controls for rating images, is my favorite new feature. Version 11 also adds an automatic micro-contrast tool that boosts contrast for small details but is smart enough to ignore skin pores and noise. And there's finally an automatic fix for red-eye.
OpticsPro's standard noise reduction has always been good and the advanced Prime noise reduction has been great. DxO claims that the latter—renamed Prime 2016—is more effective than it used to be. I'll take their word on that but there's no doubt that it's dramatically faster—er, less slow. Prime noise reduction in version 10 could easily take a couple of minutes to process a single image; Prime 2016 in version 11 does a better job in about a quarter of the time. (Prime 2016 is only available in the OpticsPro 11 Elite Edition.)
DxO OpticsPro's superpower
What's new in version 11 is less important than what is not new: its ability to automatically correct images for lens-based problems (optical distortion, softness, chromatic aberration, and vignetting) and sensor-based problems (noise especially but also basic color and exposure). Automatic correction of these nearly inevitable problems is OpticsPro's superpower.
DxO is highly respected for its rigorous scientific testing of cameras (sensors) and lenses, and it makes its performance results publicly available at dxomark.com. The results also serve as the basis of the individual camera-and-lens performance modules that enable OpticsPro to get the best initial rendering of every image. For example, if I load an image taken with the Olympus O-MD E-M1 and the Sigma 60mm f2.8 lens, OpticsPro's module for that body-lens pairing tells it just what flaws to look for and it applies corrections automatically. If I use the same Sigma lens on a Panasonic body, OpticsPro knows to apply a subtly different set of corrections required by the different sensor. If I switch to the more expensive Olympus 60mm f2.8 macro lens on either body, the pertinent modules will recommend to OpticsPro a slightly different set of corrections.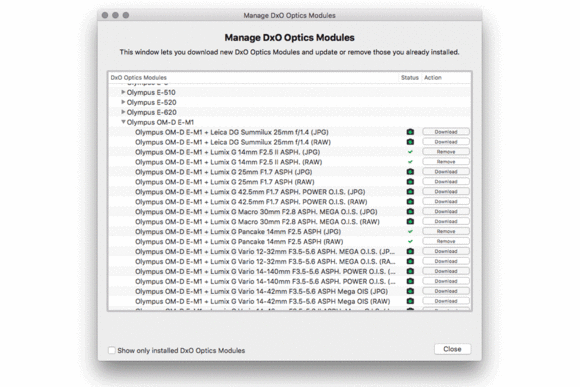 DxO Labs haven't generated modules for every conceivable pairing of body and lens, but they have tested over 300 cameras and over 950 lenses, resulting in over 30,000 camera-lens correction modules. I've worked for years with OpticsPro while shooting Pentax, Sony, Olympus, Canon, Nikon, and Panasonic cameras and scores of lenses, and the software has very seldom lacked a module that I needed. Adobe Lightroom also has an optical corrections feature but Lightroom's modules are much more limited—for example, there are no modules at all for lenses from Olympus.
Amazingly, you don't have to do a thing. The basic corrections are applied the instant you open an image in OpticsPro. I am pretty sure some new users work with OpticsPro for a while before they realize that the app is making significant improvements to their photos before they've touched a single slider.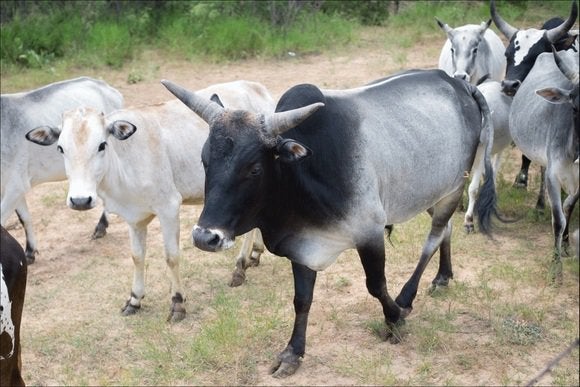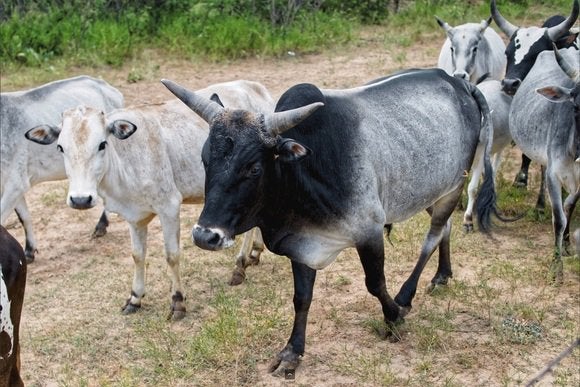 Do you even need OpticsPro?
Problems like lens softness, optical distortion, etc. are inevitable no matter what you're shooting with, but they can be subtle. An uncorrected photo with great lighting, color, and composition trumps an optically "corrected" mediocre photo every time, and uncorrected images don't necessarily look "wrong," even if you compare them side by side with corrected images. Besides, if you don't shoot raw, your camera's internal processor probably makes similar adjustments when it writes JPEGs to the storage card. And even if you do shoot raw—and you should—some other apps (i.e., Lightroom) make optical adjustments that aren't based on the mountain of research DxO has done but are still often pretty satisfactory.
You can also get OpticsPro's corrections on the cheap. The DxO OpticsPro for Photos extension for Apple Photos ($10 on the Apple Store) provides the same automatic corrections that you get from the full OpticsPro app. The extension also provides versions of the DxO tools for Smart Lighting, noise reduction, color, and Clear View (great for reducing haze). If you use Photos as your primary photo management app, I recommend this extension—open photos in it first, then complete editing in Photos' native editor.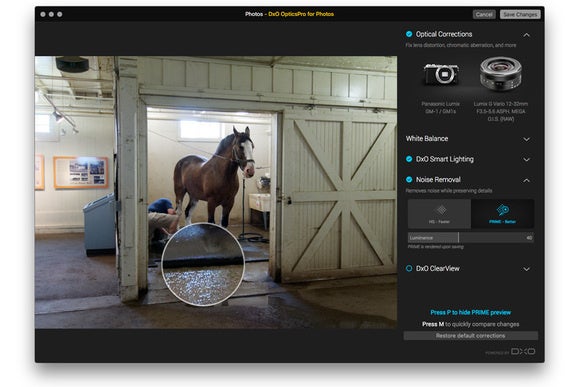 Even if you do decide to buy OpticsPro, you almost certainly won't want to use it to manage your photo library, because it has virtually no photo-library management capability. I generally select my images either in the Finder or in Lightroom and move from there to OpticsPro. The OpticsPro plug-in for Lightroom, combined with OpticsPro's "Save to Lightroom" command, makes round-trip editing easy. If you don't use Lightroom, you'll want to use something else like Photos or Picasa to manage your photos.
Why pay full price?
OpticsPro is not a photo management app and you can get OpticsPro's automatic corrections from a $10 extension for Photos. Nevertheless, there are solid reasons why would a Mac user would want to pay for the whole app.
OpticsPro can work on JPEGs and it even has built-in modules to correct your iPhone photos, but the rule that you'll get the best results by shooting raw is doubly true for the DxO corrections. I don't personally trust the black-hole filing system that Photos uses, so I use Lightroom to manage my raw library. Unfortunately, there's no $10 DxO correction plug-in for Lightroom.
The full version of OpticsPro goes way beyond the basic corrections. OpticsPro has been called a "one trick pony"—but those automatic default corrections are a heck of a trick. Sometimes I'll open an image in OpticsPro just for the autocorrections, then move into ON1 Photo for "creative" adjustments. But OpticsPro does creative, too , and OpticsPro's library of presets is good and truly useful. Then there are DxO's other apps, FilmPack (for classic film effects) and ViewPoint (for correcting perspectival distortion). These are both available as stand-alone apps, but the most efficient way to use them is right inside OpticsPro ($189 for DxO Photo Suite, which includes OpticsPro Essential, FilmPack, and ViewPoint). They greatly extend OpticsPro's toolset.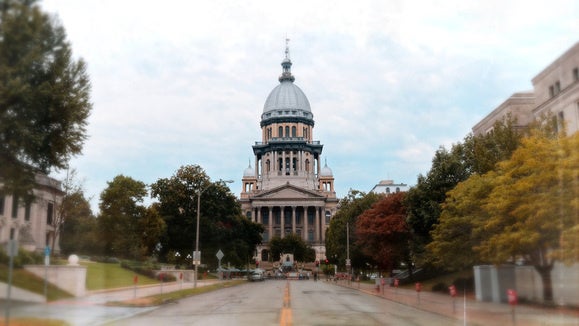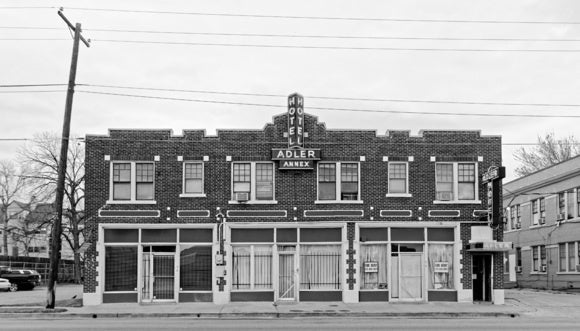 OpticsPro comes in two Editions, Essential and Elite. In the past, whether you got the less-expensive Essential Edition or more-expensive Elite Edition was determined by your camera body; the Elite Edition supported more cameras than Essential. But that's changed; now both editions support all the DxO camera-plus-lens modules and the difference is in the features.
Some of Elite's advantages (say, the ability to save custom presets) are minor. Three of Elite's advantages—Prime 2016 noise reduction, the anti-moiré tool, and Clear View for reducing haze—are worth paying for. Prime 2016 noise reduction is technically impressive, and if you're noise-phobic, you may regard this feature alone as a sufficient reason to buy the Elite Edition. If you use Lightroom, you've already got a very good de-hazing tool, and unless, like me, your camera lacks an anti-aliasing filter, you'll probably not use the Elite Edition's anti-moiré tool often.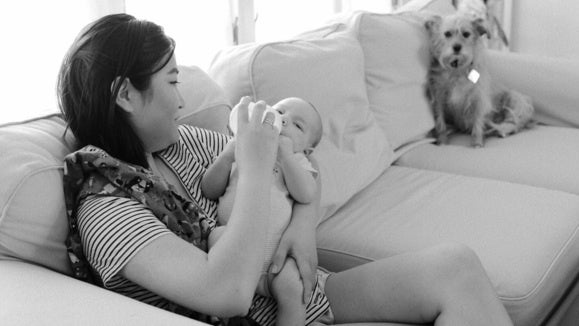 Bottom line
If you are content to use Apple Photos as your primary photo processing app, I recommend you try the DxO Optics Pro extension. This corrects your images to advanced technical standards without breaking the bank. But do be aware that the corrections can be quite subtle.
If you use Lightroom to manage, edit and print your photos, you'll have to get the full OpticsPro app ($129 for the Essential Edition, $199 for the Elite Edition. I continue to use Lightroom to manage my library, but since I started turning to OpticsPro regularly about two years ago, I've come to like it so much that I seldom process files in Lightroom at all unless I need a tool in Lightroom that has no counterpart in OpticsPro. My recommendation is to get the OpticsPro 11 Essential Edition and be happy.
Best Prices Today: DxO OpticsPro 11 Elite