When you are using Messages, Read Receipts let the person you are communicating with know when you have received and read their message. If, for whatever reason, you want to change this so that you are not sending a read receipt, you can modify it in the Messages app.
It's important to note that this works only if both users on the chat are using Messages, either on the Mac or on an iOS device. Read receipts are not available when you are using Messages and the person you can chatting with is using another platform like Android.
Have Read Receipts on all the time
If you always want to send a read receipt, here's how to set it in the Messages app.
In the Messages app, go to Preferences > Accounts, and click on the account you use in the left pane.
Click on the Settings tab if it is not open.
Check the box for "Send read receipts."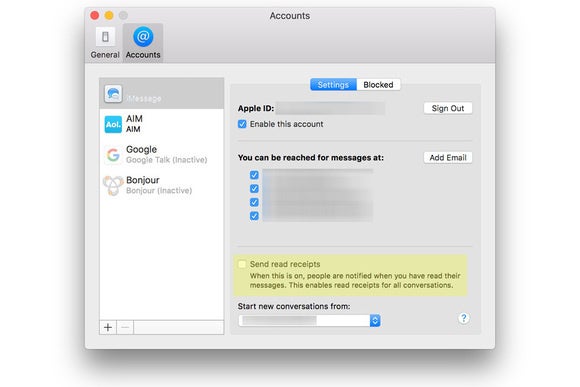 Send a read receipt on a per conversation basis
If you rather have Read Receipts off and activate it on a per conversation basis, here's how to do it.
When you are chatting with someone, a Details link appears in the upper right. Click on it.
A pop-up window showing details about your chat partner appears. At the bottom you will see a checkbox for Send Read Receipts. Check it if you want to activate this feature for the conversation you are having.