At a Glance
Expert's Rating
Pros
Mount FTP servers, cloud storage as local volumes
Easy-to-use menu bar application
Custom drive icons for each service
Cons
Occasional reliability, connectivity issues
No progress indicator during file uploads
No support for Amazon Cloud Drive or Box
Our Verdict
CloudMounter is a system utility that allows FTP, SFTP or WebDAV servers and popular cloud services to mount as local drives on the Mac.
Best Prices Today: Eltima CloudMounter
Remember Bitcasa, the ill-fated "infinite" cloud storage outfit who wound up throwing in the towel after only three years? For all their faults (and there were a few!), they did get one thing right: Infinite Drive, which put that vast quantity of cloud storage alongside normal hard drives on the Mac desktop.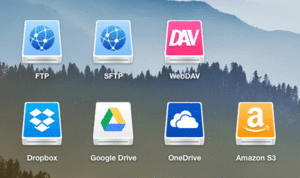 Mount up
That approach wasn't exactly new — Fuse originally blazed the trail, followed soon after by ExpanDrive, who commercialized the virtual file system for FTP servers and other services. CloudMounter ($30 in the App Store) is the latest to deliver cloud-connected storage to the desktop, enabling easy drag-and-drop access right from the Finder.
Like ExpanDrive, CloudMounter lives in the menu bar, with a Connections window where users add FTP, SFTP, and WebDAV servers, or Dropbox, Google Drive, OneDrive, and Amazon S3 accounts in a few clicks of the mouse. Each service features colorful custom drive icons for quick identification, and can optionally be configured to mount at login so volumes are available at all times.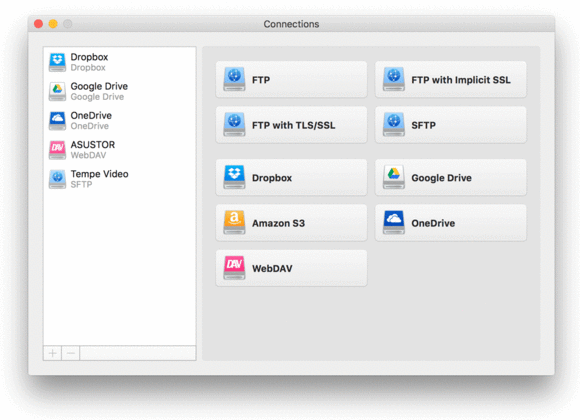 Once mounted, files can be copied or moved like traditional hard drives. There is one caveat: transfers are noticeably slower, because CloudMounter first copies files to a temporary cache, removing them only when the upload is complete. While the initial copy happens relatively quickly, the subsequent upload depends entirely on the speed of your available internet connection.
Cloud drives
For the most part CloudMounter works as expected, but in my tests it wasn't always as reliable as ExpanDrive, especially with larger, multi-gigabyte files. I also found it less convenient. Cloud volumes don't automatically appear in the Finder window sidebar like regular drives, although they can be accessed by clicking your computer name under Devices.
Microsoft OneDrive worked most dependably for me, while FTP and WebDAV were often problematic, either disappearing from the Finder or causing server interruption error messages that locked up the desktop until I force quit. Using QuickLook to preview large files was also a sure-fire way to hang up the Finder.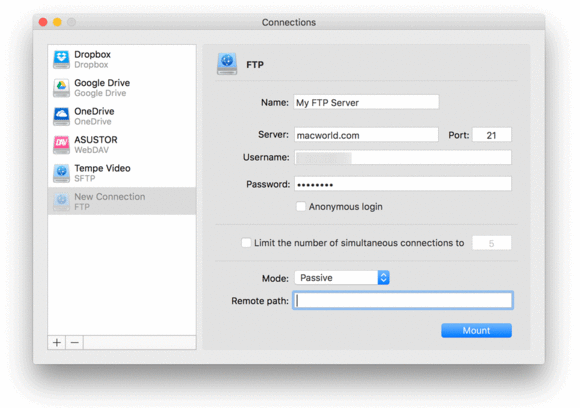 ExpanDrive had similar growing pains early on, so I'm confident Eltima will squash these bugs over time. Work also remains on the user interface, which offers only a vague "file uploading" message in the menu bar, with no indication how long that might take. Finally, CloudMounter lacks support for Amazon Cloud Drive and Box, two options available in ExpanDrive.
Bottom line
CloudMounter delivers cloud storage to the desktop, but ExpanDrive has the upper hand when it comes to reliability and breadth of available services.
Best Prices Today: Eltima CloudMounter