Update 9/12/17: Apple has officially announced the iPhone 8 and the iPhone X at its Apple Park event.
Apple is still selling tens of millions of iPhone 7s every month—but all everyone can talk about is what's coming next. After all, 2017 marks the iPhone's 10th anniversary, so Apple is reportedly gearing up to make this year's model extra special.
If you passed on the iPhone 7 to wait for the iPhone 8—or the iPhone 7s or whatever name Apple decides to use—it sounds like the next phone could be the design refresh you were waiting for. Just don't expect the headphone jack to return. We'll keep track of the latest rumors and how plausible they are, and we'll put them in one spot (this one!) so you can pop on over whenever you want to read the latest.
What's the latest?
The rumor: First we had the HomePod firmware leak. Now we have the iOS 11 leak. 9to5Mac has gotten its hands on the final build of the next iPhone's OS, and it confirmed a lot of the rumors we had heard about iPhone 8. (Actually, make the iPhone X.) And that's not all we learned. 9to5Mac also uncovered more images of the bezel-less design with the tell-tale notch, Face ID for unlocking, the new navigation bar, and something new, a possible True Tone display. Additionally, there will reportedly be a new feature called Animoji, which will let users create animated emoji based on their specific expressions, as well as new Portrait Lighting modes in the camera app to enhance bokeh images. Got all that?
Plausible? It's hard to believe that the two biggest iPhone leaks can from Apple itself, but here we are. It would have to be a pretty elaborate subterfuge for the information gleaned from the leaked iOS GM to not be real, but all will be revealed Tuesday.
Well whatta you know, supply will be constrained
The rumor: Apple spent the summer ramping up production of its new iPhones, but "glitches" that occurred will result in short supply and shipping delays. This is according to a report in The Wall Street Journal. The WSJ also says that the iPhone manufacturing process is a bit more involved compared to that of a Samsung phone—Samsung is the provider of the OLED screens for the iPhone. The report also says that the initial sales period is expected to start on September 22, ten days after the September 12 event.
Plausible? There have been reports all summer long about shortages with the OLED screen that Apple plans to use. With only one supplier and assembler, delays aren't surprising. Be prepared to wait an extended period after placing your order.
New UI elements
The rumor: After reading about all the hardware changes allegedly due for the iPhone 8, we had some questions. How will the virtual home button work? How do we access Siri? How do we get to the multitasking carousel? A new report from Bloomberg Technology answers many of them.
According to Mark Gurman, Apple is planning on introducing some interesting changes to the iPhone 8 version of iOS 11. Most notably, there will be a redesigned Dock with a new interface similar to the one on the iPad version of iOS 11, which is accessible from anywhere.
Below that will be a "thin, software bar" across the bottom of the screen in lieu of a home button. According to Gurman, users will be able to drag the bar up to the middle of the screen to unlock the phone. A similar gesture will launch the multitasking carousel while using the phone, and then another flick upwards will close the app and return to the home screen. Apple will be embracing the camera notch at the top of the screen, "showing a definitive cutout at the top of apps with non-black backgrounds" and dividing the status Save and exit bar into two halves when on the home screen.
Plausible? Absolutely yes. Gurman's sourcing is usually excellent, but even beyond that, the changes outlined here are smart and sensible. Without a home button, swiping and tapping will take on even greater prominence in iOS 11, and it seems Apple has struck a balance between simplicity and efficiency with the new bar at the bottom of the screen. Swiping up to both unlock and switch apps might actually be even more intuitive than tapping the home button, but we still have one question: Will we still be able to access Siri by long-pressing?
Will Sept. 12 be the day?
The rumor: The Wall Street Journal reports that Apple will hold an event at its new Apple Park campus on September 12 for the media and special guests. Apple will reveal three new iPhones: two iPhone 7 models, and a model "to mark the product's 10th anniversary."
Plausible? The rumor of the September 12 event date has picked up a lot of steam lately. The date makes a lot of sense; Apple could start taking orders at the end of that week, and the new iPhones would start shipping to customers by the end of the month. This is a pattern that Apple has done in the recent past.
Prices start at $999?
The rumor: The New York Times' Brian X. Chen wrote an analysis on why the iPhone has been so successful for ten years. He also mentions that the upcoming iPhone release will include "a premium model priced at around $999," according to his sources. He also says that the premium model will have a smaller bezel, facial recognition, and charging via magnetic induction.
Plausible? Chen's report is consistent with rumors of a premium phone with a premium price tag. The features he mentioned also align with the rumors. It looks like the iPhone 8 is going to be an expensive phone.
iPhone 8 mockups
The rumor: iPhone 8 mockups, "prototypes," and "dummies" are making the rounds in the tech media. People are creating physical models based on the rumored specifications and what was revealed in the HomePod firmware. If you're interested in what people think the next iPhone will be like, here are a few stories and videos to check out.
Plausible? The HomePod firmware dig revealed a lot about the upcoming iPhone, especially about the screen, so the the mockups of the iPhone screen seem the most plausible. A lot of other thing about the design—like whether it will have a glass or metal back, and the camera alignment—is still speculative.
Limited production and no rose gold?
The rumor: The trusted analysts at KGI Securities are predicting some good news and bad news in terms of the new iPhone launch next month. Good news: Three new models—a 4.7-inch iPhone 7s, a 5.5-inch iPhone 7s Plus, and a 5.8-inch OLED iPhone 8—will arrive in September. This contradicts an earlier rumor that the OLED iPhone 8 was behind schedule and wouldn't go on sale until late October.
Now for the bad news: KGI is also predicting that only two to four million OLED units will be available at the beginning, with Apple ramping up production to 45 to 50 million later next year. Even worse? KGI said that the new iPhones will only come in three colors: black, silver, and gold.
Plausible? After previous rumors of delays, it sounds like Apple is willing to do anything to get the OLED iPhone out in time. Even if that means making only a very-limited supply at first, and having to sacrifice a wider range of color options.
It may also be wishful thinking, but it's hard to believe that Apple would make a new special anniversary iPhone that does not come in a new exclusive color. Especially after the jet black and red options proved to be so coveted, and rose gold has now been embraced as a signature Apple color. Hopefully more color options will become available in 2018 as OLED production ramps up. Again, wishful thinking.
Facial recognition and all-screen confirmed?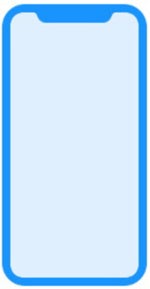 The rumor: We've been hearing for weeks that the iPhone 8 will ditch the home button for a radical new design built around a new OLED screen that covers nearly the entire front of the handset. But as with all rumors, we've been skeptical. However, it appears as though an eagle-eyed iOS developer has uncovered the truth.
Steven Troughton-Smith dug into an early firmware release for Apple's upcoming HomePod speaker and found a treasure trove of information about the iPhone 8. Most notably, it seems to confirm that the iPhone 8 will dump Touch ID. According to Troughton-Smith, the pre-release firmware includes several references to a new "BKFaceDetectStateInfo" string, which seemingly refers to a new face detection biometric system. The iPhone's camera may also be able to recognize your face, even if it's laying down on a table. Additionally, the firmware contains a small icon of the iPhone 8, and it matches up nearly perfectly with the rumors, right down to the camera cutout at the top.
The rumor, part two: And that's not all the HomePod firmware has revealed. Troughton-Smith has unearthed a few more goodies about the next iPhone, most notably the likely screen resolution. He uncovered references to a resolution of 1125 x 2436, which would give the iPhone 8 a 5.15-inch 3x Retina display at 521ppi, making it the highest resolution iPhone screen ever. Back in February, highly accurate tipster Ming-Chi Kuo predicted this exact size for the iPhone 8. However, he explained that the full size of the screen would actually be 5.8 inches at 1242 x 2800, with part of the bottom reserved for the virtual home button and other functions. Troughton-Smith also discovered references to a "home indictator" rather than a home button, so it's likely that Kuo was right on the money. Additionally, tap to wake functionality, a popular feature on Android phones, will likely make an appearance, but Troughton-Smith sees nothing to indicate under-the-display Touch ID.
Plausible? Um, yeah. Of all the rumors we've read—and that's no small number—this is the most believable. Unless Apple is trolling us hard, it's pretty clear that the iPhone 8 will have a new facial recognition biometric and a completely new design. While the pieces here don't necessarily confirm the rumor that Touch ID will be going away, it certainly lends credence to the idea, especially in light of the home button-less image and home indicator reference. At any rate, with each passing day (and rumor) we're getting more and more excited about the iPhone 8, whatever it costs.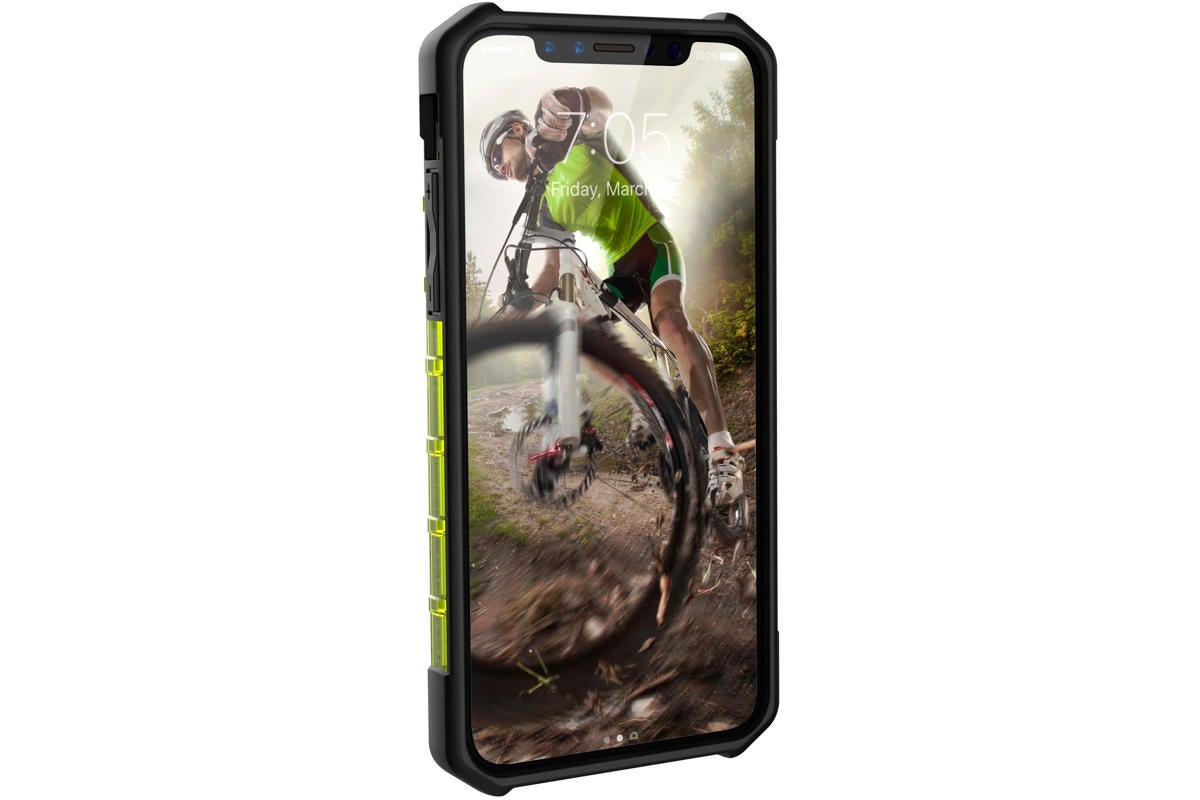 Frickin' laser beams in the friction camera?!
The rumor: We already know that Apple is hard at work at a killer AR framework that lets developers create amazing virtual experiences, but Fast Company reports that Apple is working to add a rear-facing 3D vertical-cavity surface-emitting laser system to the iPhone 8. What that means to us is a killer way to lock in on what the camera sees. According to the site, the new sensor will accomplish two tasks, enabling better depth detection for augmented reality apps, and implementing more accurate autofocus for photography.
As it stands Apple has done some amazing things with ARKit, but all eyes are on the iPhone 8 to bring it to the next level. Fast Company cautions that the feature might not be ready for this year's phone—or might be limited to the higher-end models—but one thing is for sure: A laser sensor in the iPhone 8 would certainly give Apple a needed boost in the AR race.
Plausible? Apple's augmented reality ambitions were all speculation until WWDC, but now that ARKit has landed, it's clear that AR is a big part of Apple's iOS roadmap. And the next iPhone is the perfect device to showcase what the new tech can really do. A depth-detecting laser sensor incorporated into a next-generation dual-camera system will instantly make the iPhone 8 the most intriguing handset for AR, giving it an edge that might actually make it useful for something more than capturing Pokémon at the park.
Delayed wireless charging and a sky-high price tag?
The rumor: It's all but confirmed that the iPhone 8 will have wireless induction charging built in, like many of its Android peers. There's even some images that suggest a wireless charging coil. Some new speculation from Daring Fireball's John Gruber suggests it might not be ready when the handset launches. In a tweet he writes, "I've heard that inductive charging … might be late, waiting for iOS 11.1 (a la Portrait mode last year)." One of the premier features of the iPhone 7 Plus is Portrait Mode, which blurs the background around your subject to create a depth effect, but early adopters had to wait a few weeks to get it. If you remember, the iPhone 7 launched on Sept. 16, but Portrait Mode didn't arrive until over a month later, on Oct. 24. It would be a bummer if wireless charging were similarly delayed on the iPhone 8, but because Gruber also says the charger will be sold separately, we might be waiting a while before the accessories ship anyway.
Gruber also opines on the price of the iPhone 8, or as he calls it, the iPhone Pro. In a lengthy post on his site, he concludes that the new OLED model will likely start at $1,200 for 64GB of storage. That's a sky-high price for sure, but rumors have been swirling about the four-figure price of the iPhone 8 for a while now.
Plausible? John Gruber doesn't play the rumor game all that often, but when he does, he generally has solid information. As such, both of these nuggets are entirely possible. It's not uncommon for Apple to delay features until they're just right, so it would sooner delay wireless charging than ship a buggy version. Gruber also lays out a surprisingly compelling argument for such an expensive phone. In short, Apple will be fighting supply issues for months to come, so it needs to offer a reason for tens of millions of people to buy the regularly priced models releasing alongside it. A $300 difference in price would certainly fit the bill.
Goodbye Touch ID?
The rumor: After months of conflicting reports that put the iPhone 8's fingerprint sensor either under the display or on the rear casing (as with Android phones), often-accurate KGI Securities analyst Ming-Chi Kuo has dropped a bombshell (via StreetInsider): The iPhone 8 won't have a Touch ID sensor at all. Apple is reportedly dumping fingerprint support in favor of facial recognition, which will be enabled by a new 3D-sensing front camera. The report also backs the existence of the camera cutout at the top of the screen, which will give the 5.8-inch iPhone 8 bragging rights as the phone with the highest screen-to-body ratio, besting even the Samsung's super-slender Galaxy S8.
Plausible? It's starting to look like this is going to happen. A previous post on Reddit floated this idea, and now one of the most accurate tipsters in the Apple universe has backed the claim. Touch ID has had a major impact on the security of our iPhones, not just with unlocking, but also with secure files, Apple Pay, and App Store purchases. In our experiences with facial recognition, it's not nearly as accurate or convenient, and hackers have had better luck with spoofing it. We'll have to see what Apple does here, but this seems like a worse move than killing the headphone jack.
Waterproofing and wireless charging
The rumor: The iPhone 8 will feature both waterproof capabilities and wireless charging, according to a report in Nikkei Asian Review. The information comes from Wistron, one of Apple's assembly companies, which told shareholders on Wednesday that the new features will "alter the assembly process a bit." Apple made last year's iPhone 7 the first to be considered water-resistant, and we've heard previously that Apple is seriously considering wireless charging. It's unclear, though, whether the all-new 2017 iPhone will sport these new capabilities.
Plausible? It makes sense that Apple would want to take the iPhone 8 one step further in terms of water-resistance, so making it technically waterproof is the next logical step. Apple is notoriously cautious in designating its products waterproof or even water-resistant, though, so we'll see if the company makes this claim in the upcoming iPhones.
As for wireless charging, this seems likely. Apple joined the Wireless Power Consortium last year, and previous rumors have indicated that all new iPhone models being released this year will feature wireless charging. So if you're going to bet on an all-new feature, wireless charging is as close to a safe bet as we'll get before launch date.
When will it come out?
The rumor: There are conflicting theories regarding the iPhone 8's launch window. Some have speculated that Apple may miss the traditional September launch window because a lot of custom-ordered parts, including pieces for the display, wireless charging, and printed circuit boards, won't be ready by September, according to the latest findings from Nikkei Asian Review. The iPhone 7s models are expected to come out on schedule, however.
In this report, an analyst from research company IHS Markit confirmed that Samsung is now the exclusive OLED supplier for the new iPhones, because Samsung specializes in manufacturing curved smartphone displays. However, the analyst says "Samsung is facing challenges in delivering what Apple wants," even though they've cranked out close to 75 million curved iPhone displays so far.
This is not the first time we've heard that Apple has faced roadblocks during the iPhone 8's production. This follows an earlier report from reputable KGI analyst, Ming-Chi Kuo, which reported that the iPhone 8 will be out in October or November due to these supply issues. Previously, Digitimes reported that Apple was facing delays in developing its proprietary fingerprint sensor for the new OLED-equipped iPhone 8 (if, indeed, that feature will remain on the phone). Additionally, Japanese news site Macotakara reported that STMicroelectronics, the new supplier of the iPhone's 3D camera sensors, needed more time to ramp up mass production. With all these production issues, some reports even suggest the iPhone 8 won't come out until 2018.
Rumors being what they are, analysts at JPMorgan had predicted Apple would take the wraps off its new iPhone at the Worldwide Developers Conference in June, based on a note obtained by 9to5Mac. This is something the company hasn't done since 2010—and didn't do this year, after all.
Plausible? At first, it seemed very unlikely that Apple would miss its typical September launch date. Plus, Digitimes doesn't have the best track record when it comes to iPhone rumors. But now that Nikkei Asian Review and Ming-Chi Kuo are jumping on board, this rumor gets a credibility boost. Apple is tinkering with assembling OLEDs for the first time, as well as incorporating new camera sensors and fingerprint sensors (if the latter is still a feature). If there were an iPhone model that required a little more time, the iPhone 8 would seem to be it.
We're not surprised the JPMorgan prediction fell through. During the company's second-quarter earnings call, Apple CEO Tim Cook said people were pausing their iPhone purchases because they saw rumors of upcoming iPhones and wanted to wait. Announcing an iPhone 8 in June and not making it available to buy until September would all but kill Apple's iPhone business—at least without hefty discounts to spur sales.
What's with the delay?
The rumor: The 3D Touch feature on the iPhone 8 has been a real pain for Apple. According to AppleInsider, Apple is still trying to get 3D Touch to work properly on the iPhone 8, and this will push the production schedule to October or November. In addition, Apple is reportedly paying more than double to get 3D Touch on the iPhone 8. AppleInsider previously reported that TPK Holdings is charging between $18 and $22 to implement 3D Touch on the OLED iPhone 8. The same company currently charges between $7 and $9 per current iPhone. The price increase stems from the fact that implementing 3D Touch on an OLED display requires putting the sensors between a "glass sandwich."
Plausible? Even if the iPhone 8 doesn't come out until way later this year, Apple shouldn't be too worried. A new, souped-up iPhone would be perfect for the holiday shopping season, and investors are already drooling about the higher demand it could trigger. It's also possible that Apple has come across some unexpected costs in producing the all-new iPhone 8, especially because is the company's first time building in an OLED display. The iPhone 8 is already rumored to command a higher price tag, so even if Apple has to pay more to provide the same features, its margins will remain intact.
Concept video based on CAD schematic?
The rumor: A new concept video has surfaced that renders some of the most prominent rumors about the iPhone 8. The video showcases the iPhone 8's OLED display, as well as the vertically aligned rear camera system. Based on a factory computer-animated design schematic, the video is courtesy of French gadget leaker Steve Hemmerstoffer, known as OnLeaks on Twitter.
Plausible? Hemmerstoffer has a good track record when it comes to iPhone rumors. Last year, he posted a photo of the iPhone 7 case months before the device was unveiled. However, even Hemmerstoffer admits the latest video may not be 100-percent accurate because Apple is testing various prototypes of the iPhone 8. "I can't confirm this is 100% accurate," he tweeted. Watch the video below.
Wireless charging?
The rumor: The new iPhone will come with wireless charging. A note by JPMorgan that was published on CNBC revealed that the next iPhone will include a wireless chip by Broadcom. The note did not specify which wireless charging standard will be supported by the iPhone, although Broadcom makes chips that support both Qi and PMA.
Furthermore, JPMorgan did not reveal which iPhone model will have wireless charging. But an earlier report by KGI Securities analyst Ming-Chi Kuo stated that Apple was expected to add wireless charging to all of its 2017 iPhones, including the special anniversary iPhone 8, as well as the next-generation 7s and 7s Plus.
Plausible? Yes. The addition of wireless charging was one of the first reliable rumors we heard about the forthcoming iPhone 8. In February, Apple joined the Wireless Power Consortium behind the Qi system, but the iPhone's wireless charging could support PMA as well. Samsung, a fellow consortium member, includes both Qi and PMA capabilities in its Galaxy phones.
The addition of wireless charging would also explain Apple's move to using all-glass casing, another previously rumored feature. Even though some metal and plastic smartphones have wireless charging, using glass is faster and there are fewer frequency disruptions. Apple could decide to limit the feature to the iPhone 8, but with the 7s and 7s Plus expected to be remade with all-glass casing, the addition of wireless charging might encourage more people to upgrade. While the iPhone 7s and 7s Plus models might lack OLED due to production constraints, putting wireless charging would go a long way toward making the next iPhone a must-buy.
Touch ID on the front?
The rumor: Renderings revealed in April show the version of iPhone 8 that everyone seems to want: edge-to-edge OLED display with the Touch ID fingerprint sensor hidden underneath the display, not placed on the back. In addition, the renderings show the rear cameras in a vertical alignment.
These iPhone 8 renderings seem to be inspired by internal schematics that surfaced on SlashLeaks. Those schematics also included a facial recognition front-facing camera, an infrared sensor, a stacked mainboard design, and two battery units.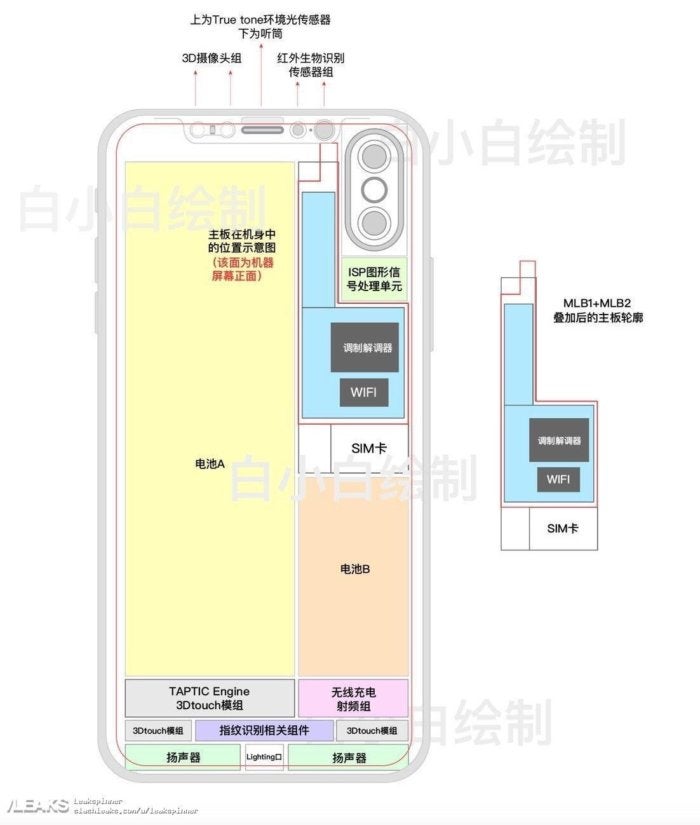 Plausible? Certainly! The iPhone 8 is rumored to have an extensive feature list, so even if not all of them are true, a stacked mainboard design would not only be plausible but necessary. We're crossing our fingers for a Touch ID sensor that's not on the back of the device, so these schematics make us happy for that reason, as well.
Touch ID on the back?
The rumor: Apple might move one of its essential features, Touch ID, to the back of the iPhone 8. According to Pacific Crest Securities analyst Andy Hargreaves, Apple is having technical issues integrating the Touch ID sensor right on the display of the new virtual Home button. Apple might forced to delay the production of the iPhone 8 in order to fix the issue. Another possibility, according to Cowen and Company analyst Timothy Arcuri, is that Apple will resort to placing the Touch ID sensors on the back, similar to the new Galaxy S8 and the Pixel phones by Google. According to Bloomberg, Apple has prototyped a version with Touch ID on the back of the device, which leaker Sonny Dickson shared a photo of on Twitter.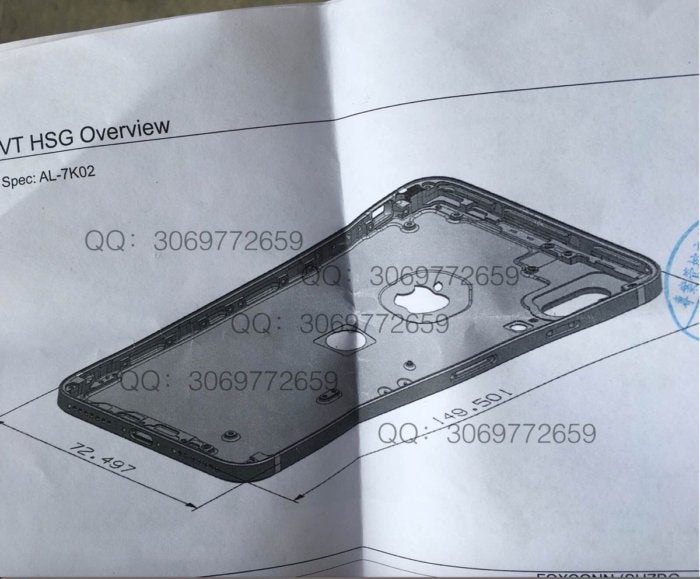 Plausible? Although we previously have heard rumblings about a delay, it's very unlikely for Apple not to have all the features set at this point. Touch ID is such an important part for enabling Apple Pay that it's hard to imagine a highly-anticipated iPhone 8 without it. And moving Touch ID to the back of the device is not very intuitive if you want to unlock your iPhone with your thumb or while it's laying down flat. It's a design flaw we hope Apple doesn't succumb to, but if we have to choose between Touch ID on the back or no Touch ID at all…we'll begrudgingly accept the former.
Another potential reason for a fingertip-sized cut-out on the back of the iPhone casing is wireless charging, which is a rumor we've been hearing over and over again. But if Samsung couldn't manage to put a fingerprint sensor in the Galaxy S8 due to technical issues, Apple might have a serious problem.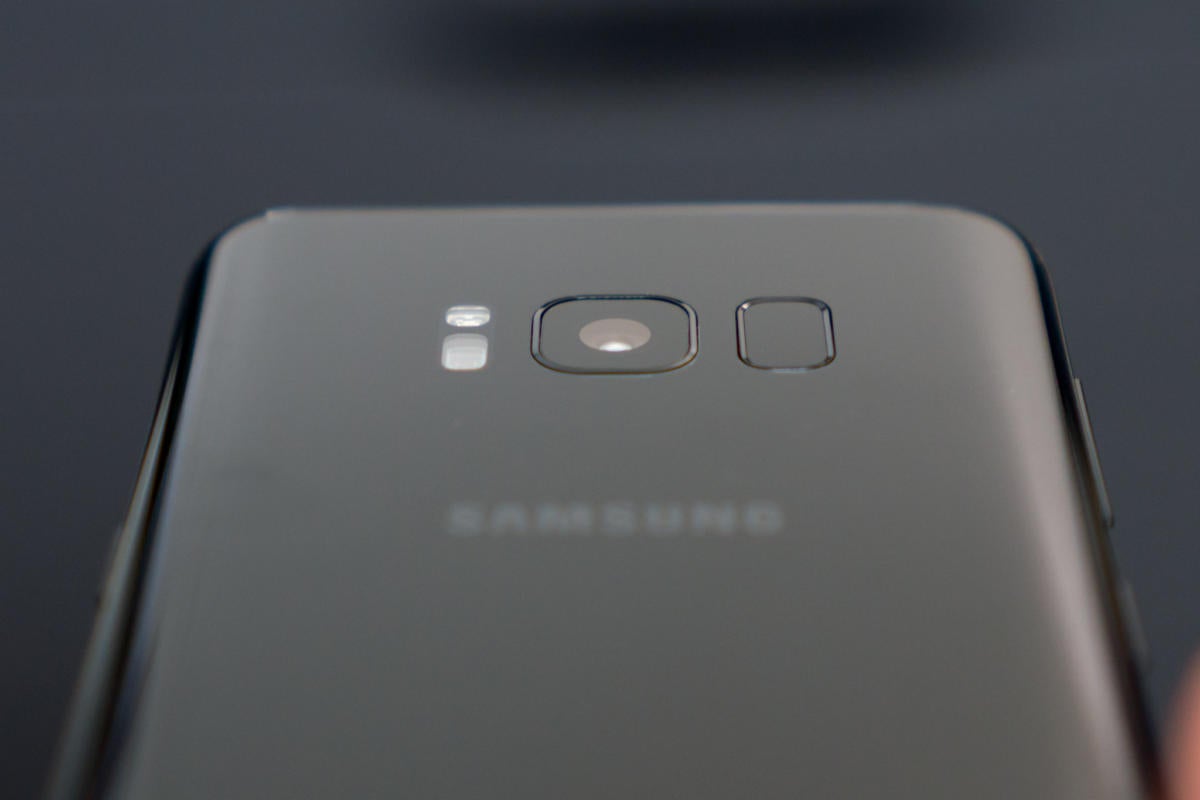 An overhauled camera?
The rumor: We thought the iPhone 7 Plus had a killer camera, but the iPhone 8 could change the entire game. According to Bloomberg, Apple is testing overhauled cameras on both the front and back of the 10th anniversary iPhone. Unlike the 7 Plus, the iPhone 8's dual cameras will be stacked on top of of each other instead of side by side. That should make for better photos. But more importantly, the front-facing camera may also include two lenses with augmented reality features and a Portrait mode for selfies.
Plausible? Bloomberg's track record for iPhone rumors is pretty solid, although Apple is clearly testing a slew of features and not all of them will make it into the 10th anniversary model. However, given CEO Tim Cook's recent comments about augmented reality and the success of the iPhone 7 Plus and its standout camera, it seems likely that Apple will make the iPhone 8's photography features even better.
100 million OLED displays ordered from Samsung?
The rumor: According to Bloomberg, Apple has placed an order for 100 million OLED displays from Samsung. Furthermore, Samsung is rumored to be the sole supplier of OLED displays for the new iPhone 8, because other manufacturers don't have the capacity to make mass quantities.
Plausible? The rumor that Apple is moving to OLED for the iPhone 8 is pretty solid, with recurring reports that continue to to corroborate that information. The only thing we're still uncertain about is whether these OLED displays will be flat or curved. Originally, it seemed like Apple had come across a few roadblocks finding a supplier that could produce enough curved OLEDs for the iPhone 8, but more recent reports make it sound like Samsung has stepped up to the challenge.
It's still unclear just how curved the screen will be. According to Bloomberg, the latest iPhone 8 prototype features a flat OLED screen with a slightly curved glass front meeting a steel frame with an aluminum back. But Apple is still testing iPhones with glass backs and more dramatic curves, so anything is possible.
A $1,000 iPhone?
The rumor: According to Fast Company, this very-special 10th anniversary edition of the iPhone could cost more than $1,000. The higher price tag is due to the fact that this new iPhone 8 will boast an OLED display that will cost Apple twice as much to manufacture. A UBS analyst has added to the price speculation, stating that the entry-level iPhone 8 will be about $850 to $900.
Plausible? The iPhone 8 will certainly be more expensive, so you should start saving up, but will it cost over a grand? That depends on which storage size you choose. A top-of-the-line $1,000 iPhone is actually not so ridiculous—the 256GB version of the iPhone 7 Plus is already $969. As for an entry-level 64GB version? Apple might want to remain competitive, and pricing it under $900 would still preserve the company's notoriously high margins.
True Tone in all models?
The rumor: All new iPhone models this year will feature Apple's True Tone display technology, according to an investor note from Barclays obtained by 9to5Mac. True Tone debuted in the 9.7-inch iPad Pro last year, and the technology uses ambient light sensors so that the display can adopt the surrounding light and color temperature, making it less harsh on the eyes. According to 9to5Mac, True Tone will be incorporated in the premium iPhone 8, as well as in forthcoming iPhone 7s and 7s Plus, which are all expected to be unveiled later this year.
Plausible? Yes, Apple has a tendency to launch new features in one device before expanding it to other products. However, we keep hearing that Apple really wants to make the iPhone 8 standout, so it's interesting to learn that True Tone is expected in all the forthcoming models.
AR is the next big thing?
The rumor: Apple is going all-in on augmented reality, as the company ramps up developments that could be introduced in the forthcoming iPhone camera. Bloomberg is reporting that Apple is looking at AR as its "next big thing." Although AR hardware like glasses could be a few years off, an iPhone equipped with these capabilities may be coming sooner than we think. According to Bloomberg, hundreds of Apple engineers are now dedicated to developing AR, including members of the iPhone camera team.
What could AR on the iPhone look like? Bloomberg reports that iPhone users may be able to change the depth of a photo in post-editing or rotate the subject of the photo in 180-degrees. Furthermore, the iPhone camera could be able to overlay visual effects similar to Snapchat selfie filters.
Plausible? No one can deny Apple seems very interested in becoming a major player in popularizing augmented reality. Tim Cook has said so himself several times. However, it is not conclusive how Apple might integrate this emerging technology into the iPhone, or by creating new products for that matter.
It makes sense that Apple would use the iPhone as a vehicle to introduce AR. Snapchat and Pokémon Go have given us successful implementations of mobile AR, so something similar could be expected. But although Bloomberg is a reliable source, we also know that Apple is testing several iPhone models, so not all these features are guaranteed to come to fruition. Even Bloomberg makes it clear that Apple could decide to shelve the technology if it's not ready.
More expensive 3D Touch sensor?
The rumor: The 3D Touch module on the forthcoming iPhone 8 with OLED display will cost $15 to manufacture, at least if you believe Digitimes, a 60 percent increase in cost. Previously, the 3D Touch sensor on the iPhone 7 cost closer to $9 to manufacture. This implies that Apple will have to mark up the price of the iPhone 8 in order to keep its typically high margins. The more-expensive 3D Touch module consists of a thin film touch sensor that will be overlaid onto the new AMOLED display. However, the report also mentions that TPK Holdings, the AMOLED display supplier, won't supply the displays until the fourth quarter, corroborating earlier rumors that the iPhone 8 will be launched later than September.
Plausible? Digitimes is not the most reliable sources when it comes to new iPhones, but even if the details are a little shaky, the implication that the iPhone 8 will be more expensive is spot-on. Besides the new 3D Touch module, the iPhone 8's rumored OLED display, virtual Home button, and 3D camera all point to a higher price tag. Could it cost over $1,000? Certainly the 256GB model might—especially considering the fact that the iPhone 7 Plus with 256GB went on sale for $979.
Is this what it could look like?
The rumor: We've all heard the rumors of an edge-to-edge OLED display (scroll down if you need to catch up), and now it's easier to imagine what that would look like. Working off a report from Nikkei Asian Review, Benjamin Geskin created new renders for iDrop News. Click through to see more, showing what the phone would look like if the most popular rumors all come true. You'll notice the top "forehead" is shorter, the bottom "chin" is nearly gone, the Home button's fingerprint sensor is now embedded into the screen, and the screen stretches to the very side edges.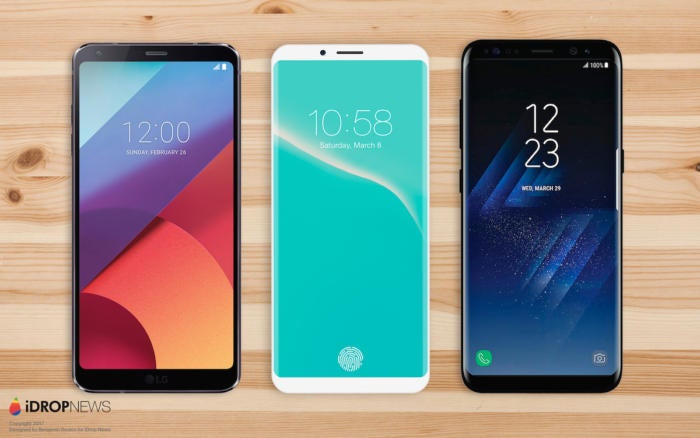 Plausible? Renders can be hit or miss, but this seems like a very plausible design, if the edge-to-edge rumor is true. Still, the final look reminds us a little bit of the Samsung Galaxy lineup! What we really can't wait to find out is if Apple uses special materials for a high-end iPhone Edition, like it did with the Apple Watch Edition, and also what colors the new iPhone will sport.
Could it be USB-C?
The rumor: Each new report about the iPhone 8's features reinforces the ones before it, but the latest rumor from the Wall Street Journal is one we haven't heard before. The WSJ says Apple will replace the iPhone Lightning port with a USB-C connector.
This is huge. Apple just did away with the iPhone's headphone jack and included Lightning EarPods in the box instead of the 3.5mm earphones it has shipped with previous generations of iPhones. Now it appears that those Lightning earphones are already being phased out.
Plausible? Certainly. Apple has no qualms about ditching old technology, even its own. Remember the 30-pin connector that it sacrificed for the proprietary Lightning port? A move to USB-C would actually be a positive one, at least in terms of compatibility. USB-C is a standard that tech companies are quickly adopting, so the iPhone would finally play nice with peripherals and accessories that aren't made or licensed by Apple. The new MacBooks are also all-in with USB-C, so it wouldn't be at all surprising if the iPhone made the move.
USB-C? Not so fast
The rumor: Just a few days after The Wall Street Journal revealed new information about the forthcoming iPhone 8 (full rumor above), a prominent Apple analyst is denying the intel. KGI Securities' Ming-Chi Kuo is refuting that the 2017 iPhone will replace the Lightning port for a USB-C connector. In fact, Apple is allegedly adding fast-charging capabilities to its proprietary Lightning connector for "type C power delivery" without having to change the port and cables.
According to Kuo, Apple doesn't have enough incentive to use USB-C. First of all, USB-C takes up more space inside the iPhone, which would change the form factor. In addition, since USB-C is universal, switching to it would remove the MFi royalties that Apple gets from licensing its property Lightning technology to third-party iOS accessory-makers.
Plausible? Highly. Switching connectors is not a decision Apple usually takes lightly, so the benefits would have to drastically outweigh the current technology. And Lightning seems to be working for the iPhone and iPad, despite the fact that they're incompatible with even the new MacBooks. Plus, Kuo is a reliable source when it comes from reports from the Apple's assembly line.
However, we can't totally dismiss the WSJ report. Perhaps Apple has considered switching to USB-C. It would make its iOS products more compatible with third-party accessories and peripherals, a benefit now that the iPad Pro is being advertised as a PC replacement. The switch to USB-C would certainly be more user-friendly, but it might also counter Apple's closed ecosystem strategy, which doesn't seem to be a drawback for iPhone and iPad sales.
Curved display or no curved display?
The rumor: Early reports about the iPhone 8's OLED display indicated that Apple was aiming to make a curved screen. The WSJ reports that plan is still in the works, though Chinese research firm TrendForce said earlier in February that early prototypes weren't up to Apple's standards. Apparently that's no longer the case: Apple "has ordered sufficient components to enable mass production," the Journal's sources said.
Apple is getting its curved OLED displays from Samsung, who started producing those displays for its own phones back in 2014 and is the only manufacturer who can make enough of the curved OLED panels to supply Apple.
The iPhone 8 is also reportedly ditching the physical home button, though it's unclear if Apple is ready to make the move to iris recognition for phone unlocking or if the company will find a way to embed the Touch ID sensor in the display itself.
Plausible? A curved OLED display would be a significant departure in design for Apple and a compelling reason to snag the iPhone 8, which is rumored to be priced at north of $1,000. Apple was rumored to be running into constraints finding OLED display suppliers who can make enough panels to build the next-gen iPhone, but the WSJ is reliable when it comes to Apple rumors. Expect a curved OLED screen to set the iPhone 8 apart.
Facial recognition?
The rumor: The iPhone 7 and 7 Plus got a rear-facing camera overhaul, the 7 Plus with an extra lens for telephoto shots. Apple is turning its attention to the front-facing camera in the iPhone 8 with facial recognition, a 3D sensor, and infrared transmitter and receiver. The rumor comes from KGI analyst Ming-Chi Kuo and a research note from investment banking firm Cowen and Company published by Business Insider. Apple purchased the facial recognition startup RealFace earlier in February, making it even more likely that the company is experimenting with alternative biometric tools, including iris recognition. That could replace Touch ID as a phone unlocking mechanism.
The front-facing camera's new features would have big implications for games. Players would no longer need avatars—instead, the new camera system would generate a three-dimensional selfie.
Kuo noted that Apple is planning to put a 3D sensor in the iPhone's rear-facing camera next year, which would negate the need for a dual-lens system.
Plausible? This is the first time we've heard about Apple incorporating new laser technology and facial recognition, but it wouldn't come out of nowhere. Apple acquired Primesense and their infrared sensor technology in 2013, and the company just recently integrated facial recognition software in Photos for iOS 10 and macOS Sierra. So it makes sense that the next evolution of this feature is for Apple to develop a camera with sensors that can perform facial recognition in real-time to create augmented reality experiences, similar to Snapchat's selfie filters.
Stainless steel chassis?
The rumor: Apple is returning to a stainless steel chassis for the next iPhone with two glass panes on the front and the back, according to DigiTimes. In addition, Apple is moving to a new forging process for the metal bezel and frame that is expected to reduce manufacturing cost and time. The forging process will reportedly be 30 to 50 percent cheaper than the current unibody machine-precision process. The stainless steel frame will be provided by Foxconn and Jabil, the manufacturers who supplied the same part on the iPhone 4.
Plausible: Yes. This rumor corroborates an earlier report predicting the return of the glass iPhone. Not only that, but we're also under the impression that Apple is looking to launch several models of the iPhone 8 with different prices and using different materials. And it makes sense that the higher-end iPhone 8 would rely on stainless steel to hold the front-and-back glass panels together, while a cheaper version uses aluminum—that's the same pattern we see with the Apple Watch.
Folds like a book?
The rumor: You may be able to bend the next iPhone, similar to how you fold to close a book. Apple has just been granted a patent for a book-like iPhone design that used an OLED display that can fold in half.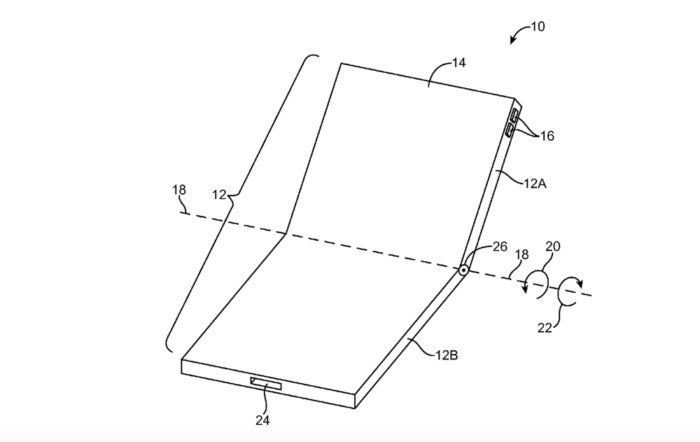 Plausible? Just because Apple has the patent for this, doesn't necessarily mean that it will become a real product. Besides, Apple is already running into issues with OLED display supply, so there may not be enough time or resources to incorporate a bendable, foldable display on the iPhone 8.
3 new models?
The rumor: Apple will launch three models of the iPhone 8 in 2017, according to a new report from KGI Securities analysts. One model will sport a 5.5-inch OLED screen and a dual camera. One will have a 5.5-inch LCD screen, also with a dual camera. The third will be a 4.7-inch iPhone with an LCD screen and a single camera system, much like the current iPhone 7 model.
Plausible? KGI Securities is usually spot-on when it comes to iPhone hardware predictions, and for a while these supply chain analysts have been predicting that Apple will switch to OLED displays in 2017. Apple has already been using OLED displays on the Apple Watch and the MacBook Pro's Touch Bar, so using this type of display on the iPhone seems like a logical next step. Previously, Bloomberg reported that Apple is in talks with Sharp to be its OLED display supplier.
OLED offers a lot of benefits over LCD. Besides being more responsive, OLED gives Apple the option to create a bezel-less iPhone with a curved or bendable display, which would certainly boost the iPhone 8's wow-factor. This time around, the iPhone 8 is rumored to be "revolutionary."
Return to all-glass?
The rumor: Apple may take a page from its own book and release an iPhone 8 with a glass front and back, similar to the iPhone 4 and 4s. The iPhone 8 and 8 Plus will, of course, be larger than those models, which were 3.5 inches. KGI Securities analyst Ming-Chi Kuo, who always has deep insight into Apple's supply chain, predicted that Apple will make lower-priced models with aluminum casing and more expensive versions with stainless steel. The glass would give the phone a glossy look, like the popular jet black iPhone 7, but be less prone to knicks and scratches than the brushed aluminum.
Plausible? Yes. It's all about the sourcing: KGI's Ming-Chi Kuo is typically spot-on when it comes to Apple hardware changes. It's possible that Apple is basing future design decisions on the success of the jet black iPhone 7, which is currently sold out through December. According to the KGI report, 30–35 percent of preorders were for the jet black model worldwide, and in China that percentage was higher—45–50 percent.
An OLED display at last?
The rumor: So far, Apple has held on to LCD displays, which isn't a bad thing—the LCD display on the iPhone 7 is just as good as the competition's OLED screens. But Apple is reportedly in talks with Sharp to be one of its main suppliers of OLED displays to use in next year's iPhones. According to Bloomberg, Apple wants to diversify its OLED sourcing so it has multiple options. Sharp is investing $566 million in OLED production factories which will start churning out displays by next June.
Plausible? Yep. The future is OLED, because the technology is more flexible than LCD and would allow Apple to make the iPhone bezel razor-thin and move the home button to the display itself. There are other applications made possible by switching to OLED screens, and we're sure Apple is exploring those for a future phone.