At a Glance
Expert's Rating
Pros
Automated responses now include placeholders for names and other info
Post directly to Slack, Evernote, IFTTT, and dozens of other web services
New price includes all future updates
Cons
New features cater entirely to pro users
Price has more than doubled
Our Verdict
Postbox 5 continues the program's evolution from a handy rival for Apple Mail to a robust client for email power users.
Best Prices Today: Postbox 5
When I first reviewed Postbox, it seemed like an ideal alternative to Apple Mail: a friendly client with smart features its Cupertino-born rival lacked. Since then, the program's taken aim at Microsoft Outlook, piling on advanced features while trying to maintain its initial ease of use. Though still accessible for regular folks, Postbox 5 ($40) is angling more toward professionals and power users, with a few potent new abilities—and a higher price.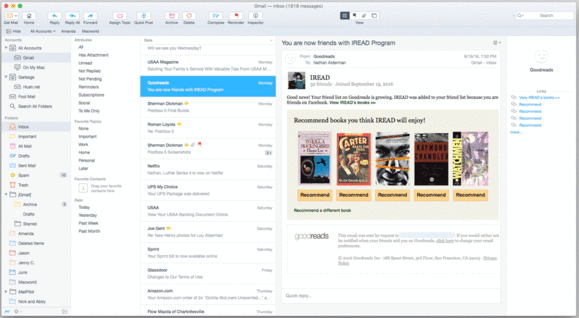 Simplicity vs. sophistication
After months of watching Apple Mail mangle my messages, swapping their headers or dumping them down the memory hole, Postbox 5's simple competence felt like a breath of fresh air. The program remains easy to set up; it'll guess at the correct POP or IMAP settings for your account based solely on your email address. (It guessed more successfully for Gmail than for my Office365 mail, which I had to set up manually.)
My messages downloaded quickly and accurately, and after I let it spend a few hours archiving those thousands of missives, Postbox 5 rewarded me with fast, accurate searches. It lacks Apple Mail's ability to specify dates, subjects, or other precise terms right from the search box, but does include those options in a little menu tucked right next to it.
My initial trouble in finding that menu highlights one of Postbox 5's biggest challenges. The program's crammed with so much good stuff—a Focus Pane to quickly sort through piles of mail, an Inspector that plucks out links, addresses, and tracking numbers from individual messages—that it struggles to fit them all into the same window. You'll have to trawl through its extensive menus, or spot tiny icons amid its otherwise clean and appealing interface, to find many of Postbox's finer features.
A boon for carpal tunnel-cramped fingers
Postbox 5's biggest addition builds on one of version 4's highlights: a customizable library of pre-written responses you can quickly send. In my long-ago days fielding customer service email for a utility company, copying and pasting the same responses for various issues, I would have killed for this feature. Postbox 5 adds placeholders for names, addresses, and other ever-changing elements of these otherwise static messages.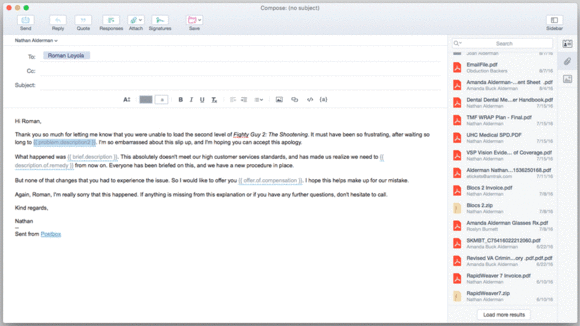 As you create or edit a response in Postbox's preferences, you can insert placeholders from a handy dropdown menu. Some, like the sender's name and address or your own, will automatically populate when you send the message. (If you want to double-check Postbox on this, just select the Fill Responses option while composing a message. In my tests, some placeholders required this, while others just filled themselves in automatically when I set up a new message.) You can also create custom placeholders, say, for a product name, message topic, or job title. When composing a message based on that response, you can hit Tab to jump to each one and type in the info you need.
Postbox also expands on previous versions' support for third-party apps and services with its Quick Post feature. Slack, Evernote, and other popular online tools often let you post directly to them via email. Postbox can store the relevant information for dozens of different services, including the ones mentioned above, IFTTT, Salesforce, and many more, and even send different categories of messages to the same service.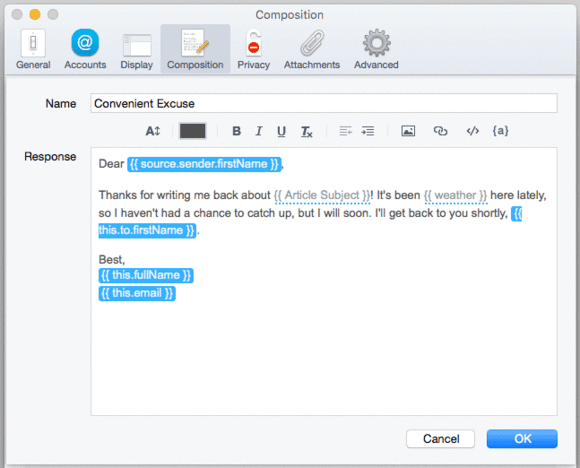 Quick Post also ties in with Postbox 5's improved filtering tools, which offer even more criteria, and let you specify whether a filter runs on all your accounts, or just specific ones. Other new additions include the ability to individually and precisely resize images in outgoing messages, automatically disabling spam-friendly tracking images in incoming mail, and a more powerful Favorites bar.Postbox 5 also fixes many issues I had with the previous version; it now incorporates limited but effective integration with Apple Calendar and proper handling of flags in Outlook messages.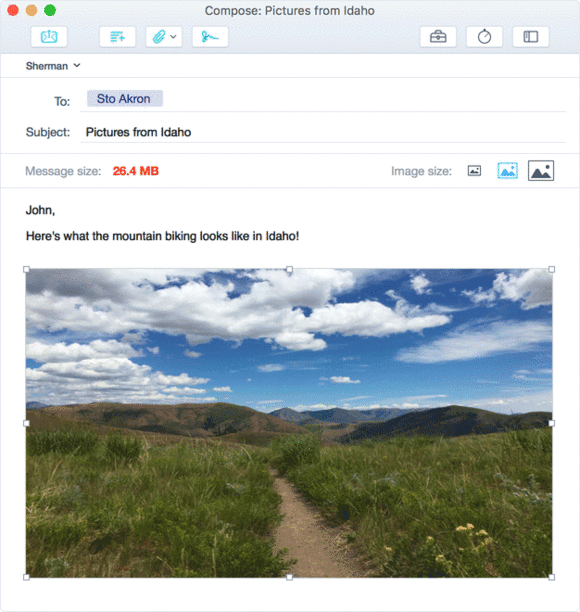 Bottom line
Postbox 5 costs $40, more than twice its predecessor, but lead programmer Sherman Dickman says that price includes all future updates. Postbox 5's new features are perhaps most useful in the business world, and its abundant abilities could be more than most users strictly need. But it remains well-crafted, powerful, and an excellent alternative to the usual suspects in this category.
Best Prices Today: Postbox 5