My last two Ask the iTunes Guy columns have been about the iOS 10 Music app, and, well, the iOS 10 Music app. Lots of users are floundering in a ball of confusion with this new app that is supposed to let them easily play music. In this week's column, I cover—guess what?—more questions about the iOS 10 Music app, but I look at some iTunes questions as well.
Looking back
Q: How do I find the history of the songs I've listened to in the new iOS 10 Music app?
You used to be able to see your play history in the Up Next list on iOS. In iOS 10, this play history has been removed, but there are two ways to view what you've recently listened to.
The first is to view the Recently Played playlist that the Music apps sets up by default. This is a smart playlist—even though you cannot create or edit smart playlists on iOS devices—that shows what you've listened to recently.
However, some people delete these default playlists because they don't use them. If you have removed the Recently Played playlist, the only way to view your listening history is to enter Apple's new Byzantine Messages app. Create a new message to yourself or to a friend. Tap the gray arrow to the left of the text field, then tap the App Store icon. Tap the grid icon at the bottom left (the one with the four ovals), then tap Music. When you do this, Messages displays a list of your 30 most recently played tracks.
This list appears in Messages so you can share your music with your friends. But wouldn't it also be logical to have a history list in the Music app? Whatevs.
Who's there?
Q: I noticed that a lot of the artist images in my music library disappeared after I installed iOS 10. The songs and albums within those folders still have the correct artwork. How will the missing pictures get populated?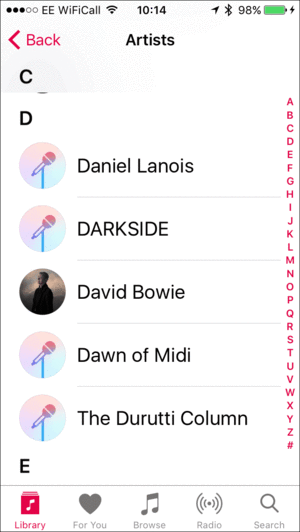 In the past, Apple used a random album to illustrate artists if they didn't have a photo of the artist on their servers. This wasn't always the best illustration, and you had no way of choosing which album got used.
They've turned this off now. I don't know why and it looks pretty stark. You see long columns of multi-colored microphones that look like they're just waiting for Bono to step up and sing about nameless streets. And this is the case in the iOS 10 Music app, and in iTunes.
I also notice that some of my classical "artists" (I use the Artist tag for composers, in lastname, firstname format) show images of performers on some of those composers' albums. This is odd, because it means that Apple is providing an image from some of the music listed under those artists' names.
Apple has never allowed users to pick their own artwork for these artist icons, and it's a shame. You might not be able to do it with Apple Music tracks, but you should at least be able to choose artwork for artists in your own music library.
For now, it's really boring. And it's definitely not what I would have expected from Apple, where design is so important.
Some people still rip CDs
Q: When I import a CD In iTunes, tracks are listed by date added, so the first track is at bottom of list and the final track is at the top. When I highlight all those tracks and drag them to a playlist, they retain that reverse order. I want them to be in track order. Is there a way to do this?
It sounds like you're dragging tracks from a Recently Added playlist. When I do this, they are in the correct order. If this is not the case for you, choose View > Show View Options, then choose Sort By Album. This will sort the playlist in track order.
Losing my playlists
Q: Is the any way export to export a playlist from my iPhone? I have lost many playlists I made with Apple's Music app, and I have to recreate them each time. It's very frustrating having to remember every song I included in a playlist.
Unfortunately, there's no way to export playlists from an iOS device. The only thing you could do is create playlists on your iOS device, then, in iTunes, export them. You can use the Batch Export Playlists AppleScript by Doug Adams to export selected playlists from iTunes, and you can use these exported files as a backup of your playlists.
Have questions of your own for the iTunes Guy? Send them along for his consideration.