Even when your goal is to get away from it all, sometimes necessity requires that you stay in touch with the outside world. This can take a lot of forms: chatting with your loved ones on FaceTime, shuttling project files between your iPad Pro or MacBook and an employer's private server on the other side of the globe, or simply taking in the latest episode of Game of Thrones so that you can blather about it later over iMessage with your friends.
Most people can conduct this kind of communication and file sharing over a cellular connection in their own home or while couch surfing at a friend's place without fear that any of their sensitive personal information will fall into the hands of someone who isn't supposed to have it. Streaming? Same deal—so long as you're in the 'States, you should be able to watch your Hulu, Netflix or HBO GO shows without a hitch, anywhere you go.
But once you connect to a wireless access point at an airport lounge or café near the hotel where you're staying, or slip a SIM card into your MiFi device in a country where the citizenry is routinely surveilled (some would argue that happens here too, but meh,) your confidential information could quickly become less confidential. And if you're roving outside of your home country, you may be disappointed to find that, despite paying for access, many streaming service providers will refuse to provide you with access to the latest video and music due to licensing issues. I think we can agree that this sucks.
To get around these issues, you my friend, will want to rock a virtual private network (VPN) Some of you'll know what that is. Others, not so much. My pal, Macworld contributor Glenn Fleishman, who is far smarter than I will ever be, did a great job of work defining what a VPN is and does:
Imagine the Internet as a series of pipes—seriously. And then imagine that you could thread your own thin, flexible, impenetrable stainless-steel pipe from your house through all the water mains to where the water comes. That's a virtual private network (VPN). It's a secure end-to-end tunnel between your device and some far-off destination. A VPN has two termination points, more or less like a secure connection to a website. One end is a VPN client on a piece of hardware under your control. The other is at a VPN server. Typically, when setting up the connection, you have a mechanism that lets you verify that the right security credentials are in place, which prevents a party from inserting itself between you and the server.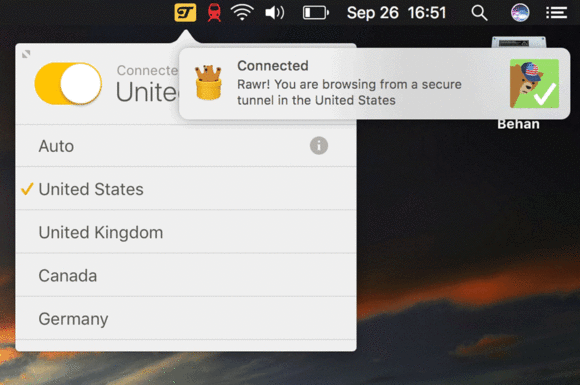 If you've got the time, I promise you that the rest of Glenn's column is well worth the read. If not, I've got your back right here. I've used VPNs dating back as far as 2008, to keep my former employer's internal communications and files secure while I was in the field. More recently, as a freelance journalist and full-time nomad, I rely on VPN services to allow me to securely connect to free Wi-Fi in coffee shops and RV parks to do my banking, send and receive email and fire off photos and stories to my editors.
And as anyone in Canada will tell you, our streaming services kind of suck so, on occasion, I also use my VPN to trick the streaming content providers I subscribe to down in the States into letting me watch movies and TV shows up here.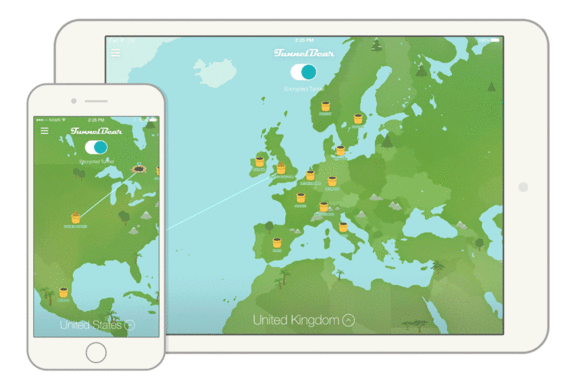 Tunnel Bear
Over the years, I've tried a number of free/ad supported and paid VPN providers to use with my Mac and iOS devices, with mixed results. Some have provided the security I'm after with excellent connection speeds but come with a clunky and difficult interface, or worse, no interface at all, forcing me to input my connection credentials every time I want to launch a VPN connection. Others have come with flashy, easy to use software interfaces that make connecting to a VPN a snap. But once connected, the speeds are so slow, due to the service's network being overloaded, that a 14.4k modem could run circles around the upload/download times I'd see.
While it's not perfect, the best VPN service I've used to date has been Tunnel Bear. After switching from Private Internet Access last year (at the time PIA didn't have an easy-to-use client—a problem they've since remedied,) I've found that Tunnel Bear has provided me with consistent speeds, occasional backend software updates to keep things humming along smoothly on my iPad Pro, iPhone, and MacBook Pro, and a goofy bear-based interface that, as a stereotypical Canadian, pleases me deeply.
Unlike a lot of companies that make their money off of protecting our privacy, Tunnel Bear makes their terms of service available to its users in plain English, with a clear explanation of what they do with the limited amount of personal information they collect.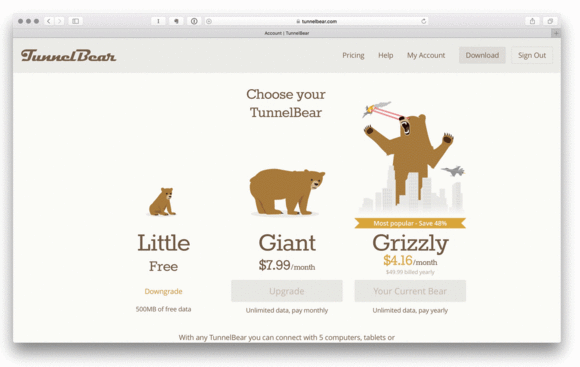 Getting started with Tunnel Bear is dead easy, which, as I have patience for almost nothing, is a huge win.
Simply download the client software for your iOS and macOS devices (or Android and Windows hardware, if you must.) It's also possible to only download extensions for your Chrome or Opera browser, if that's more your thing.
Next, pick a plan: Tunnel Bear provides a free plan (but you'll only get 500MB per month with that,) a monthly plan that'll set you back eight bucks or a plan that's paid annually that'll cost you $50. Any of the plans will allow you to connect up to five devices to the Tunnel Bear network simultaneously.
The latest iteration of Tunnel Bear's mobile and desktop software provides options to create VPN tunnels that can connect you to servers in 20 different countries in North America, Europe and Asia—great options for if you're looking to connect with region-locked streaming content. And if you're simply after the security that a VPN affords, there's also an option to connect to whichever VPN tunnel will provide you with the most speed.
But hey, Tunnel Bear's not the be all and end all of VPN services. If you have one that you like, let everyone know about it in the comments and be sure to tell us what makes it all that and a bag of chips.
Next time: The iPhone 7 Plus' dual lens camera is hella good—for a smartphone camera. If you're looking to up your photographic game with a camera small enough to take with you most anywhere, you'll want to read my review of Sony's RX1R Professional Compact Camera with 35mm Sensor.