Erin Giunta is ready to give iCloud Photo Library the heave-ho, but wants to be sure their photos aren't lost.
I'm confused about what would happen if I turn off iCloud Photo Library on my phone, and not use it on the Cloud. Will my Photos app on the computer still retain all 12,000 of my photos? Do these photos live locally on my hard drive?
It depends! And macOS should prompt you in case you make a decision that would result in you losing images somehow.
If you're already storing the full-resolution versions of everything on your Mac, you don't have to take any additional steps. In Photos for macOS, select Photos > Preferences and click the iCloud icon. If iCloud Photo Library is checked and Download Originals to This Mac is selected, all your synced images across all linked accounts will be on the Mac.
You can double-check on your iOS devices that there are no images that appear there and not in the Mac's library, but as long as the message in the iCloud tab of preferences shows that the syncing is up to date, you're all set. (You can also find this message at the bottom of the Photos view.)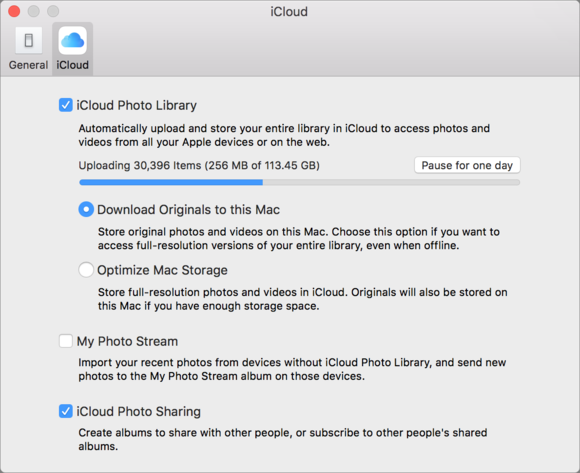 If, however, you had selected Optimize Mac Store, you have to change your setting to Download Originals to This Mac and wait for the operation to complete.

When you're sure you're fully synced, uncheck the iCloud Photo Library box in preferences, and you're "severed." This should retain all these images in iCloud Photo Library (via iCloud.com and your linked iOS devices) until or unless you delete everything in one or more of those locations.
I highly recommend making a backup of your Photos library before you disable iCloud Photo Library just to ensure you have a completely local copy, too, and set up a recurring backup from that point onward. (Better: also find a secure Internet-hosted backup service you trust to push images and other files to for an off-site archive.)
Ask Mac 911
We've compiled a list of the most commonly asked questions we get, and the answers to them: read our super FAQ to see if you're covered. If not, we're always looking for new problems to solve! Email yours to mac911@macworld.com including screen captures as appropriate. Mac 911 cannot reply to email with troubleshooting advice nor can we publish answers to every question.