At a Glance
Expert's Rating
Pros
Essential Sound consolidates most-used tools in one panel
Direct export to Adobe Media Encoder CC
More user-friendly for first-time or novice customers
Free update for Creative Cloud subscribers
Cons
Fewer new features than other Creative Cloud applications
Still requires monthly paid subscription
Better suited to post-production than music (no support for MIDI or virtual instruments)
Our Verdict
Adobe Audition CC is a professional audio application designed for filmmakers, podcasters, and others to create, mix, edit, and analyze sound for broadcast or online distribution.
Best Prices Today: Audition CC 2015.2
Although most video editing software does a decent job with audio, there's nothing like using a tool dedicated to manipulating sound. Back in the day, one of my favorites was Soundtrack Pro, which Apple initially offered as a standalone product as well as part of the Final Cut Studio bundle.
It was a great match—if a particular piece of audio in a timeline needed more finesse than Final Cut Pro was capable of, you could send a clip to Soundtrack Pro, make edits, then round-trip it right back. Unfortunately, Apple decommissioned Soundtrack Pro with the 2011 debut of Final Cut Pro X.
Perhaps not-so coincidentally, that same year Adobe introduced Creative Cloud, taking the first baby steps away from individually packaged software in favor of effectively renting a suite of productivity applications for one monthly price. But coming on the heels of filling the Soundtrack Pro gap with a port of its own popular Windows audio editing software, it was double blow for Mac video enthusiasts.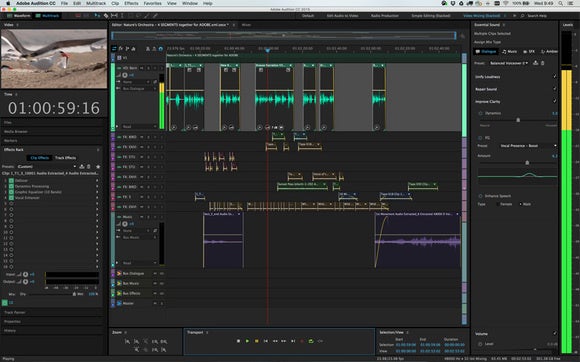 Audition time
Several years later, the furor over subscription-based software has mostly died down now that Microsoft and others have joined the fray, but there's still no sign Apple ever intends to make good on a replacement for Soundtrack Pro.
Instead, we have Logic Pro X ($200 on the Mac App Store), which is geared more to musicians than post-production, or Adobe Audition CC, which costs $20 per month as a single-app subscription, or $50 monthly as part of a bundle with other pro video and creative apps. (There are alternatives including free, open-source software like Audacity, but I'm strictly focusing on commercially-available products.)
Former Macworld editor Christopher Breen expertly detailed the first iteration of Adobe Audition CC in his exhaustive review three years ago, which praised the exhaustive depth of features while lamenting the then-controversial subscription pricing.
Since then, Adobe has been steadily improving the application with annual updates and frequent bug fixes, adding Dolby Digital import/export and dialogue normalization in 2014, along with remix, text-to-speech, and match loudness tools last year. Earlier this year, Adobe debuted the awkwardly-named "2015.2" update with two major new features, which I'll be focusing on in this review.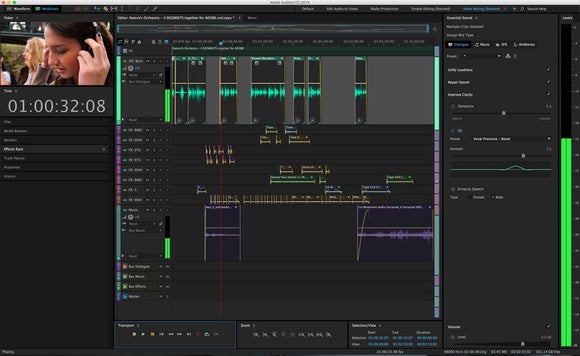 Essential Sound
Despite offering a comprehensive arsenal of audio recording, mixing, editing, and repair tools, Adobe Audition CC has traditionally been daunting for first-time users. Like the company's other pro video applications, the user interface is split across multiple panels, each with tabs providing additional functionality. If you were just getting started, it wasn't the most user-friendly experience.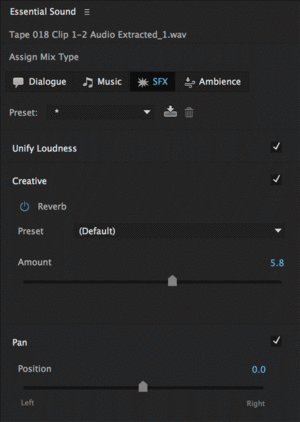 Adobe has remedied this situation with the introduction of yet another panel, Essential Sound, which consolidates the most commonly-used options in a single place. From here, novice users can balance audio for a more unified sound, clean up dialogue tracks by reducing noise, rumble, hiss, or high-frequency sibilance (that annoying "ess" sound), and much more.
It's super-easy to use: Select one or more tracks in a multitrack project, then choose the type of mix you're working on—Dialogue, Music, SFX, or Ambience. Each mix type includes only what's relevant to that category, although there is some overlap such as Unify Loudness, a tool designed to keep audio clip levels balanced.
Essential Sound also incorporates unique music tools that allow audio editors to stretch or remix tracks to fit a specific length without affecting the overall pitch or tempo. Best of all, professional users can configure custom settings in a few clicks, or close the panel to work the way they're used to. Essential Sound doesn't offer new tools, but rather a new way of working, and a level of simplicity sorely missing in earlier versions.
Direct export
The second new feature in Adobe Audition CC 2015.2 is also long overdue, considering it's been available in other members of the Creative Cloud video lineup for some time. Rather than exporting a final audio mix and importing it into Premiere Pro CC for output, Audition CC users can now directly export entire projects (complete with video) in the same step.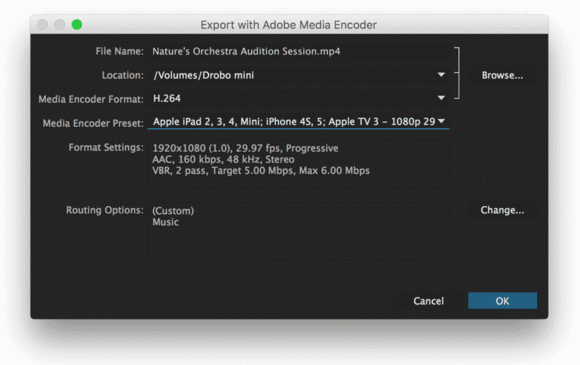 This is made possible by a new Export with Adobe Media Encoder option in the File > Export menu. When summoned, Media Encoder CC launches (assuming it's not already open), sharing available formats and presets with Audition. After clicking OK, the project is added to the Media Encoder queue, where it begins rendering automatically in the background.
If you're juggling several projects at once or want to export variations with specific tracks isolated, Media Encoder allows you to continue working in Audition or Premiere Pro while rendering. It's also easy to tell which projects originated in Audition, since the app's icon appears next to the project name.
While Audition CC may not have received as much love in Adobe's Spring 2016 update as sibling applications, the workflow improvements are definitely welcome.
Bottom line
Adobe Audition CC 2015.2 isn't a revolutionary update, but the Essential Sound panel makes it more user-friendly for those getting started with it.
Best Prices Today: Audition CC 2015.2