At a Glance
Expert's Rating
Pros
Securely and easily erase files and folders
One-pass, seven-pass, and 35-pass shredding options
Cons
Attractive vertical or horizontal window layout
Test files were recoverable, but no longer usable
Significantly slower with seven- and 35-pass options
Our Verdict
Shredo permanently erases files and folders with drag-and-drop ease using one-pass, seven-pass, or 35-pass security that makes them impossible to retrieve.
Best Prices Today: Shredo 1.0.3
Every Mac user knows how to delete a file. But did you know this method doesn't technically remove anything from your drive? Instead, that space is simply marked as available to the system, making it a trivial matter to recover provided other files haven't been saved in the same spot.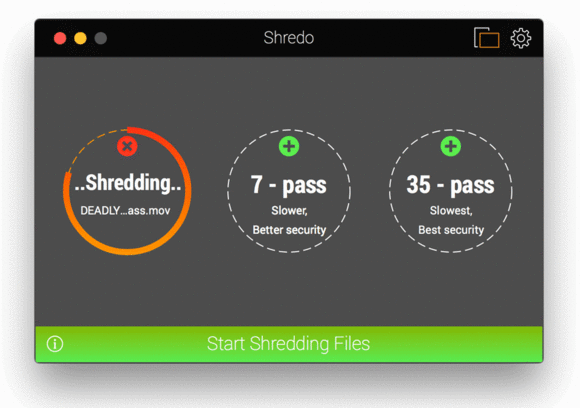 Data shredder
Shredo ($5 on the Mac App Store) is an attractive, compact Mac application for wiping data so thoroughly it can never be recovered. It's the digital equivalent of those paper shredders sold at office supply stores, designed to slice up old credit cards, bills, and other sensitive documents so they can't be easily reassembled.
In place of crisscross blades, Shredo relies on software algorithms to write new bytes over existing ones, rather than instructing the operating system to reuse the space. The app completely bypasses the Trash; files and folders are instead dragged and dropped onto one of three circles in the translucent window.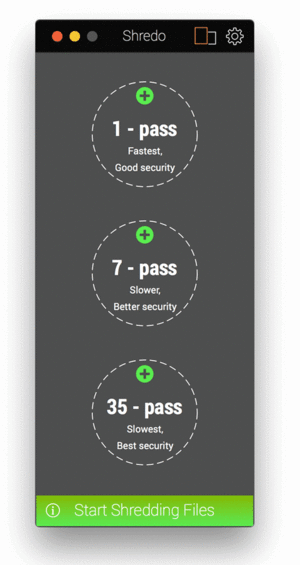 The circles determine how many times data will be digitally shredded: One-pass is the fastest, with good security; seven-pass is slower, based on standard 5220-20 M algorithms used by the U.S. Department of Defense. Last but not least, 35-pass provides maximum security by writing over data 35 times using the Gutmann method, which takes the longest amount of time.
Like the built-in Trash, Shredo is a two-step process. Drag and drop files or folders you want deleted onto the desired option, then click the green button across the bottom to commence with destruction. A button in the right corner switches between landscape (500×340 pixels) or portrait (250×580 pixels) views, but the diminutive window can't be otherwise resized.
Slow but secure
Once files and folders have been dragged into Shredo but before any shredding has taken place, you can add more files to the queue by clicking the green arrow, clear the queue by clicking the X button, or use the magnifying glass to view and confirm files in the Finder prior to purging; files can also be added via the Services menu in the Finder.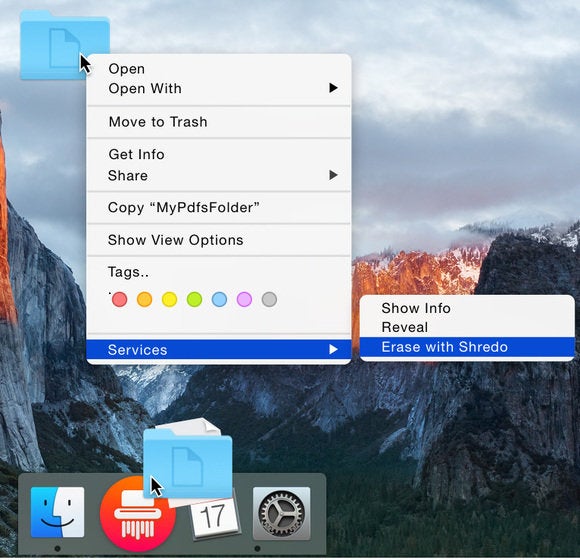 Perhaps not surprisingly, in all cases Shredo is much slower than Trash. I pulled out a stopwatch to time how long each method took on my iMac Retina 5K, using three identical copies of a 3.22GB QuickTime file. (You can run all three options at once, but my informal tests were conducted one at a time.)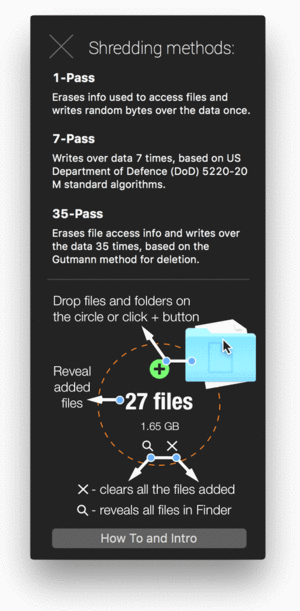 One-pass clocked in at 36 seconds, while seven-pass took nearly two minutes and 14 seconds; 35-pass lived up to its promise as the slowest, plodding to the finish line after nearly 11 minutes. Casual users won't have the patience to use Shredo for everything, but it does the job for occasionally wiping sensitive data.
The real test was to see if I could resurrect any of the deleted data using a utility like Disk Drill 3. While test files did show up with correct sizes, I'm happy to announce the data was scrambled so severely, none of them could be opened, including the file trashed by the faster one-pass method.
Bottom line
Shredo shreds files and folders beyond repair, but it's nowhere near as fast as emptying the Trash.
Best Prices Today: Shredo 1.0.3