You're probably familiar with Time Machine, Apple's excellent built-in backup application designed to make backing up your Mac and restoring data simple and safe. But, unless you have an Airport Time Capsule, it's likely that you only think about Time Machine as a way to back your Mac up to an external hard drive connected to your Mac.
What you may not know is that the macOS Server app offers a way for you to back up all the Macs in your home, small office, or your entire enterprise environment.
How Time Machine works
There's very little configuration necessary to get Time Machine up and running on a Mac. If you've ever plugged an external hard drive into your Mac without Time Machine running, you've likely seen Time Machine open and ask if you want to use that drive for backing up your Mac.
Initial backups copy most of the contents of your hard drive and after the initial backup Time Machine wakes up every hour, looks at a catalog of changed files, keeps the files it originally backed up and adds the changed files to your backup.
The benefit of Time Machine is that you get a deep historical record of all your files and can restore several version of a single document. The Time Machine preference in System Preferences provides the specifics of what Time Machine keeps and how long each backup is kept.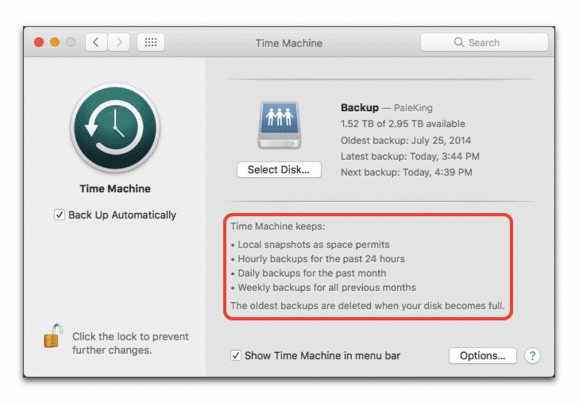 Turning on the Server's Time Machine service allows you to centralize backups, create redundant backups of those backups, and keep track of whether or not your users are backing up their computers. Additionally, you can use Profile Manager to enforce a backup policy, so you don't have depend on your users to make sure their data is being backed up.
Turning on Time Machine
The Time Machine service requires little configuration, but you do need to select a location for backups to be stored, set limitations on backup sizes if you want them, and turn on the service on. To do this:
Open the Server app on your server.
Select the Time Machine service in the app's sidebar.

Click the + button below Backup Destinations.

Click the Choose button next to Store Backups In.
Select or create a folder for the Time Machine service to store backups in.

If you're concerned about storage space on your server, you can put a check in the Backup Limit box and set a size for the largest backup you'll allow. Note that only Macs running Mavericks or later will obey this limit.

Click the Create button.
Turn on the Time Machine service.
Turning on the Time Machine service automatically turns on the File Sharing service. You'll want to make sure that Guest sharing isn't on the Time Machine file share so unauthorized users in your network won't have access to your backups or be able to back up to your server.
Check the File Sharing service
To check the File Sharing service:
Select the File Sharing service
Double-click the folder you added as you're Time Machine backup folder.
Make sure there is no check in the box next to Guest users.

Note: If you're using macOS Sierra, the Time Machine service can use SMB or AFP file sharing for backups. If you're using an earlier version of the macOS, AFP is required to use the Time Machine service as a backup location.
Click the OK button.
Once the Time Machine service is configured and running, it's time to connect your Mac to the service.
Use Time Machine on your server
Using Time Machine on your server is as simple as it is to use Time Machine with a locally connected disk.
Open System Preferences.
Click the Time Machine preference
Click Select Backup Disk.
Choose the backup disk hosted on your server and select the "Encrypt backups" if you want to encrypt your network backup.

Authenticate as a user set up on your server.

Note: You can use one of your server's local accounts or a network account you set up using Open Directory
Let the network backups begin!
Once your backup is complete Time Machine will work exactly the same as it does with a local disk, although because it needs to be mounted over the network it may take a few more minutes to access than it would if it was a locally attached disk.
Verify that Time Machine is working
Once your backup is complete you'll want to verify that it's working properly and that Time Machine is working properly.
Select Time Machine in Server's sidebar.
Click the Backups tab.
Double-click your backup.
The Time Machine service will display the specifics for each backup hosted on your server, including size information, location where the backup is stored on the server, first backup and most recent backup.