You know when you've upset Today Show co-host Hoda Kotb that you've crossed a line. That's exactly what Apple did by changing up threaded emails in iOS 10's Mail app, which has people across the internet befuddled. What's with all the scrolling to read messages? Why is the oldest message on the top of the thread? I know it's perplexing, but these annoyances are easily fixable—and if you want to disable Mail threading altogether, you can do that, too.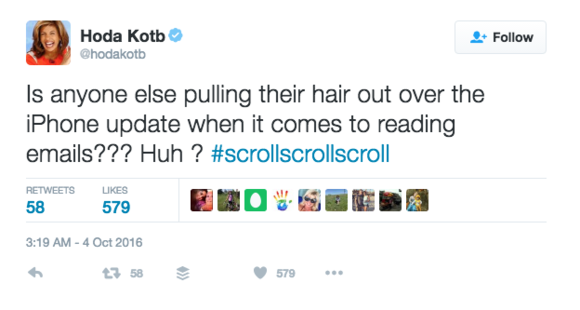 Move most recent email to the top
At first, I loved iOS 10's new threaded email. Then I started planning a wedding, and email threads with vendors began to spiral out of control. Threads should've been the best way to manage the back-and-forth about pricing and availability, but then I realized I was shooting myself in the foot by not enabling one subtle tweak in Mail settings. Be prepared for your life to change right now: Go to Settings > Mail > Threading. Toggle on "Most recent message on top." No more scrolling.
If this setting were turned on by default, Apple might prevent a few headaches, but at least it's available.
How to deal with complete threads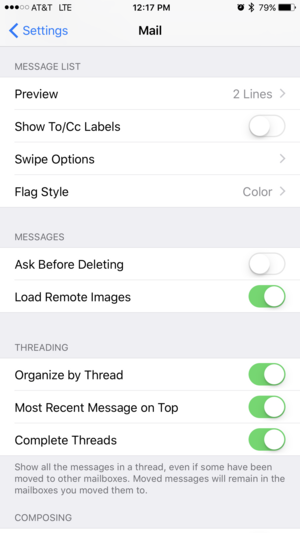 Another Mail setting can be a lifesaver if you regularly farm out your emails to various mailboxes, or if you want to see more than just messages you've received. Under Settings > Mail > Threading, you can turn on the "complete threads" feature to see all of a thread's conversations in chronological order, regardless of which mailbox they're in. This makes it easier to follow a conversation.
Two Mail settings you can't change
The arrows in Mail are, frankly, a little bizarre. Instead of tapping up or down to skip to the next message as in iOS 9—you know, because messages are stacked vertically—Apple has given us left and right arrows. It seems unintuitive, but I'm getting used to it. Slowly and begrudgingly.
It's also no longer possible to delete every message in a folder aside from Junk or Trash. Banishing all of your junk or trashed email to the Great Email Cemetery in the Sky is still possible by tapping Edit > Delete All, but in other folders you have to mark all and then move to Trash.
Turn off Mail threads altogether
If you can't stand threading and would rather sift through related emails using Mail's handy search bar, then go to Settings > Mail > Threading and turn off "Organize by thread."
There are a few great features in iOS 10 that make Mail worthwhile, like the unsubscribe option that auto-responds to junk email on your behalf and a new filtering shortcut. And while email threads can take some getting used to, checking out your options in Settings > Mail will make them a whole lot easier to manage.