At a Glance
Expert's Rating
Pros
More than 60 GPU-accelerated plug-ins for real-time playback, rendering
New preset browser available with 22 updated plug-ins
Logo Motion makes animating logos or text a breeze
Cons
Line plug-in requires extra effort
Plug-ins can't be independently installed or removed
Can't be installed on systems without dedicated GPU
Our Verdict
Red Giant Universe 2.0 is a collection of over 60 GPU-accelerated visual effects and transitions for video editors and motion graphics artists that work with popular host software like Adobe Premiere Pro CC, Final Cut Pro X, and DaVinci Resolve.
Best Prices Today: Universe 2
The concept of software as a service (SaaS) is nothing new for enterprise, but consumer applications are increasingly shifting from perpetual licenses to monthly or annual memberships. Monthly payments provide stable income for developers, but there are benefits for end users, too. Subscriptions are easier in the short term on the wallet, and new features often arrive at a more frequent pace than they would if larger updates came every year or two.
Adobe Creative Cloud and Microsoft Office 365 were among the first to commercialize the concept, but smaller publishers like Smile Software have also waded into subscription waters with popular Mac utility TextExpander. This approach makes sense for applications, but what about renting the plug-ins that power editing and visual effects work?
Across the Universe
Red Giant is best known as the creator of Magic Bullet, a plug-in that makes digital video look like film, and Knoll Light Factory, which adds 3D lens flares like those seen in the films of director J.J. Abrams. The company has since added dozens more, sold individually or in affordable bundles.
Two years ago, Red Giant took the bold step of introducing Universe, a cross-platform, members-only subscription offering exclusive new plug-ins, effects, and transitions on an ongoing basis. Like most of its standalone products, these tools aren't traditional applications — they work inside of host software like Adobe After Effects, Adobe Premiere Pro, and Apple's Final Cut Pro X or Motion.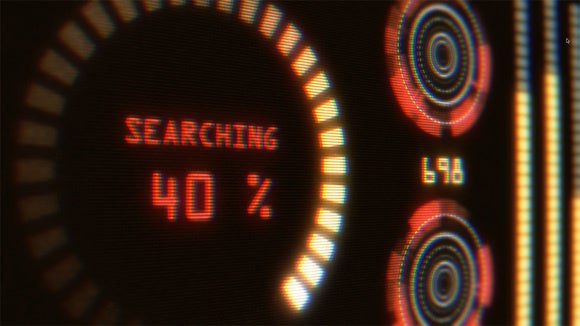 The latest Universe 2 ($99 per year or $20 per month) includes more than 60 such plug-ins capable of making modern footage look like crummy VHS tape or 8mm film, add intentional camera shake, glitches, dust, and scratches, or stylize video with a cartoon look. Everything is unique to Universe and can't be purchased outright with the exception of Knoll Light Factory, which is included here as an "EZ" version.
Universe isn't some quick cash grab designed to lock editors and motion graphics artists into monthly or annual payments. Community members also vote on which plug-ins will be added in future updates, which are developed to take advantage of the computer's graphics processing unit (GPU) for near real-time playback and rendering in many cases. (A GPU is required to install Universe; the plug-ins aren't designed to fall back on the main CPU, so older systems are not supported. The minimum GPU requirement for the Mac is an Intel HD 5000 integrated graphics chip.)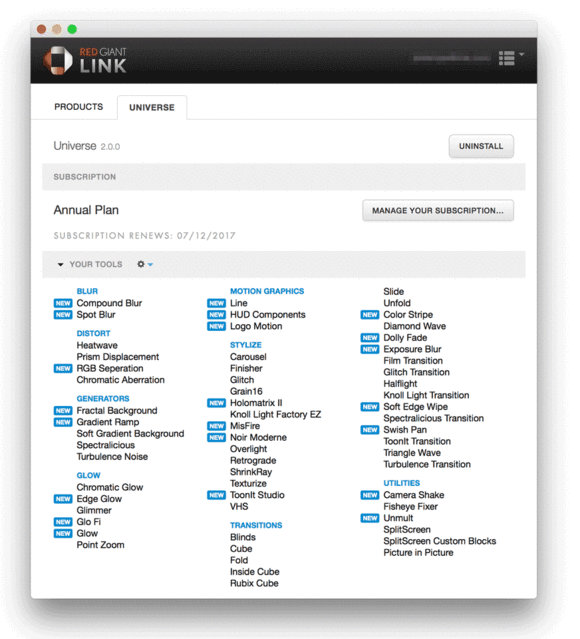 Linked in
At the center of this Universe is Link, a utility for managing all the Red Giant tools installed on your system. Link is divided into two tabs, one for Universe, and another for updating standalone or bundled products you might own. Everything else takes place inside your preferred Mac or Windows host software.
Universe 2 is the first major update, which enhances 22 effects and transitions with a brand-new preset browser where editors can see animated previews of each setting before applying them. This feature doesn't work in my favorite host, Final Cut Pro X, which offers filter previews by scrubbing across thumbnails with a clip selected—but Adobe fans will love it. Other plug-ins have been similarly enhanced, while remaining backward compatible with existing projects using plug-ins from Universe 1.0.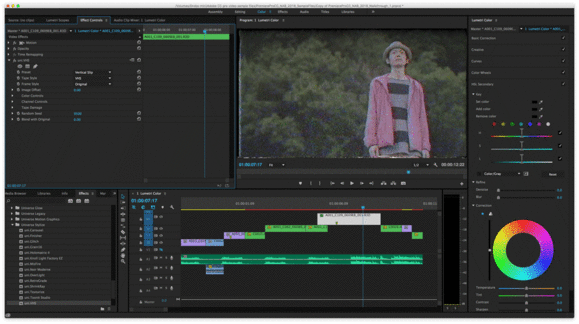 This version introduces a motion graphics category, and three out of the four new plug-ins are downright awesome. My favorite is Logo Motion, which makes it super-easy to add dynamic animation to static logos or text in a few clicks, no keyframing required. HUD Components creates futuristic heads-up display elements like those seen in Hollywood sci-fi blockbusters, while Line streamlines the process of simulating Indiana Jones-style flight paths, assuming you spend enough time fiddling with the right settings. There's also Color Stripe, a fairly bland transition with layered blocks that wipe across the screen.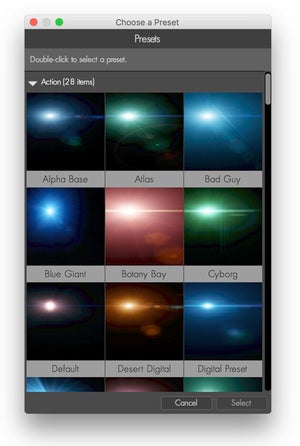 Unfortunately, Universe 2 eliminates the previous free tier, replacing it with a time-limited trial. Free users who signed up prior to June 28, 2016 can continue using those plug-ins, which have been downgraded to legacy status. Although this is a stellar lineup worthy of your subscription dollars, moving forward Red Giant says future updates will be less frequent, but promises "stronger, more valuable tools" as a result.
Bottom line
Red Giant Universe 2 is a welcome improvement to a powerful suite of GPU-accelerated pro video plug-ins, but the free ride is over. You'll need to subscribe or look elsewhere.
Best Prices Today: Universe 2