At a Glance
Expert's Rating
Pros
New modern interface, world-class font identification
Seamless font sharing
Timed font cache removal
Cons
No automatic classification of fonts
No application-specific font sets
Our Verdict
FontAgent 7 is full of useful new features, including an updated interface, new font previews, and a dramatically improved font identification engine.
For a number of years, the options for professional font management utilities have been three: Extensis' Suitcase Fusion, Monotype's FontExplorer X Pro, and Insider Software's FontAgent Pro (now simply FontAgent). Each caters to a different type (pun intended) of user, and FontAgent 7 seems squarely aimed at users who need to manage a sizable collection of fonts but don't want to worry about lots of details. It also makes sharing a font collection among multiple Macs or members of a workgroup very simple.
New to FontAgent 7 is an updated interface, new font previews, a dramatically improved font identification engine that eliminates the need for dedicated FontAgent "libraries", auto-activation plug-ins for the latest design apps from Adobe and Quark, and a new way to share fonts.
New interface
FontAgent 7's most obvious improvement is the new interface, which lets you use one, two, or three panels. The left panel shows your font Sets and lets you select one and view its content in the center panel. The center panel lets you switch between a Table view, with its sortable columns of data about your fonts, and a List view, which shows fonts in their native typefaces with metadata about each font.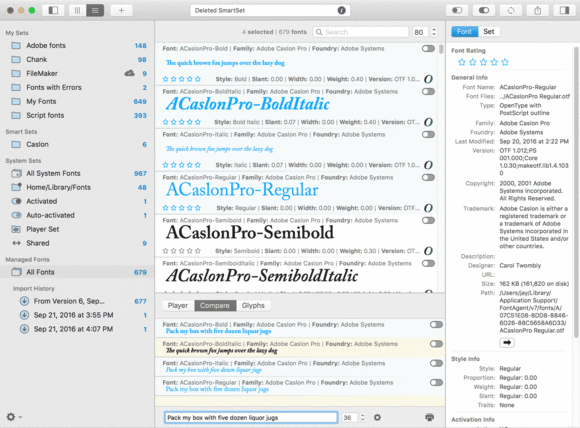 The bottom part of the center panel provides three view options:
Player view plays a slideshow of your selected fonts in custom text and colors.
Compare view lists your selected fonts in custom text and colors.
Glyph view lets you view individual character glyphs and drag them into your documents.
Buttons across the top let you control the view options, activate and deactivate fonts, and share and synchronize font Sets with other users. A Status field at the top displays the most recent action you performed, such as importing or activating fonts.
Sets
When you're looking for a specific kind of font, a Smart Set can help you find fonts that have shared attributes. For example, you may be looking for OpenType fonts with "Pro" in their name. Or perhaps you want to wrangle up every font with Futura in its name. A Smart Set can collect all your fonts with these attributes, and will update automatically when new fonts are added to your collection.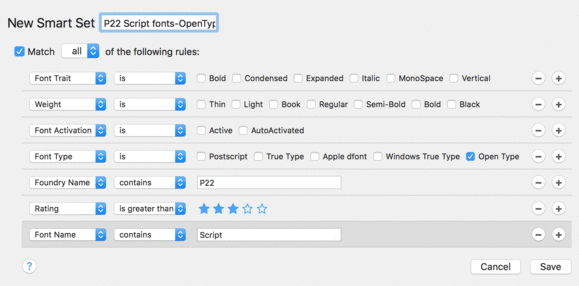 Also, FontAgent 7 lets you tag any Set as a startup set, instead of letting you assign one Set for the fonts you always want to activate when your Mac starts up.
The subscription-only Sync version of FontAgent 7 lets you share any set with your other Macs or other members of your workgroup. When you share a set, its content is uploaded to Insider's servers and is automatically available in FontAgent 7 on other Internet-connected Macs belonging to you or your workgroup members. You specify your workgroup's members at the Insider account dashboard.
Sadly, you can't share a Smart Set, but you can create a regular Set from the content of a Smart Set and share that.
(Insider Software also offers a Connected Edition of FontAgent for larger organizations. It can use either a dedicated server in your organization or Insider's cloud server, with tools to administer permissions for both Mac and Windows users.)
Auto-activation plugins
Plugins are included for Adobe InDesign, InCopy, Photoshop, and Illustrator CS3 through CC 2015, and QuarkXPress 5 through 2016. These plugins add a small bit of code to each document you open and save in these apps that lets FontAgent identify the exact fonts used in the document. When you re-open these documents, FontAgent can automatically activate those fonts.
Cleverly, when you first open a document whose fonts aren't active, if FontAgent has several possible matching fonts it presents a Conflict Resolver window. Using 37 criteria to identify the font, it ranks the relevancy of each possible match to help you choose the correct font (including font foundry, format and version). If you've ever had to blindly choose the "correct" font to activate, you'll appreciate this powerful new feature.
More font support features
Any fonts you've acquired from font rental services such as Adobe Typekit or Monotype SkyFonts are available for use in Sets in FontAgent 7.
FontAgent 7 includes more than 1,350 free Google fonts, any of which you can choose to install. As with everything that's free, the value of these fonts is in the eye of the beholder.
Using a font manager can be confusing and complex. Kudos to Insider's team for making FontAgent 7's Help system so useful.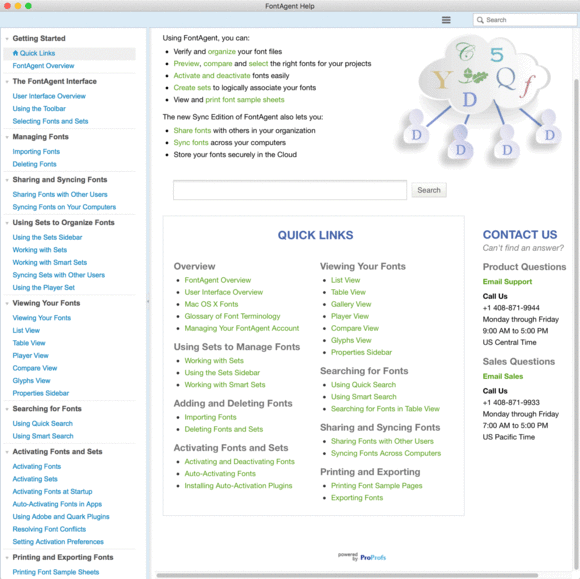 FontAgent 7 is bundled with Smasher 3, a utility that can "smash" complex multi-font suitcases into files that contain just one font each. It also has a font cache cleaning feature that removes the error-prone font caches created by Apple, Adobe, Quark and Microsoft as well as leftover CUPS Spool Files. It can be set to automatically run whenever you log out, shut down or restart, or every day, week or month. For users who frequently activate and deactivate fonts, this feature can eliminate some of the problems working with fonts, as well as problems printing or generating PDFs. Think of it as "an ounce of prevention."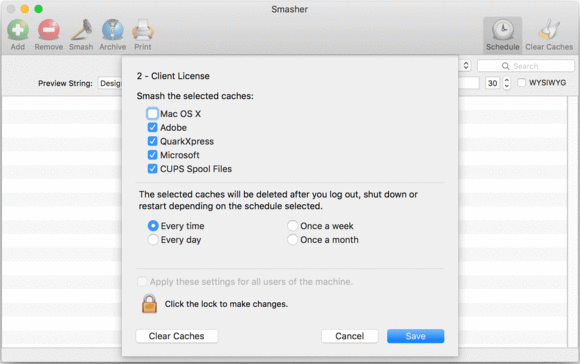 Licensing
FontAgent 7 Sync is the first version to be available on a yearly subscription basis (at $59 per year), and is required if you want to share font sets. The Standard single-user version is also available for a one-time $99 fee. Users of FontAgent 6 can upgrade to either version for $59.
Bottom line
FontAgent 7 is the easiest way to share fonts among multiple Macs or a workgroup. Current FontAgent users will appreciate version 7's greater accuracy in identifying fonts used in documents, Smart Sets that automatically update, and the elimination of Libraries. New users can feel confident that their fonts will import without duplicates, and in the location required by Apple in OS X El Capitan and macOS Sierra.