For more than a year we've seen reports about Apple investing lots of money, time, and personnel into designing an Apple-branded car. From the very beginning it seemed strange, yet somehow plausible. Rather than weeping because there were no more worlds to conquer, the tech giant was doing what its competition does–investigate what other kinds of product categories could be conquered by tech industry cash and talent.
Earlier this year, I argued that Apple was wise to not become complacent and continue seeking new product categories that could help the company grow and diversify. But this week, Bloomberg's Mark Gurman and Alex Webb reported that Apple has made major changes to its car program, and "has drastically scaled back its automotive ambitions."
So, what to make of this report?
First, the details: Bloomberg reports that Apple's Project Titan is no longer working toward a goal of building its own car. Instead, the initiative "has refocused on developing an autonomous driving system" for Apple to use itself or work with existing automakers.
All the products we seen in the world are the results of processes that came to fruition, but there are countless products that are never made. Apple in particular creates all sorts of products internally that never see the light of day. Project Titan, for all of its size and cost and press coverage, is still an internal Apple investigation of a new product category.
Choosing a lane
One of the likely outcomes for any such investigation is realizing that it's not a product that should be made. Another likely outcome is that the act of investigating the product category changes your understanding of how it should be approached. In other words, you learn things that make you realize that your initial conception of the product was fundamentally flawed.
I suspect something like that happened with Project Titan. Apple executives realized that creating an entire vehicle–not just sensors and software and displays, but bumpers and axles and engines–was perhaps a bridge too far for a company with zero experience in the automotive industry. If the Bloomberg reports are true, what Apple's doing is narrowing the focus of the project to areas in which Apple has more experience–the underlying computery stuff that will become the core of the driving experience in every car in the next couple of decades.
Focusing on what Apple's best at sure sounds like a smart idea to me, especially when you're exploring an entirely new product category. And stopping the investigation of larger automotive issues now doesn't necessarily mean that they're stopped forever. Apple appears to be keeping its options option, which is a good thing.
Parking place
Let's say Apple does end up building an autonomous driving system with all the trimmings. What happens then? One option would be for Apple to become a supplier of that technology to any carmaker that would license it. Would Apple really want to be the supplier of technology to be integrated into other brands' products? That seems about as un-Apple as it gets. Tim Cook's Apple is a new and different place, but that seems too far afield.
There are three far more likely scenarios, I think. First, Apple could decide that it's in its best interest to go ahead and build its own vehicle again, and staff back up for the task of creating a car from scratch. That seems unlikely to me, if only because Apple was headed in that direction and decided against it.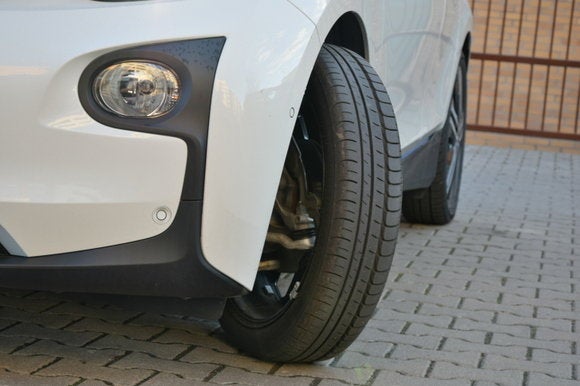 The second option would be for Apple to buy an existing automaker and transform it into something entirely different. The company has the cash–General Motors' market cap is less than $50 billion–but does it really want to own a legacy carmaker lock, stock, and barrel?
The final option would be for Apple to partner with an existing carmaker, becoming more than just an equipment supplier, but not quite an owner–a larger partner in creating a line of cars powered by Apple's technology, perhaps with the Apple brand, but manufactured by the partner using existing factories and designs.
This, to me, seems the most likely scenario: That Apple will build its own technology and then find someone to help them turn it into a new line of cars, either integrated across a line of existing cars or as a part of a new sub-brand of next-generation automobiles with the Apple touch. Perhaps Apple will make a strategic investment in the automaker, but it won't have to buy it outright. It'll cut a deal that allows it to put one foot in the car game while keeping the other foot out–at least, for now.
Dead end
Before you start daydreaming again about the possibilities of Apple-powered cars, there's one other possibility that's worth mentioning. It's entirely possible that, after this refocusing of Project Titan around autonomous vehicles, Apple's executives decide that it's just not an area that's bearing enough fruit to make it worth continued development. The Bloomberg report says that the fate of the program will be determined by the end of next year. Maybe the ultimate product of Project Titan will be nothing at all.
It's tough to have your product plans scrutinized to the degree that Apple's are, but that's what comes with being one of the biggest companies in the world, especially when you're hiring more than a thousand employees to work on a massive project. Still, having your plans made public is no reason to double down and execute them if they don't make any sense. If Apple's executives decide that the lesson Project Titan has taught them is that the car business isn't one that Apple can contribute to in a meaningful and profitable way, they are absolutely right to walk away.
I wouldn't take the killing of Apple's car program as a failure, if it were to happen. In fact, I'd take it as a sign of maturity. I give Google/Alphabet full credit for some of its recent retrenchments, killing or de-emphasizing some of its wilder projects, including Google Glass. Recognizing that something isn't working, and addressing that fact, is a sign of maturity. Throwing more money and people at a project just because it's already a sunk cost is never a good idea.