Chris Jennings has a Contacts problem that makes no sense to him:
I wanted to send my friend Steve an email with Siri. At first, Siri kept sending it to a non- existent facebook.com email address. Not sure how this is happening, though I have pushed the button before to update contacts from Facebook; I've never seen these entries in anyone's contact card.
My best guess is that Chris is suffering from outdated information for contacts imported from Facebook. From 2012 to 2014, Facebook offered its users an incoming email address that dropped missives into Facebook Messages. It thought the better of that in 2014, and stopped creating new addresses, while forwarding existing facebook.com incoming emails to the primary email address someone had registered with Facebook. (I should note that people didn't ask for a Facebook email address, nor did they ask Facebook to forward to their registered address; both options could be disabled.)
In May 2016, these email addresses were entirely discontinued. In Chris's case, it's possible that he doesn't have automatic Contacts sync enabled for Facebook. In macOS, you find this in the Contacts app in Contacts > Preferences > Accounts. If a Facebook item appears, select it and you can see whether Enable This Account is checked. You can control all Facebook sync options in the Internet Accounts system preference pane, too.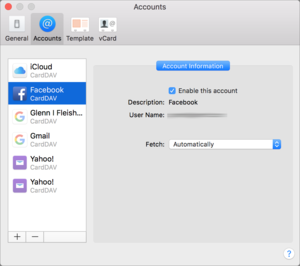 Many people don't want Facebook gaining more information about them, or sharing Facebook information with the rest of their systems, so have these options disabled.
When those sync options are disabled, any entry associated solely with Facebook should disappear from your computer. But it's possible with earlier versions of sync for OS X that the contact data would have been imported rather than just synced, leading to this problem. Chris should be able to delete any facebook.com addresses or enable automatic sync, which will clear them out if they're still linked to the original records.
Ask Mac 911
We've compiled a list of the most commonly asked questions we get, and the answers to them: read our super FAQ to see if you're covered. If not, we're always looking for new problems to solve! Email yours to mac911@macworld.com including screen captures as appropriate. Mac 911 cannot reply to email with troubleshooting advice nor can we publish answers to every question.