If you've been waiting patiently to pull the trigger on a new Mac purchase, get ready for Thursday. Apple's legacy product lineup is feeling a little neglected as of late, with the company prioritizing the iPhone, iPad, and Apple Watch this year. The 12-inch MacBook saw a minor upgrade in April, but that laptop isn't for everyone—it has just one port for both charging and connecting to peripheral devices. But on Oct. 27, Apple has invited the press (including Macworld) to Cupertino for an announcement. The only hint: "Hello again."
Of course, anyone familiar with Apple remembers Steve Jobs introducing the first Macintosh in January 1984 by having the computer speak. Its first word: "Hello." New Macs are obviously on the horizon. Here's what (we think) we know about the overhauled lineup:
MacBook Pro
The MacBook Pro is long overdue for an upgrade, having languished since 2012. This will be the star of Apple's "Hello again" event. According to Bloomberg, the 13-inch and 15-inch models will be thinner and lighter, but the biggest change is an OLED touchscreen display on the keyboard where the function keys would be. The Magic Toolbar, as Apple has reportedly named it, would make the keyboard contextually relevant, with the ability to change keys depending on which app you're using. Ideally this feature would be open to third-party developers.
KGI Securities, a reliable source of Apple analysis and predictions, backs up the Bloomberg report with expectations of a Retina 13-inch and 15-inch MacBook Pro with OLED touchscreen bar. As leaked by Apple itself, the Pro will include Touch ID for Apple Pay, which makes sense given that macOS Sierra supports the use of Apple Pay on the web. It's unclear what the next-gen Pro's internals will look like, though KGI anticipates "many" major upgrades.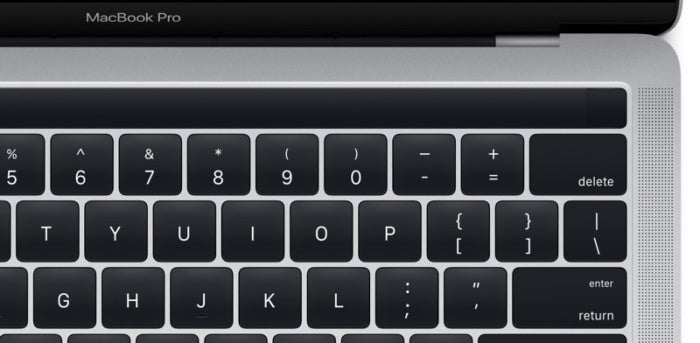 Other Pro rumors indicate that Apple is ditching its USB-A ports for USB-C, like the 12-inch MacBook, which wouldn't be a terrible move now that many adapters, docks, and peripheral devices are compatible with USB-C. But banishing the HDMI, Thunderbolt 2, USB, and HDMI slots in favor of four USB-C ports sure would be a shock to the system. The USB-C ports support both USB-C and Thunderbolt 3, but get ready to buy some dongles for any peripheral devices you own that aren't USB-C or Thunderbolt 3.
MacBook Air
The MacBook Pro may hang on to USB-A ports, but we may see the MacBook Air go all-in with USB-C. This would be less of a shock to the system than the Pro change (especially if the Pro sized down to one port).
MacBook
KGI Securities is expecting a 13-inch MacBook to join the 12-inch MacBook in the single-port Retina laptop lineup. The firm doesn't say whether the 13-inch model would replace the 12-inch one, though it would be strange for Apple to sell two MacBooks so close in size. We're a little skeptical about this one, but we'll find out on Thursday.
What about the iMac?
KGI analyst Ming-Chi Kuo, who has a pretty good track record when it comes to Apple product announcements, doesn't expect new iMacs with AMD chips or that rumored 5K external display with integrated GPU, which Apple was reportedly working on with LG. The company phased out its 27-inch Thunderbolt Display this summer, so there's a hole where a 5K display would slide in nicely. And both of those products are reportedly still in the pipeline, but it's unclear if they're ready to roll. Bloomberg also reported that a new iMac was in the works, but didn't say if it would take the stage at Thursday's event.
Mac Pro or Mac mini?
Usually in the lead-up to an Apple event, rumors about major product announcements start swirling months in advance. Unfortunately, there have been absolutely no leaked details about an overhauled Mac Pro or Mac mini. Apple could surprise us all with brand new versions of both, but don't hold your breath.