I've got a 64GB iPhone SE; you know, the one that has a capacity of 55.21GB. (The old "my bits aren't the same as your bits" marketing trick.) On my phone, I have a bunch of apps, and a fair amount of music. I've already mentioned how iTunes and my iPhone show different amounts of free space, and today, iTunes shows me that I have 5.34GB free, and the iPhone says 3.53GB.
But there's also a lot of space used for Documents & Data, though I don't know what takes up nearly 7GB. I want to free up some space on my phone to copy some videos, but it's hard to know how to reclaim space (other than deleting music). Ignoring the infuriating inconsistency of the iTunes/iPhone free space numbers, I thought I would try to delete some Documents & Data. The problem is, I can't find those 7GB.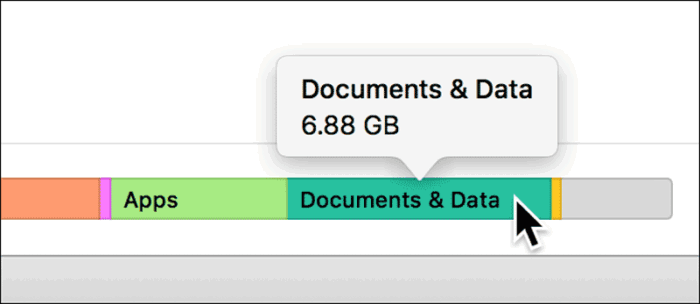 Documents & Data is somewhat vague. It's not just, say, files that you've downloaded to your device from Dropbox or Google Drive. Or data you've stored in apps like Evernote or Apple Notes. I know that I've downloaded about 200MB with Google Maps. And I know that I have some Audible audiobooks. But this 7GB figure also counts caches; lots of caches. There are caches for web browsers, and for all sorts of apps, most of which fetch data from websites.
The problem is that iOS caches lots of stuff—rightly so, to save you time and data costs—but doesn't allow you to delete most of these caches. You can delete some of Safari's cache, but according to my iPhone it's not very big; only about 600KB. So that can't be the actual browser cache. (Go to Settings > Safari > Advanced > Website Data. When I tap Remove All Website Data at the bottom of that screen, it still shows about half that amount, and lists a number of websites after the "removal.")
The iOS Settings app (General > Storage & iCloud Usage) shows me some of the apps that are using data, but these numbers don't add up to anywhere near the almost 7GB that iTunes says I'm using. Here's the top data hogs on my iPhone: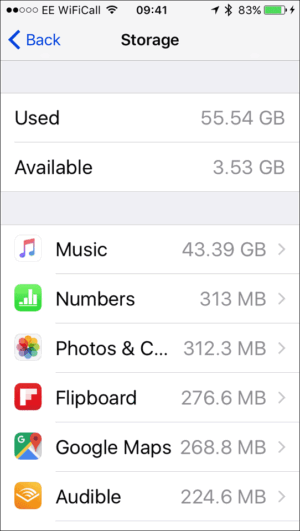 Of the six items above, only the bottom three (Flipboard, Google Maps, and Audible) count toward Documents & Data. Music, apps, and photos are listed separately.
Flipboard is a news app that displays web pages. It caches that data, and tapping it in the list shows how much data it uses.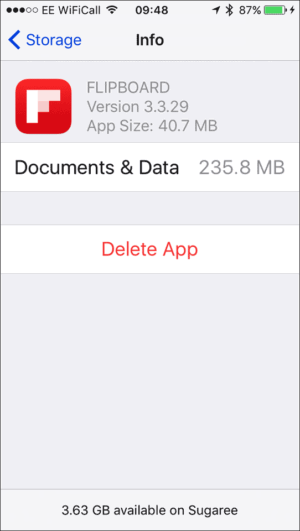 Flipboard has an option to delete its cache. Go to the user screen, then tap the gear icon for settings. Tap Advanced, then Clear Content Cache. This deletes most of the excess data the app stored.
However, most apps don't let you clear caches. Apple should offer a general cache-clearing function, or require apps to provide this feature. In some cases, such as with the Facebook app, these caches can balloon to a gigabyte or more, and the only way to clear them is to delete the app and re-install it.
iOS is supposed to delete caches when it needs space, but these are only system caches, not those of individual apps. You can do a bit of cleaning by trying to download a purchased movie from the iTunes Store that's bigger than the amount of space you have. iOS will delete some caches, but then tell you there's not enough room to download the movie.
At a minimum, I'd like to know what's taking up all that space. Those 7GB of Documents & Data probably include something that's gotten stuck, that can't be deleted, such as an old iOS update perhaps. But it would be helpful if every app had to offer a feature to delete its caches, or if there were a global Clear Caches feature in iOS.