Free-to-play games often look appealing, but it's difficult to know at a glance whether the business model is insidious and fun ruining, or reasonable and worth pumping a few bucks into. With Freemium Field Test, we'll take a recent free-to-play iOS game, put it through its paces, and let you know if it's really worth your time (and money).
Plants vs. Zombies is one of the all-time great iOS and Mac games, putting a colorful and approachable spin on the oft-hardcore tower defense strategy genre—and while the free-to-play shift muddled the impact of sequel Plants vs. Zombies 2 just a bit, it remained a pretty essential mobile pick.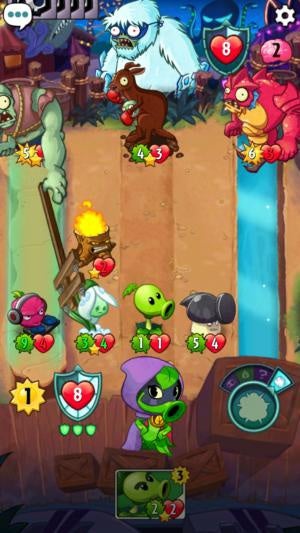 The series' third mobile entry keeps the freemium edge, but changes quite a bit else about the experience: the charming plant and zombie units are still here in Plants vs. Zombies: Heroes, but now you'll battle with a deck of digital cards in turn-based showdowns. Card combat games are super hot right now, especially with Hearthstone's continued success, so this might be seen as a cynical cash-in. Play for a while, however, and you'll find that PopCap has developed something surprisingly unique and addictive here.
The pitch
While the battle between adorable foliage and the silly undead continues on unabated, the tactics have changed for Plants vs. Zombies: Heroes. Here, you'll play as both forces along the way, and instead of actively dropping in units to defend your base from an onslaught of enemies, you'll have to try and outsmart your opponent by playing offensive and defensive cards in the head-to-head, turn-based skirmish.
Controlling either side, you'll pick a plant or zombie hero and then build a deck of 40 cards using whichever ones you've unlocked or purchased so far, and then jump into either single-player or competitive online showdowns. The five-lane game screen is a callback to the earlier entries, albeit now with your hero at the bottom and the opponent along the top. You'll take turns playing cards on the screen and using abilities, and the first to erase the other's hit points is the victor.
Momentum builds in each match through resource points, which comes via sunlight for plants or brains for zombies. Each round sees you start with one more point than you were given the previous round, which means your costly, high-powered cards aren't going to do you much good until late in the game—when they can be absolutely devastating. It also means that if you pack your deck with only big, expensive cards, you might get knocked out before you can even use them. That plays into deck strategy, of course.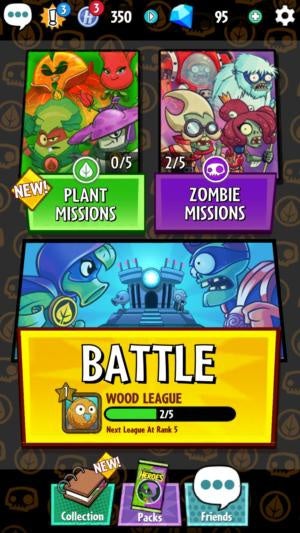 An interesting format shift comes with the addition of Zombie Tricks, essentially a bonus turn for the undead goofballs to make some kind of change on the board with special cards, whether it's an extra attack, clearing a plant unit, or something else advantageous. It totally fits within the game universe, but that extra perk doesn't seem like it damages the competitive balance between sides. It might throw you for a loop at first, but it's a welcome shift away from a more typical head-to-head battle format.
The catch
The catch, of course, is that this is a monetized competitive game. That's never ideal, because it means that money has some sway when matching up real players… but it's increasingly the way of the world when it comes to mobile games. And after seeing how well Clash Royale pulled it off earlier this year, I'm inclined to believe that you can buy into that illusion that it's mostly fair and still have fun.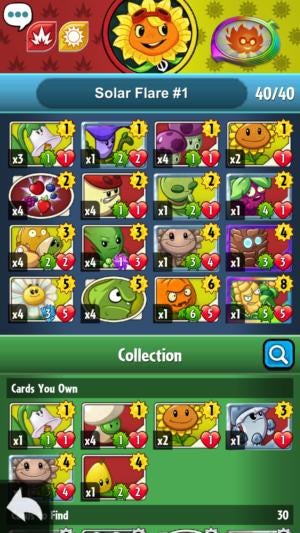 Thankfully, that's the case with Plants vs. Zombies: Heroes, as well. It earns points upfront by not having any kind of energy meter or even Clash Royale-like restrictions on rewards, which means you can play and play to your heart's content without running into an artificial barrier or paywall. That's fantastic news, and it gives Heroes a better chance of attracting enough players to have a hearty community and a long lifespan ahead.
However, the purchase prompts are here, and they can be a bit incessant. You'll see pop-up ads for special bundles and promotions on a regular basis, with offers to spend $5 or $15 to grab special card packs or starter bundles. You can also buy the premium gem currency in bundles from $2 (200 gems) to $100 (15,000 gems), although you'll earn some gradually via play alongside the more common earned coins.
I bought in. I spent $15 to get the Legendary Bundle, which dumped a load of new cards into my collection, including three top-level Legendary cards and many Rare picks, as well. And then I dropped another $5 on gems, and used the bulk of those to get the time-limited Trick or Treat pack before Halloween, which earned me some seasonal bonus cards to augment my decks.
Seeing the treasure trove of new cards, I imagined some immediate impact to my game—but I hadn't realized initially that each hero has its own style of play, and that many of your plant or zombie cards won't be usable by a hero. And you'll only have one or two heroes on each side early on, with more found by buying packs or premium bundles. In short, I quickly found that I couldn't currently use about half of the super-special cards I'd just shelled out for.
That's a bummer. With further play, I may eventually unlock Heroes that can utilize those cards and then build fresh decks around them, but I wasn't really thinking about the long game when I dumped in $20 on paid perks. The immediate result was admittedly disappointing.
The verdict
Spending $5 on a starter pack might be a good way to boost your early play, but I don't recommend pumping in a lot of money right away. You'll earn a bit of both currency types with continued play, and while you might not get the top-shelf cards regularly without paying, you can probably amass a broad mix of heroes and cards without opening up your wallet.
With hundreds of cards, there's enough variety that you can build a strong deck using only what you earn, although spending can be a quicker way to bring some power or special abilities into an otherwise lackluster deck. Any competitive game that lets you pay for more and better cards is sure to have some kind of imbalance, but so far in my play, Plants vs. Zombies: Heroes isn't making those effects obvious. It's a lot of a fun, and a much-savvier-than-expected extension of PopCap's fantastic series.