At a Glance
Expert's Rating
Pros
Now includes apps for trimming video, protecting saved content
Pro version includes bundle with photo editing and slideshow apps
More than 100 menu templates for MyDVD (Pro version only)
Cons
Stability issues with application launch, Video tab in main Toast app
Very little new or improved to justify upgrade
Reduced DVD encoding quality
Our Verdict
Best Prices Today: Roxio Toast 15 Pro
If you ever want to travel back in time, there's no need to have an eccentric pal named Doc Brown who can retrofit an expensive DeLorean for you. Instead, install a copy of Roxio Toast 15, the Mac disc burning utility whose user interface has remained virtually untouched for five years, even as the version number jumps higher.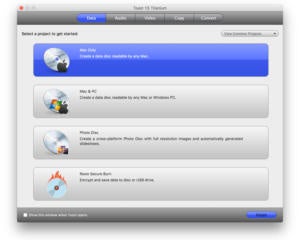 Burnt Toast
Like last year's edition, Roxio Toast 15 is available in two flavors: The $100 DVD-only Titanium edition, and a $250 Pro bundle which adds Blu-ray and photo-centric applications; the bundled Corel Painter Essentials, Corel AfterShot 3, FotoMagico 5 RE, and HDR Express 3 apps have little to do with burning discs, but if you're in the market for such tools, Pro offers a lot of bang for the buck.
In terms of disc-burning functionality however, time has stood still for the software. The user interface and feature set remain unchanged from version 11, which debuted in 2011. One could argue this makes sense given the shrinking market for optical discs in the first place, and the fact Apple no longer produces Macs with an internal drive to read or write them.
My own work still relies on DVD and Blu-ray video discs, but Toast 15 is so unreliable, I'm ready to ditch this longtime favorite. Disc-burning itself isn't the problem; I haven't had a single coaster out of the dozens I've created. Switching to the Video tab is the real headache, which causes a spinning beach ball for up to 30 seconds the first time it's opened.
Worse yet, if I leave the Video tab open when quitting the application, the software takes forever to launch next time. Given the stagnant UI, I suspect Roxio is only applying Band-Aids to the code in an effort to cash in on upgrades. Case in point: Although the app icon has a fresh coat of red paint, whenever I burn a disc it temporarily switches back to purple, the color used in the previous Toast 14.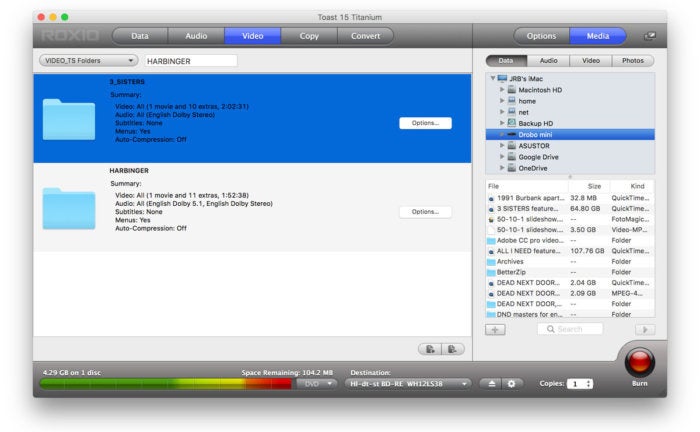 A mixed bag
The highlight of Toast 14 was the inclusion of MyDVD, a new application with more comprehensive authoring tools for adding chapter stops, titles, and custom menus with music. The Pro version now includes over 100 MyDVD menu templates (which require a separate installation from the Pro Apps folder), but lacks support for ProRes files and suffers from some of the same stability issues that plague Toast.
There are two new members to the lineup: Slice, a basic editor for trimming video clips, and Secure Burn, a lightweight utility for saving password-protected files and folders to encrypted Mac-formatted discs or thumb drives. The latter includes a flat UI that nicely complements macOS (something Toast itself sorely needs), although it's a fairly basic affair; encrypted content can be accessed on other systems with a reader app included when a volume is written.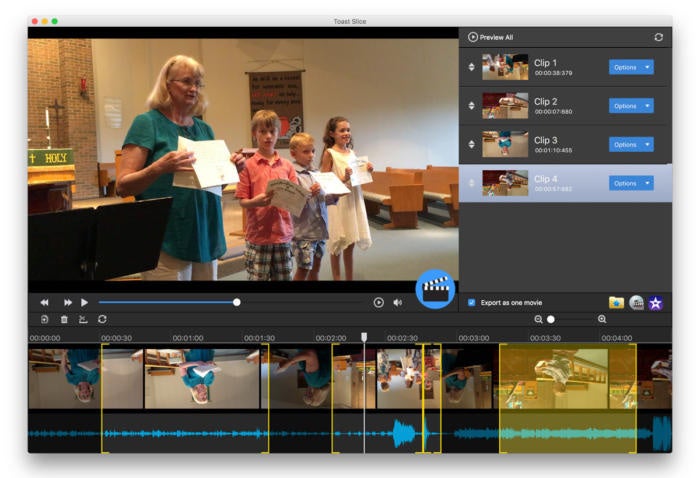 Slice, on the other hand, makes it easy to import one or more video clips, drag to select sections you want to keep, then export a new MP4 file after rearranging the resulting series of sequential clips. Unfortunately, the app has its own share of problems. Videos shot with the iPhone often don't maintain the correct orientation, and the quality of the exported file is quite poor.
Speaking of quality, Roxio appears to have taken a step backward here as well. I've had great results in the past using Toast to encode as well as burn discs, but the few I attempted with version 15 exhibited noticeably lower picture quality than previous releases.
Bottom line
If you already own a previous version of Toast that works fine, hold off upgrading until Roxio squashes the stability issues. Better yet, just skip this version and hope a complete overhaul is in the cards for next year.
Best Prices Today: Roxio Toast 15 Pro