At a Glance
Expert's Rating
Pros
No-frills video capture hardware and software for Mac and PC
Easy-to-use, step-by-step software
Includes RCA, USB cables
Cons
Requires working VCR or camcorder and real-time playback
No S-Video cable included
Recording time can't be manually entered
No settings for frame rate or encode bitrate
Our Verdict
Best Prices Today: VIDBOX Video Conversion for Mac
Vidbox Video Conversion for Mac ($70 on Amazon makes capturing footage from old VHS, S-VHS, 8mm, and Betamax players as easy as digitizing home videos shot during the Mini-DV era. That's because the package includes a small box and with a three-foot RCA cable for capturing video and stereo audio. (Higher quality S-Video is also supported, but you'll have to supply the cable.)
Weighing less than two ounces, the box connects to (and is powered by) a free USB 2.0 or 3.0 port on your Mac with the included cable; the manufacturer recommends a direct connection, but I used it with no problems attached to a hub. The device is made of plastic and the build quality feels a little on the cheap side, but the quality of the captured video and audio was representative of the original source material, with no visible degradation from the encoded MPEG-4 files with AAC 128Kbps 48KHz audio.
Vidbox is an input-only device, designed expressly for one-way conversion of analog tape signals to the digital format. It can't output to a television, nor be used as a second Mac display. In addition to VCRs and camcorders, Vidbox can be used to record from DVD players, cable boxes, and game consoles, as long as the content doesn't have copy protection enabled.
The included software works on older Macs with Intel Core 2 Duo or higher processors running at least Mac OS X 10.6 Snow Leopard, making this a good investment for users with older systems. Software is provided on CD-ROM (one disc for Mac, another for Windows) but can also be downloaded from the company's website; the latest version at this writing is 01.00.20, which requires the included product key to use. (If you want the Windows version along with the Mac software, Vidbox Video Conversion Suite is available ($80 on Amazon).)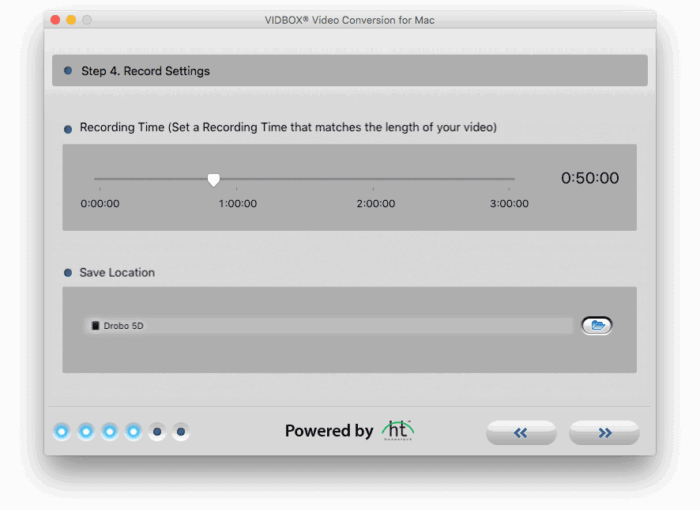 Analog to digital
Vidbox Video Conversion for Mac is a very straightforward, no-frills affair. When the application is launched, you're asked to choose the type of video device from six available choices. The software then walks you through a couple of setup screens to choose a connection type and get everything plugged in.
Next, use the slider to determine how long you'd like to record, in one-minute increments all the way up to six hours and choose where to save the file. There's no way to directly enter a desired length, but you can stop capturing at any time, so I recommend recording a bit longer than the total length of your tape. (Pro tip: Fast-forward to determine the length before recording, which also helps exercise older tapes before playback.)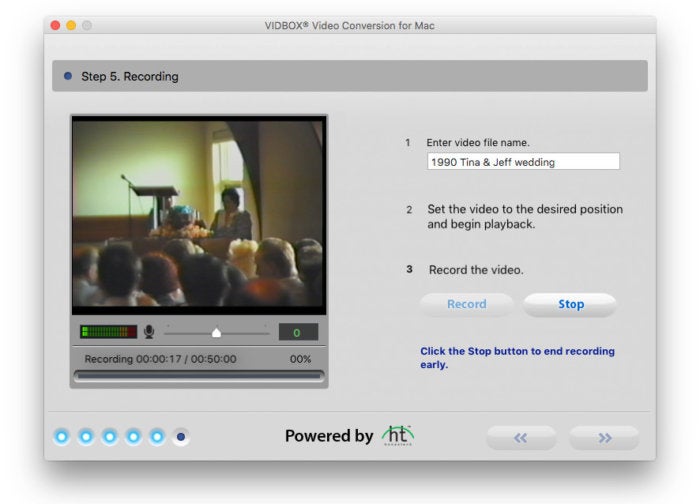 Now it's time to enter a file name, begin manual playback, and click Record. Capturing is done in real-time, so a two-hour tape takes the same amount of time to convert. During this time, you can watch playback on your Mac display (double-click the monitor window to go full-screen), or adjust the incoming volume level if needed.
The resulting 640 x 480 QuickTime files can be opened, synced to iOS devices via iTunes, imported to iMovie for editing, or saved to other applications by dragging and dropping from the preview window. There are no settings for capturing frame rates other than 29.97 (NTSC, SECAM, and PAL video standards are supported, however) or adjusting the encode quality, but all files are saved as progressive, so you won't have to deal with the interlacing issues inherent with analog formats.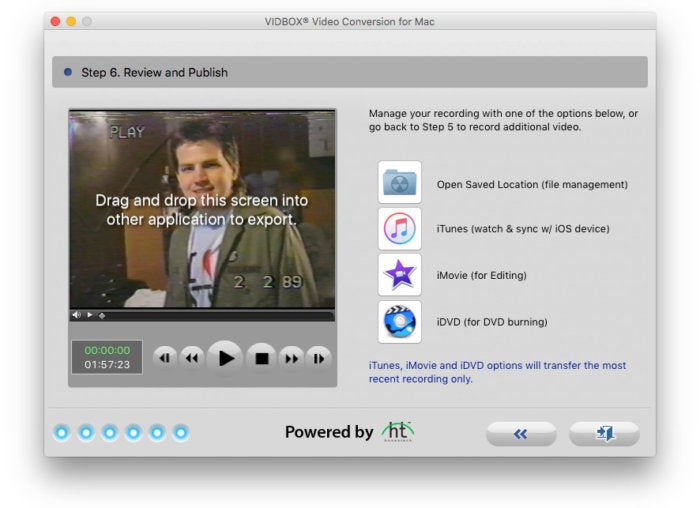 Bottom line
Vidbox Video Conversion for Mac is an affordable way to archive analog videotapes, assuming you still have an old camcorder or VCR around to play them from.
Best Prices Today: VIDBOX Video Conversion for Mac